Roxane Gay on Feminism, Fairy Tales, and the Ying Yang Twins
BY: Mae Rice |
Mar 12, 2014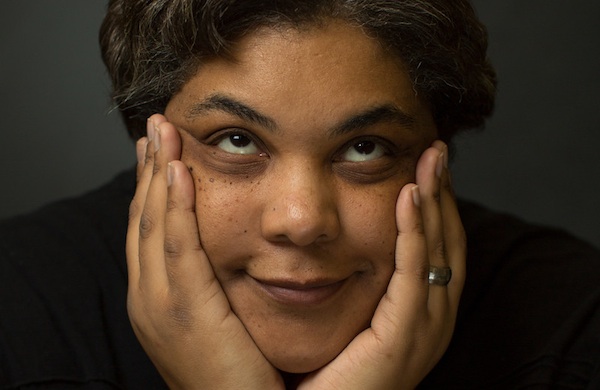 The prolific fiction writer and culture critic talked with us about her essay "Bad Feminist," what makes a great love story, and why "Salt Shaker" is the ultimate jam.
Writer Roxane Gay's
Twitter feed
is a perfect mix of thoughtful commentary and baby elephant pictures—and her more-than-140-character work is even better. She has two books coming out in 2014 alone:
Bad Feminist
, an essay collection, and
An Untamed State
, her debut novel about a wealthy Haitian woman kidnapped by a Port-au-Prince gang. Roxane's short stories have also been anthologized in
The Best American Short Stories
, and her cultural criticism appears regularly on
Salon
. She spends most of her time in Charleston, where she teaches at Eastern Illinois University, but she'll be in Chicago on Monday, March 17, for
Columbia College's Story Week Festival
. She's part of a discussion called "Why the Short Story?" that will feature four authors, including Chicagoan Stuart Dybek. In anticipation of the (free!) event, we chatted about her work, her thoughts on diversity at
Saturday Night Live
, and her favorite Haitian writers.
GROUPON: In "Bad Feminist," the title essay of your forthcoming collection, you say:  "At some point, I got it into my head that a feminist was a certain kind of woman. I bought into grossly inaccurate myths about who feminists are—militant, perfect in their politics and person, man hating, humorless. I bought into these myths even though, intellectually, I know better." 
The gap between your gut feeling and what you know intellectually crops up throughout the essay, and I'm wondering—what do you do to close that gap? 
ROXANE GAY: I close the gap by remembering that the people who propagate the idea of feminists as militant and man-hating are doing so because they feel threatened by women as their equals. They aren't interested in nuance or complexity or the true aims of feminism. I remind myself what feminism, or at least my feminism is about, and I try to keep moving forward.
G: Also in "Bad Feminist," you talk about listening to the Ying Yang Twins (especially "Salt Shaker") on your commute. You say that the lyrics are "degrading to women and offend me to my core," but could you try to capture what you love about the Ying Yang twins and their contemporaries a little, too? 
RG: I love the unabashed vulgarity and rawness of the music. Even though I'm thinking, "This is so wrong," it still makes me want to dance.
G: Your first short-story collection, Ayiti, is set in Haiti, and so is An Untamed State. You say in this interview that "I don't want to be the voice offering some absolute perspective on the Haitian experience." Who are some other authors writing about Haiti whose work you recommend?
RG: Certainly, I recommend Edwidge Danticat. I am also rather taken with Lenelle Moîse and Dimitry Léger right now.
[Ed. note: Danticat's books include
Breath, Eyes, Memory
, which was an Oprah's Book Club pick, and
Krik? Krak!
, featuring the Pushcart Prize-winning story "Between the Pool and the Gardenias." Check out her Amazon page here. 
Poet and playwright Lenelle Moîse's book of poetry,
Haiti Glass
, comes out this April. Check out her website here. Until Dimitry Léger's novel,
God Loves Haiti
, comes out in January 2015, you can follow him on Twitter and Tumblr.]
G: Recently, you've written about SNL's diversity struggles and Sasheer Zamata's addition to the cast. It's exciting, but you also describe it as a small change in the context of the show overall. What are some future moves toward diversity you'd like to see?
RG: Well, the show definitely lacks diversity in all realms. We have to stop being so narrow in thinking about this problem. What of the diversity in the writers' room? And directorially? What's frustrating is that they will now sort of do some laurel resting because they hired one black woman to join the cast. As always, diversity here has been narrowed to white and black, overlooking the rest of, you know, the world.
G: "The Year I Learned Everything" is one of my favorite short stories (and love stories) ever. I have too many feelings about it, I think, to really articulate what is great about it, but I'm curious—what do you think is great about it?  
RG: I think the story resonates because it's a realistic fairy tale. Boy and girl meet and they're not perfect, but they find a way to be perfect together.
Photo provided by Roxane Gay