Rugged Cliffs and Ripe Cherries in Door County's Peninsula State Park
BY: Stephanie McDaniel |
Aug 29, 2013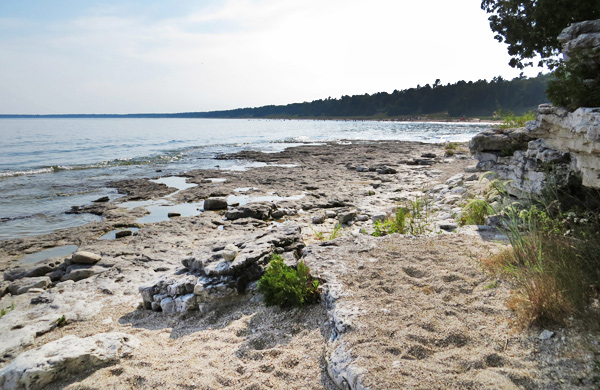 The Niagara Escarpment sweeps along a 450-mile stretch of the United States' border with Canada. Its most famous feature, Niagara Falls, formed 430 million years ago and attracts nearly 23 million visitors per year. Though it doesn't enjoy the same annual traffic as the Falls,
Peninsula State Park
in Wisconsin's Door County is a national treasure in its own right. Located on a peninsula that juts into Lake Michigan like a long, thin finger, the park is home to sandy beaches, second-growth forests, and a vast outcropping of stony islands. In the words of the Wisconsin Department of Natural Resources, "Two features dominate the Peninsula landscape: rock and water." That stark assessment might not appear in a tourism brochure anytime soon, but it hints at the appeal of an untamed wilderness that attracts crowds late into the summer.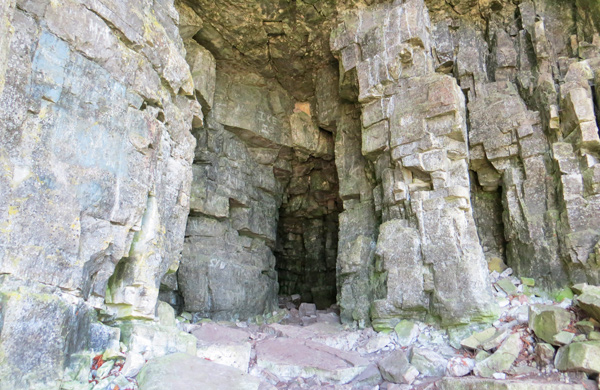 Limestone Cliffs and Backcountry Trails
Peninsula State Park encompasses a staggering 3,776 acres, so there's no hope of seeing everything in one day. Still, you can make the most of your time by renting a bike at Nicolet Beach to ride along the 10-mile Sunset Bike Route. This trail is a greatest-hits collection of the park's natural wonders, winding across grassy marshlands and through forests of beech maple and white cedar. The Sunset Bike Route is an easy one with moderate inclines, but the park is also home to a number of steeper, rockier trails aching to be carved. With a day pass ($4) in tow, mountain bikers can take the trail up to Eagle Tower and scale three stories for a dramatic view of the Michigan shoreline. Weborg Point is another necessary stop—especially if you catch it at dusk, when freshly awakened bats form silhouettes against the setting sun. While you're waiting for those bats to emerge, there's no better way to beat the midday heat than with a swim at Nicolet Beach. The secluded cove can get crowded at the height of summer, thanks to gentle waters that never rise above the chest. For a more private swim, rent a kayak and paddle out roughly a mile to reach Horseshoe Island.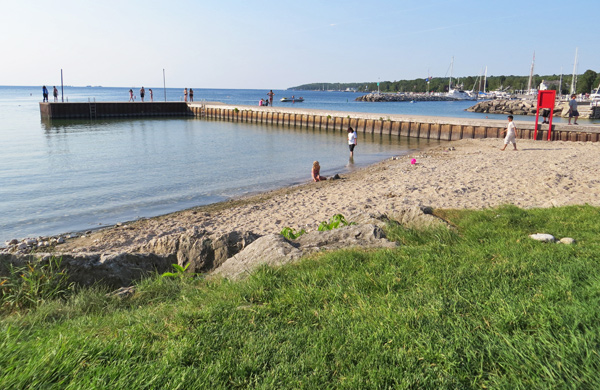 Small-Town Charm, World-Famous Cherries
There's a lot more to Door County than rugged cliffs and sandy beaches. One of Peninsula State Park's premier attractions is the
American Folklore Theatre
, which hosts a nightly lineup of musical productions throughout the summer. Local thespians take their history seriously, and their shows reflect this with topical subjects such as Great Lakes explorers and Door County's women shipbuilders. Beyond the park's boundaries, the rocky landscape dissolves into a charming sequence of beachside towns and vineyards. A highway curls around the peninsula's edge, passing by Fish Creek, Ellison Bay, and a seemingly endless succession of swimming spots and ice-cream shops. The scenery meets its match in the roadside food. Many of Door County's residents are descendants of Norwegian immigrants, so be on the lookout for Scandinavian restaurants with grass-covered roofs. And then there's the cherries. Sweet and famously tart, Door County's cherries can go stem-to-stem with any others in the world. They fill everything from pies to pint-size jars, and you can purchase them in shops throughout the region. The prized specimens are available even when you get away from the coast and into more rural lands. This may be all the excuse you need to explore highways that wind through the countryside and past century-old barns. It won't be difficult to spot many of these barns, as they tend to be decorated with massive quilts. The colorful geometric designs stunningly contrast with the landscape's rolling hills, and it's a fun sightseeing challenge to spot them all.
To get to Door County and Peninsula State Park by car, take I-94 West to I-43 North from Chicago's Loop. Drive time is approximately 4.5 hours.
Photo: © Stephanie McDaniel, Groupon
BY: Stephanie McDaniel
Stephanie McDaniel is a political theorist-turned-novelist from South Carolina. On the rare occasion she's not writing, she spends her time folk dancing, singing, and adding sea salt to Lake Michigan.