"Russian Transport" Sets Up a Family Only to Knock Them Down
BY: WILL LANDON | 3.21.2014 |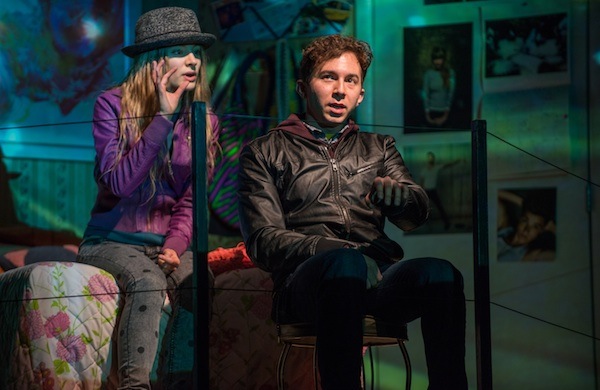 On the surface, the family of working-class Russian-American immigrants in Erika Sheffer's Russian Transport couldn't have less in common with the fading aristocrats who populate the plays of Anton Chekhov. For starters, the gang in The Cherry Orchard never had to deal with the Russian mafia. But on another level, Sheffer's script—her first—presents a Chekhovian mix of comedy and tragedy involving characters who learn that their efforts to save themselves are too little, too late.
Part sitcom and part thriller, the play—now onstage at Steppenwolf Theatre Company under the taut direction of Yasen Peyankov—introduces us to a Russian family of four living in Sheepshead Bay, Brooklyn. Matriarch Diana (Mariann Mayberry) rules her home with an iron fist, criticizing her husband's (Alan Wilder) struggling car-dispatch business and demanding the money that her teenage son, Alex (Aaron Himelstein), brings home. She doesn't know where the cash comes from, mind you, but it's probably not from his job at a Verizon store. Diana also keeps a tight rein on her daughter, Mira (Melanie Neilan), who's banned from school trips, kissing boys, and everything in-between.
As played by Mayberry, Diana is a force to be reckoned with—every bit as ferocious and predatory as the big cats whose hides influence her wardrobe choices (costumes are by Ana Kuzmanic). But even Diana can't control what happens when her brother, Boris (an uncharacteristically imposing Tim Hopper), arrives on the family's doorstep, fresh from the old country. Boris soon takes over the house and, with Diana's encouragement, draws the already law-breaking Alex into a horrifying illegal enterprise. By the time Alex discovers what his new job truly entails, there's no easy way out. His dilemma is nicely captured by Himelstein, who contributes a twitchy vulnerability in contrast to Hopper's threatening Boris.
For Boris and Diana, achieving the American dream is all that matters, regardless of the soul-bankrupting cost. The younger characters, who haven't faced the degree of hardship undergone by their elders, have a hard time understanding this. The generational divide is the heart and soul of Peyankov's staging, which contrasts the kids' Brooklyn dialects and American way of dressing with the first-generation manners of the adults. For all their disagreements, though, we never lose sight of the family's love-hate bond, even when they're saying things like, "I'll crush your head like a nectarine!"
The script only starts to sag in the second act, when arguments seem to drag on and character choices confound, implying that Sheffer couldn't figure out how to wrap things up. At the last minute, though, the production saves face with a touching, if ambiguous, ending, where the younger generation tries to make a noble stand. We can only imagine what happens to them after the lights go dark, but at least we know they tried to do the right thing at least once.
Russian Transport runs through May 11 at Steppenwolf's upstairs theater (1650 N. Halsted St.). Tickets are $20–$78, and can be purchased here.
Don't agree with what we have to say? Check out Russian Transport's other reviews at Theatre in Chicago.
BY: Will Landon
Guide Staff Writer
Will Landon is a Chicago-based writer who sings punk rock songs with the Blue Ribbon Glee Club and occasionally works for free as an assistant stage director.