Saintseneca is Happy Alone, At Least for Now
BY: Collin Brennan |
Feb 27, 2014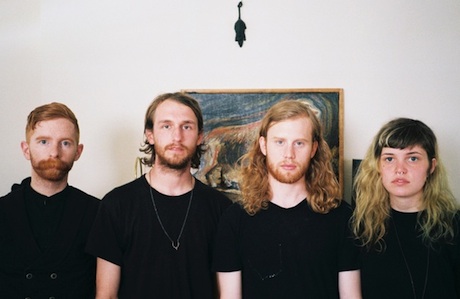 The young folk band from Columbus has never quite fit in. They bring their strange blend of Americana and DIY punk to the Empty Bottle on March 7.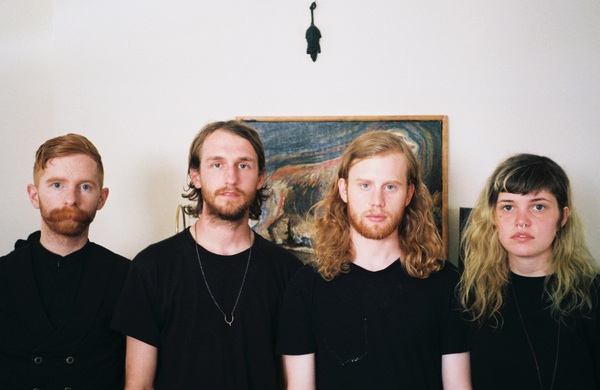 In the music video for
Saintseneca
's latest single, "Happy Alone," frontman Zac Little wanders the Midwest with a giant orb on his head. He climbs a lookout tower, strolls beside a skating rink, and shuffles through a blacklit bowling alley. All the while, people seem to pay him no mind—as if they're too wrapped up in their own small worlds to notice. The metaphor shouldn't be lost on longtime fans of Little and his band. No matter which way you look at it, Saintseneca have spent the past few years alone, an island unto themselves. Their folky, Americana-tinged sound bears traces of Little's youth, spent in a rural Appalachian town closed to all except a trickle of the outside world. "Being so isolated forced me to be introspective and resourceful," Little recalls. "As a kid I would explore these abandoned houses and barns and wonder what had happened in those places." Even when the band formed in Columbus, Ohio, and started touring the city's thriving house-show scene, they stood out in the sea of punks and hardcore kids. They learned to sing louder and to play with more sheer force, if only because that was the only way anybody would give them time of day. Even Little's fiery red mustache—one of the most impressive this writer has ever seen—can be interpreted as a means of calling attention to the music itself. If the lyrics to "Happy Alone" are any indication, the band has finally come to terms with its outsider status. Ironically, this has happened just in time for a new album to garner them the praise and recognition they've long deserved. The band's latest release,
Dark Arc
, is their first LP since signing with powerhouse label ANTI- last year. If the success of their
Uppercutter
7-inch is any indication, Saintseneca will be anything but alone when they visit the
Empty Bottle
next week.
(Friday, March 7, at 9 p.m. $10; buy tickets here)
Watch the music video for "Happy Alone":
BY: Collin Brennan
Guide Staff Writer
Collin is a senior editor and a staff writer for Consequence of Sound. He self-publishes zines and moderates writing workshops for The Chicago Publishers Resource Center (CHI PRC).