Sample the Local Flavor: Best Places for Beer Tastings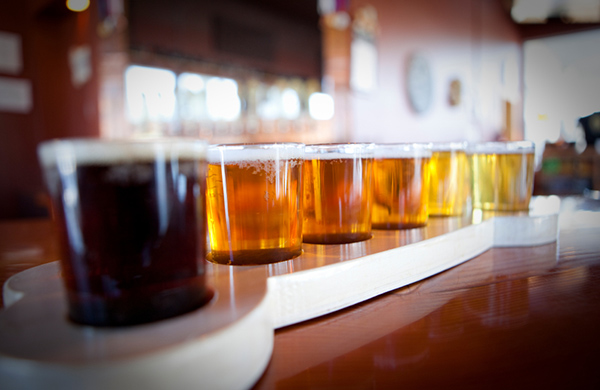 Over the past two decades the craft beer movement has taken America by storm, and Austin is no exception. A variety of small brewers and beer specialty venues have sprung up around the city, making it a great location for brew lovers looking to sample something other than Lone Star for a change. Here are some of the top spots around town to do a beer tasting.
Of course, brewery tours will always be one of the best ways to do a beer tasting. On the east side of town, Hops & Grain hosts tours on Saturdays, with a tasting room that holds court Thursday through Sunday. Or, try Live Oak Brewing Company on 5th Street. The fledgling beer operation gives occasional free tours of their entire facility, and they always including a sampling of the pilsners, lagers and ales on tap.
In South Austin, Friday evening tours at Independence Brewing include three free samples, and the first Saturday of each month is one big outdoor party, where tasters are always available. Nearby, South Austin Brewery's Groovy Sundays tradition features live music and lots of tasting glasses, and the brew team offer tours by appointment Monday through Friday. Or you can sign up for one of South Austin Brewery's frequent craft beer classes, which is a great excuse to learn and drink simultaneously.
Adelbert's is an Austin favorite that can be found in the city's northern reaches. The craft brew operation is known primarily for their Belgian-style ales, and is happy to provide tours and tastings on Fridays and Saturdays. Elsewhere, Austin Beerworks offers a regular schedule of tasting events, as well as happy hours and special occasions like the cultural mashup known as OktoberFiesta. And all the way out in Pflugerville, Rogness Brewing Company sports a brand new tasting room and a full-on beer garden, where customers are welcome to bring lawn chairs, children and dogs.
Other quality beer tasting spots that may not immediately jump to mind include Whole Foods Market. Surprisingly, each Austin location has local craft beer on tap, and vendors frequently offer samples and tastings on site. And you can always sample a flight of local favorites from popular restaurants like Banger's, Scholz Garten, Henri's and The Flying Saucer. With more beer bars and breweries opening all the time, Austin's love of beer tasting is sure to only grow.
BY: Gayot
Gayot
GAYOT.com serves as a leading worldwide authority on the good life. Millions of readers turn to Gayot's savvy, professional reviews on dining, travel and lifestyle. From "Best of" lists and travel guides, to a searchable restaurant and hotel database, Gayot provides dependable coverage while keeping up with the latest trends and news.