Sand's in Season: A Chicago Beach Guide
BY: Emily Wachowiak |
May 23, 2013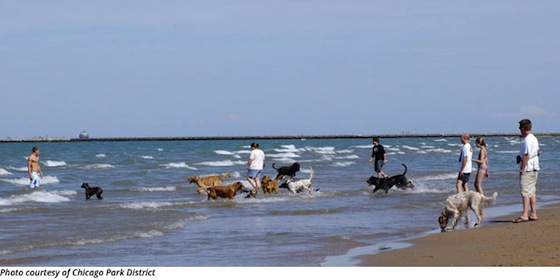 The orange objects bobbing around Chicago's beaches this summer are
not
lost volleyballs. They're part of the Chicago Park District's new predictive modeling program, which records essential data about water temperature, wave height, and predicted bacteria levels. The Park District relies on this data to issue swim advisories and beach closures, which it announces on its
website
in real time. Cathy Breitenbach, the Park District's director of Green Initiatives, can hardly contain her excitement about the new equipment, which is finally rolling out to all 23 of Chicago's beaches after two years of testing. Though she's in the midst of prepping for the 2013 swim season—which officially kicks off Friday, May 24—she took the time to share some insider tips on Chicago's sandy hot spots.
Where to Bring the Kids
Though she stresses that all of Chicago's beaches are kid-friendly, Cathy knows of a few that sport dedicated playgrounds. These include Hartigan Beach in Rogers Park, Lane Beach in Edgewater, and Calumet Beach in the East Side community. Bronzeville's 31st Street Beach recently added a playspace that got the seal of approval from some notoriously tough customers: Cathy's kids. "They thought it was one of the best in the city," she says.
Where to Bring the Dog
The sandy expanses of Foster and Montrose Beaches in Uptown are dog-friendly, with designated areas for pups to play. Still, Cathy advises checking out the Park District's
canine guidelines
before slathering your dog with his favorite brand of sunscreen.
Where to Beat the Crowds 
Finding an open patch of sand during a Chicago heat wave may seem like an impossible task, but Cathy observes that crowd size can "vary from weekend to weekend." She encourages hopeful beach bums to check the Park District's
calendar
for special events that might draw a bigger crowd or to seek out a spot on Montrose Beach, which is the city's largest. An extra tip: if one beach is closed due to a swim advisory, the one just down the shore might still be open. "That's the perk of having such a big lakefront," Cathy says.
Where to People-Watch
"All of them!" Cathy exclaims. "But probably our most international beach is [the Gold Coast's] Oak Street Beach. It's right near downtown, so there's a big tourist population. You may meet people from all over the world."
Where to Find a Skyline View
The South Shore's Rainbow Beach showcases Instagram-worthy views of Chicago's skyline, but Cathy also gushed about the picturesque panorama at 31st Street Beach. Bronzeville's finest stretch of sand sports a new "green roof," which visitors can climb up to for an unobstructed view of downtown's skyscrapers.
Where to Bump, Set, and Spike
Volleyball courts are strewn across several of Chicago beaches, but the biggest can be found at the ever-popular North Avenue Beach in Lincoln Park, which Cathy claims is the "most visited" beach in the city. Competitive volleyball leagues also hold court at Montrose Beach and at 63rd Street Beach in Woodlawn.
Where to Challenge Rahm Emanuel to a Dance-Off
Although Mayor Emanuel's
days as a ballet dancer
are sadly behind him, you still might be able to challenge him to a swim-off at Ohio Street Beach in Streeterville.  "I know the mayor is a triathlete," Cathy says. "Ohio Street is where the triathletes practice." Markers in the water make it easy to measure distances, so you can be confident when racing a seagull to that floating hot-dog bun.
Chicago's beaches will be open May 24–September 3, with lifeguards on duty from 11 a.m. to 7 p.m. every day. For up-to-date information on beach rules and swim advisories, visit the Park District's beach homepage.