Savory Sweets at Katherine Anne Confections
BY: Halley Lawrence |
Mar 17, 2016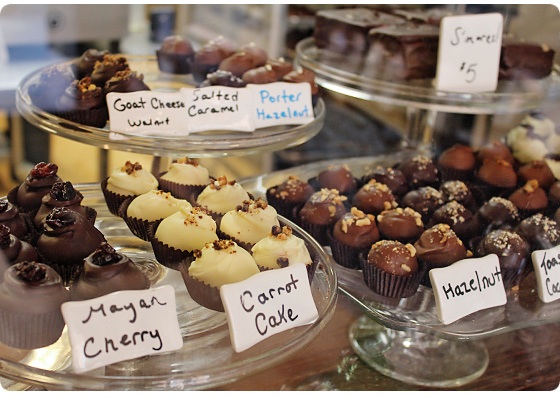 Flecks of sea salt scattered over buttery caramel. Balsamic vinegar drizzled over berries and ice cream. Chili-pepper-infused chocolate. Opposites attract—or so goes the saying. But opposites don't really attract. They just work well together by balancing out each other's extremes and emphasizing unique characteristics by means of contrast. This concept holds especially true when it comes to savory desserts, a foodie trend that has swept America in recent years.
You'd be hard pressed to find anyone with a better handle on these ambidextrous flavors than Katherine Duncan, the woman behind Chicago's Katherine Anne Confections. That's because Duncan spends a portion of each week inventing new flavors of truffles, caramels, and marshmallows, and she regularly incorporates savory components.
"Rosemary and thyme work really well with sweeter stuff," she says. "For Valentine's Day, we had a strawberry, champagne, and thyme truffle. We also have a smoked-almond, orange, and chili truffle right now."
Savory-sweet flavors may seem intimidating to amateur cooks, but they are easy to replicate at home. Katherine's herb-infused cream adds another dimension to coffee or hot chocolate. It can also replace regular milk in baking, breathing new life into classic treats such as chocolate-chip cookies or brownies.
Herb-Infused Cream
What You Need:
1 cup cream
3 sprigs fresh rosemary or 4–5 sprigs fresh thyme
What You Do:
Pour the cream over the herbs, completely immersing each sprig.
Heat until just below boiling—around 200 degrees.
Remove from heat and leave at room temperature for 10–30 minutes.
Strain through cheesecloth.
Alternatively, skip the stove and steep the herbs in cream overnight in a refrigerator.
Taste Katherine Duncan's inventive sweets for yourself at 2745 West Armitage Avenue in Logan Square. On a typical day, she can be found in the kitchen working fresh cream, local honey, and homegrown herbs into candies. She also hosts truffle-making classes and preview parties where she debuts new creations.