School Spirits at Chicago Alumni Bars
BY: Cody Braun |
Aug 29, 2013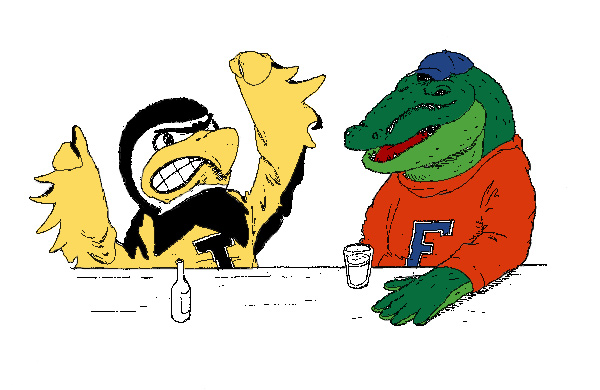 I'm skeptical that absence makes the heart grow fonder, at least in terms of romance. Stuck 800 miles from Chapel Hill, though, I don a dopey smile at the mention of my alma mater, the University of North Carolina. I remember beautiful people cheering beneath dogwoods and Carolina-blue skies. I charge into recitations of the
state toast
that peter out approximately 25% of the way through ("Here's to you, the Old North State, we, uh, think pine trees are pretty great?"). Football season brings out those sappy tendencies, making us flock to be with people who share our love, history, and face-paint colors. When we get together, sometimes we get a little crazy. As the college-football season gears up, we'll be sending writers to visit the best alumni bars in town and letting you know where to watch big games or sing the fight song while leaning on some strangers.
Our schedule:
September 12: Alabama
Alex Bean has always been a big fan of college football. He's never been to Alabama, though, so that might be a relative term. He'll head to
The Houndstooth Saloon
(3369 N. Clark St.), a University of Alabama alumni bar, to chant "Roll Tide" and let you know why you should watch them play Texas A&M there.
September 26: Notre Dame
With an Irish Catholic family on the South Side, John Flaherty spent his childhood surrounded by Fighting Irish sweatshirt-clad cousins and
Rudy
wannabe friends. He practically had to love Notre Dame, which is why he sort of hates it. But he'll keep quiet at their alumni bar,
Wrightwood Tap
(1059 W. Wrightwood Ave.), as he reports on why former South Bend residents will probably feel at home at the bar for the team's game against Oklahoma.
October 17: Iowa
Jasmine Feldmann graduated from the University of Iowa and knows every corner of Iowa City. When she was in school, the program went through a string of rebuilding years, but she'll visit
Jack & Ginger's
(2048 W. Armitage Ave.) to prep for the game against Ohio State. She's hoping she'll find one of the massive turkey legs served at the stadium.
October 31: Florida
At his wedding, Clinton McKay walked down the aisle to the
University of Florida fight song
. The school's game against Georgia might not be the happiest day of his life, but he'll explain why he'll be spending it at
Sully's House
(1501 N. Dayton St.).
November 28: Ohio State
The Ohio State bars in Chicago have a certain reputation for rowdiness, but graduate Greg Kester promised he'd tell us whatever he can remember after visits to
Mickeys Bar & Patio
(2450 N. Clark St.) and
McGee's
(950 W. Webster Ave.) so we know where to go for the game against Michigan.
We'll be updating this page with links to the stories, so check back in. Email grouponguide@groupon.com if we're forgetting your favorite alumni bar.
Illustration: © Will Landon, Groupon
BY: Cody Braun
Guide Staff Writer
Cody is a banjo-carrying gypsy now accustomed to having a permanent home in which to brew beer, store journalism degrees, read Wodehouse, and bake bread.