Searching for Shochu Cocktails in Chicago
BY: Courtney Ryan |
Aug 8, 2013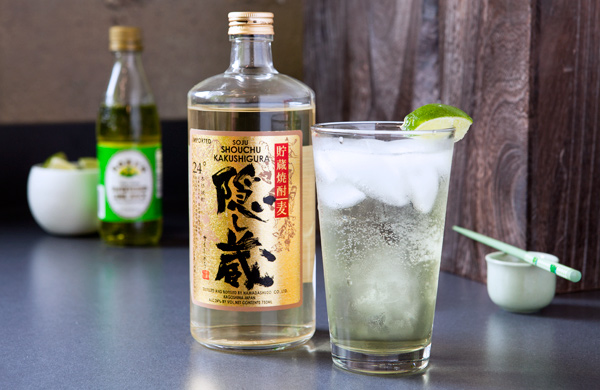 Most people have felt grateful for a cold drink at the end of the day. When I was working in Osaka, we called such drinks "station beers," a loose term that represented the times we would gather at the train station closest to work and indulge in anything from a cheap can of beer to a bowl of rice with an omelet on top. On my second day in Japan, I joined a number of soon-to-be coworkers for a station beer, and drank my first Suntory chu-hi. It was a cold can of what I thought was lychee-flavored malt liquor, and it cost about $1.50. Perhaps it was because it represented the promise of friendship in a very foreign land, but I thought it was the most refreshing beverage I'd ever had—until I had the next one, a seasonal cherry-blossom chu-hi, which was soon topped by yet another one, which I tried during my first visit to a Japanese pub. There, I sampled the drink in its freshly mixed form, known as a chuhai. The crisp taste lingered long after I moved to Chicago, igniting a one-woman mission to relive the sensation of that first lychee cocktail. The term chuhai is derived from "shochu highball," a mixed drink with Japanese shochu as the liquor base, soda water, and lemon juice, though any flavor of juice will suffice. In Japan, chuhais are served at bars alongside other classic cocktails, though you're more likely to find them at convenience stores and supermarkets sold as individual cans next to the beer and soft drinks. Unfortunately for folks in the US, Japan doesn't export its canned chuhais like it does its beer. Luckily, plenty of bottles of shochu make it across the Pacific each year, and some Chicagoland establishments have put the liquor—distilled from rice, barley, or potatoes—to good use by blending both classic and unexpected renditions of the chuhai. Of course, you can also make station beers happen at home.
Five Spots Where It's Mixed at the Bar:
1.
Daruma Restaurant
(Schaumburg | 1823 Golf Rd.) It took a while, but it finally dawned on me that if I wanted to find chuhais I should probably find the restaurants that Japanese people frequent. Because of the Japanese manufacturing companies and firms located there, those restaurants are in Schaumburg. One notable eatery is Daruma Restaurant, a nondescript joint with an indoor koi pond and lots of Japanese alcohol. Along with an impressive list of sake and shochu, the restaurant has six simple and tart chuhais in flavors ranging from fresh lemon to lychee. For a truly Japanese experience, try heading to Daruma on one of Chicago's most devastatingly humid days and sip a yuzo sour while slurping zaru soba—cold buckwheat noodles served with a tangy dipping sauce. 2.
Cocoro Restaurant
(River North | 668 N. Wells St.) At Cocoro Restaurant, I knew I was in the right place by the humbly displayed ramen, katsu curry, and shabu shabu. Throw an apple, plum, cranberry, or vanilla chuhai into the mix and it's suddenly a typical weeknight in Osaka. 3.
Murasaki Sake Lounge
(Steeterville | 211 E. Ontario St.) Though it's appropriately known for its sake, Murasaki Sake Lounge in River East doesn't shy away from shochu either. The lounge's bartenders employ lemon, lime, cassis, and plum juice for classic iterations of the cocktail, but also incorporate specialty sakes, savory and sweet liqueurs, and unique Japanese staples such as sports drink Pocari Sweat.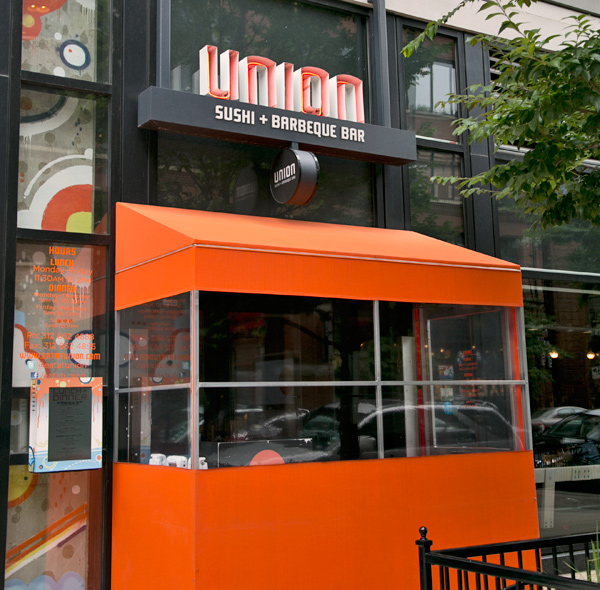 4.
Union Sushi + Barbeque Bar
(River North | 230 W. Erie St.) Of course it wouldn't be Chicago if there weren't at least a few craft-cocktail takes on the traditional chuhai, and I've come around to appreciating this creativity.
Michelin
-recommended Union Sushi + Barbeque Bar in River North hides its chuhais on a sprawling drink menu under the cocktail list, so you have to scan the ingredients for curious inclusions such as "Japanese potato vodka" or "rice vodka." But the extra effort is worth it once you've tried inspired blends such as cava, hibiscus, and triple-sec lime, or the Notes from the Underground cocktail—carrot, celery root, ginger, lime, egg white, and chervil tincture. Sneak in during the crowded happy hour (5 p.m. to 6:30 p.m.) for dollar oysters and discounted rolls and skewers. 5.
Arami
(West Town | 1829 W. Chicago Ave.) For a different vibe but an equally innovative take on the chuhai, West Town's Arami hosts a peaceful, Kyoto garden-like atmosphere where elegant small plates and colorful maki have garnered acclaim from nearly every publication in the city. The drink list runs twice the length of the food menu, though, and draws heavily on high-end nectars from the Land of the Rising Sun. So it's no surprise to find seated on the rotating cocktail list an upscale chuhai blended with orange-blossom water and garnished with a maraschino cherry. It might not be in a can, but it hits the spot.
Five Spots to Help You Do It Yourself:
1.
Mitsuwa Marketplace
(Arlington Heights | 100 E. Algonquin Rd.) For the real thing, there is perhaps no better stop than Mitsuwa Marketplace. The Japanese supermarket has nearly everything you would find in an actual grocery store in Japan, plus its own liquor store with varieties of shochu as well as canned sour plum cocktails that are as close as you'll get in this country to the real canned chu-hi. 2. China Place Liquor City (Chinatown | 2105 S. China Pl.) With more than 100 brands of Japanese alcohol, China Place Liquor City in Chinatown is always a reliable stop to locate a bottle of shochu. As an added bonus, the owners possess encyclopedia-like minds and can help you navigate the seemingly endless options and determine exactly what you want. 3.
Warehouse Liquors
(South Loop | 634 S. Wabash Ave.) This South Loop spot has a limited but notable selection, and the shop's associates usually know where it's hidden if you don't see what you want on the shelf. 4.
West Lakeview Liquors
(Roscoe Village | 2156 W. Addison St.) 5.
Vas Foremost Liquors
(Logan Square | 2300 N. Milwaukee Ave.) Both sometimes carry shochu, but call ahead to be certain.
Chuhai Cocktail Recipe
What You Need:
2 ounces shochu 1 ounce Rose's lime juice Soda water Lime wedge for garnish
What You Do:
1. Build with ice in a highball glass 2. Add shochu and lime juice over ice 3. Stir with a bar spoon 4. Top with soda water 5. Garnish with fresh lime Classic chuhai mixers include fresh citrus, cassis, and plum juices, but flavors such as mango, kiwi, strawberry, lychee, and apple are great too. Be adventurous by swapping the juice for a liqueur, or be creative when mixing your favorite cocktail and sub in shochu for the base liquor.
Top photo: © Michelle Klosinski, Groupon Bottom photo: © Stephanie Bassos, Groupon
BY: Courtney Ryan
Guide Staff Writer
Courtney Ryan is a Chicago-based writer and Derrick Rose fan. She spends almost 100% of her time making or eating popcorn.