Seattle's Mocktails: Where to Drink When You're Not Drinking
BY: Naomi Bishop |
May 14, 2014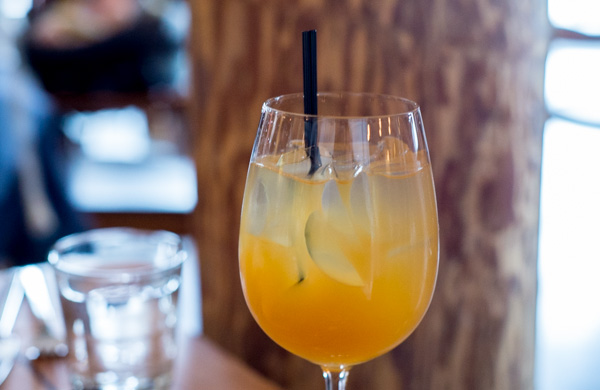 When a patron slips up to the bar and asks what beverages are on offer which don't contain alcohol, chances are that they'll be met with a blank look (or worse). The bartender, often clueless, comes from a world where alcohol is prevalent, and non-drinkers rare. Be they recovering alcoholics, pregnant, or just looking for a night off, the service industry often abandons non-drinkers to fend for themselves with mega-colas or to settle for water while their friends drink eye-catching, umbrella-adorned cocktails.
Slowly, though, this tide is turning, and Seattle, politically correct town that it is—equal opportunities for everyone—is on board with the non-alcoholic cocktail movement.
At Restaurant Zoë, on Capitol Hill, diners digging into Chef Scott Staples's famous gnudi can pair the rich dumplings with a refreshing "Clear Conscience": fresh citrus, cucumber, and soda, shaken and served up. Unlike many of the craft-cocktail bars serving mixed mocktails, Restaurant Zoe's non-alcoholic specialties are kept at extremely reasonable prices.
At Westward, those who don't drink can still find a reason to belly up to the beautiful and ridiculous, giant boat-shaped bar on the Lake Union waterfront. For those who don't drink at all, various craft sodas are on offer (Bundaberg Root Beer, Loux Sour Cherry Soda), and a seasonal shrub mocktail is always on the menu—with interesting flavors, such as quince and thyme. For those who are just interested in less alcohol, Westward also offers lighter cocktails, designed to be afternoon sippers that won't wreck your evening.
Many of Seattle's top craft-cocktail bars pride themselves on creating custom cocktails based on patrons' tastes, and this extends to non-alcoholic drinks, too. Tavern Law, Bathtub Gin, and the Knee High Stocking Co. have all shown themselves to be both amenable to and skilled at creating drinks that pack a punch only in flavor.
For the mega-fancy, the ultimate in non-alcoholic drinks comes a few hours north of Seattle, at Willows Inn on Lummi Island. There, the $165 tasting menu can be accompanied by either a traditional wine tasting for $75, or for just $40, a juice pairing. A recent spring juice pairing included gooseberry, wild huckleberry, French sorrel, and cherry blossom infusion.
BY: Naomi Bishop
In need of an outlet for her effervescent enthusiasm for all things edible, Naomi Bishop started sharing her thoughts on food at her blog, TheGastroGnome, in 2006. Her lack of fear—she'll eat anything and go anywhere—lead her to discover restaurants hidden in plain sight or find the most delicious needle in the haystack of a menu. Her writing appears on Serious Eats, Eat Your World, and in the Seattle Weekly. Download her app, Unique Eats of the Northwest to find the best restaurants you've never tried.