Selfish for Shellfish: Seattle's a DIY Town
BY: NAOMI BISHOP | 2.6.2014 |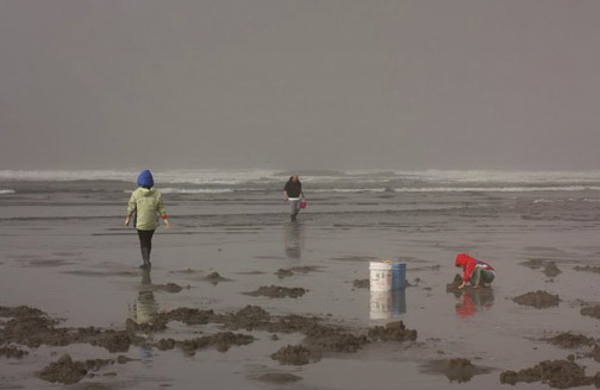 No doubt, Seattle is a shellfish town. It's brimming with Dungeness crab, dozens of varieties of oysters, and a type of giant clam (the geoduck) whose pronunciation doubles as a test of one's ability to pass as a local. Those who come to visit are confused, at times, by the fact that there's not a lot of the sort of sea-shack, nautically-themed restaurants that dot the Jersey and Maine shores. Seattle's a different kind of town, though, the kind where people set early alarms to beat the rush to the crab dock, or stay out late in the dark jigging for squid in the shadow of cruise ships. Maybe it's a selfish town and the population wants to keep the crustacean bounty for themselves. Or perhaps it's that they think they can cook it better than any restaurant can (likely true, as simple is often better with high-quality seafood). But the most likely answer is that it's just more fun to pluck oysters from the shore, drop crab nets from the pier, or yank clams from the depths of their sand-filled hidey-holes.
The best place to start on any shellfishing adventure is the Washington Department of Fish and Wildlife's website. That's where to find out what it's currently legal to hunt, see what beaches or piers are open (watch out for temporary closures due to parasites), and find how-to guides for various types of shellfish-gathering—along with a few recipes, in case one is particularly successful.
Each type of hunting carries a few challenges and even some necessary equipment, and all require a Washington State shellfish-gathering license. The license is available (as is some of the equipment) at many major stores (Fred Meyers, Big 5 Sports), but the best place to go is a locally-owned spot where the staff will be excited to help outfit a newcomer. Linc's Fishing & Tackle, on Rainier just south of the ID, is a great place to do just that.
Then it's time to just pick a type of shellfish to look for and head out! For oystering, the gear is simple—just a shucking knife—but it's important to know how to shuck, as the law requires leaving all the shells on the beach. Coastal razor clamming can be done with just a cheap clam gun (a specialized tool usually made from PVC pipes) and a bucket, but is a bit of a drive. Crabbing needs a little more time and equipment, but also involves a relaxing time spent sitting on the dock or on a boat.
As with any type of hunting or foraging, gathering one's own shellfish can be difficult, but it also has huge advantages over eating it in a restaurant: it's always fresher, and it always tastes like a successful adventure.
BY: Naomi Bishop
The GastroGnome
In need of an outlet for her effervescent enthusiasm for all things edible, Naomi Bishop started sharing her thoughts on food at her blog, TheGastroGnome, in 2006. Her lack of fear—she'll eat anything and go anywhere—lead her to discover restaurants hidden in plain sight or find the most delicious needle in the haystack of a menu. Her writing appears on Serious Eats, Eat Your World, and in the Seattle Weekly. Download her app, Unique Eats of the Northwest to find the best restaurants you've never tried.