Set the Table: "Breaking Bad" Series Finale Party
BY: Amelia Buzzell |
Sep 25, 2013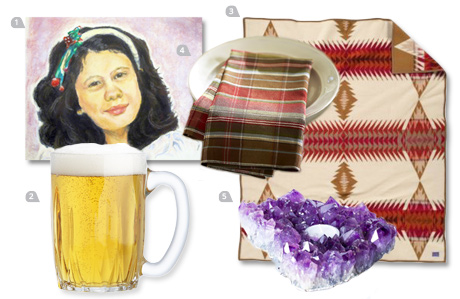 You'd have to be living under a rock—er, mineral—to not be aware that September 29 marks the end of AMC's critically acclaimed series,
Breaking Bad
. But it's not just critics who are addicted to the show: thanks to obsessed fans, elaborate theme parties are popping up all over the internet, with everything from homemade blue rock candy to, in a friend's case, cakes frosted with the phrase, "I am the cake who knocks." Pay homage to the show by setting a table nuanced with Albuquerquean charm, nods to the drug underworld, and of course, plenty of Flynn's favorite breakfast foods (but don't even think about serving your guests
plain
Raisin Bran). Start by pulling in elements inspired by the characters' homes. Mix the muted plaids, Southwestern prints, and hand-drawn family portraits seen in the White household with pops of Marie's signature purple and beer steins begging to be filled with Hank's Schraderbrau.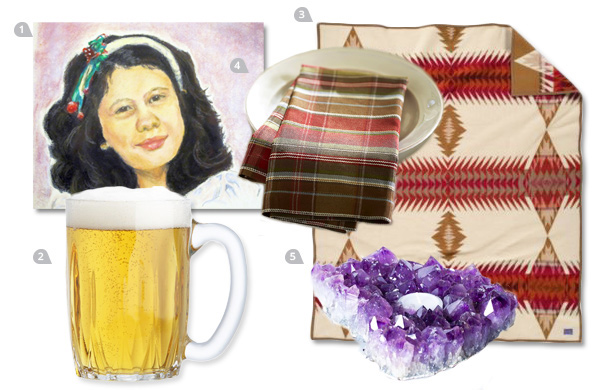 1.
Custom pastel portraits
, AvalonPastels on Etsy (based in Chicago), $150 2.
Cask beer mug
, Crate & Barrel, $2.95 (on sale); or find the collectible stein of your dreams at
Steinland Gifts & Collectibles
in East Dundee, IL 3.
Banded Arrow blanket
, Pendleton, $228 4.
Tahoe plaid napkins
, Pottery Barn, $28 for four 5.
Amethyst votive holder
, Furbish Studio, $50 Once your seemingly innocent table is set, incorporate nods to the show's dark side. Start with yellow Fiestaware plates just like the broken dish Krazy 8 was going to stab Walt with in season one, then reference the patriotic inflatable on the roof of Saul Goodman's office with Statue of Liberty–shaped salt and pepper shakers. A gold tortoise shell shines brighter than the desert sun, and a lily of the valley in green and white silk guarantees no nearby children will be poisoned from it. Loop car-wash air fresheners around guests' silverware, and set a Roomba to work after the party is over to clean up any stray crumbs or morsels of ricin.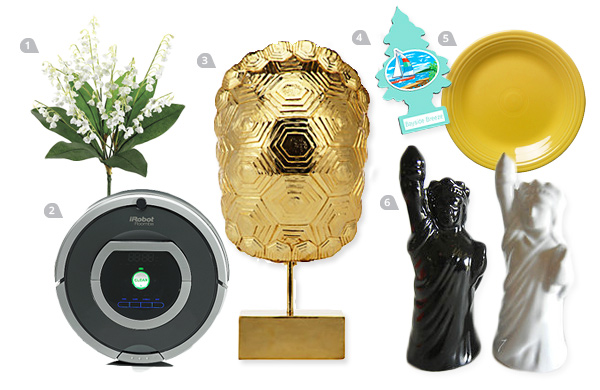 1.
Silk lily of the valley spray
, Afloral.com, $5.59 (on sale) 2.
iRobot Roomba 780
, $599 3.
Tortoise shell on mount
, Z Gallerie, $49.95 4.
Air fresheners in Bayside Breeze
, Little Trees, $7.50 for six 5.
Sunflower dinner plate
, Fiestaware, $11.99 each 6.
Statue of Liberty salt and pepper shakers
, modern.vintage on Ebay, $4.99