Set the Table for a Fall Potluck
BY: AMELIA BUZZELL | 10.24.2013 |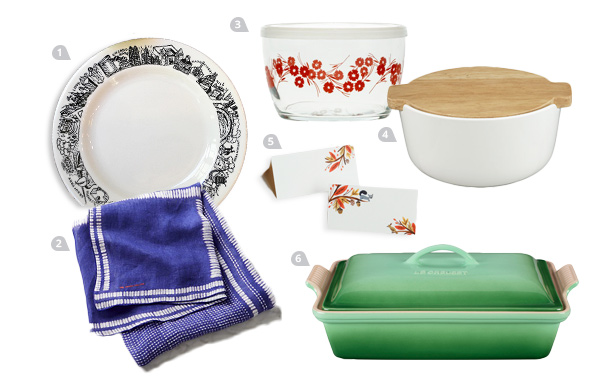 Whether you're testing out recipes for a few new Thanksgiving side dishes, or just want to host a party with minimal fuss, a potluck is a perfect option. Lay out a neutral tablecloth so your guests' favorite oven-to-table dishware can take center stage, at least until you wow them with this tuck bowl (whose lid doubles as a trivet!). Repurposed place cards let cooks write out the names and ingredients of each dish, so guests know exactly what they're getting as they serve themselves on plates rimmed with the Chicago skyline.
1. Chicago Skyline dinner plate; Posh Chicago ($16)
2. Como Gauze linen tablecloth; Crate & Barrel ($129+)
3. Storage bowl in Red Wheatflower; Fishs Eddy ($6.50)
4. Tuck bowl with wood lid; CB2 ($7.95)
5. Place cards; Anthropologie ($7.50 for eight)
6. Heritage 4-quart rectangular casserole; Le Creuset ($95)
BY: Amelia Buzzell
Guide Staff Writer
Amelia is a Senior Writer at Groupon who owns about 600 houses' worth of housewares. She daydreams about throwing parties and amassing more housewares.