Set the Table: Fun and Frilly Bachelorette Party
BY: AMELIA BUZZELL | 8.7.2013 |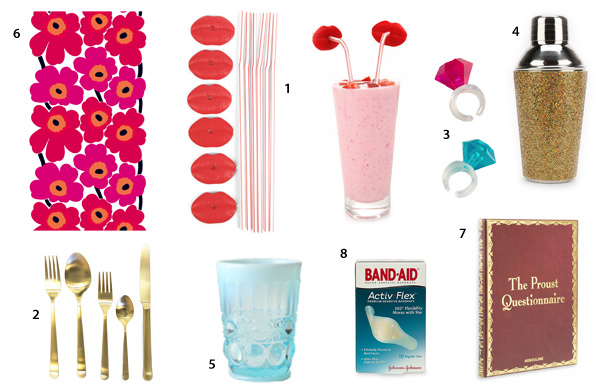 A flowery tablescape can help set a cheery tone for any bachelorette party, whether drinks and hors d'oeuvres at home are the main event or just the first of many increasingly rowdy stops. The tasteful table below blends elements both flirty and refined, and thankfully swaps out cheesy favors (novelty pasta, anyone?) for more sophisticated touches. Stay in for girl talk—with help from the insightful questions of The Proust Questionnaire—or put some precautionary band-aids on your heels before hitting the town for some honky tonk at The California Clipper.
The Spread
A pink color scheme can easily look childish, but pops of gold, white, and aqua keep this table balanced. The look is still playful though—wineglass charms shaped like cocktail rings, for example, beg to be worn like Ring Pops.
1. Lip Straws; Kikkerland ($10)
2. Oslo Gold Cutlery Set; Furbish ($72)
3. Cocktail Ring Wine Charms; World Market ($9.99)
4. Glitter Cocktail Shaker; Urban Outfitters ($24)
5. Opalescent Tumbler; Anthropologie ($12)
6. Unikko Tablecloth; Marimekko ($198)
7. The Proust Questionnaire; Assouline ($45)
8. Band-Aid Activ-Flex bandages; Drugstore.com ($4.59 for 10)
BY: Amelia Buzzell
Guide Staff Writer
Amelia is a Senior Writer who owns about 600 houses' worth of housewares. She daydreams about throwing parties and amassing more housewares.