Set the Table: Ice-Cream Social
BY: Amelia Buzzell |
Sep 4, 2013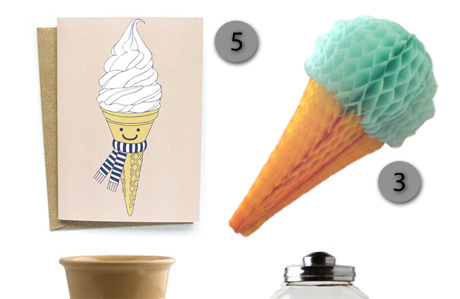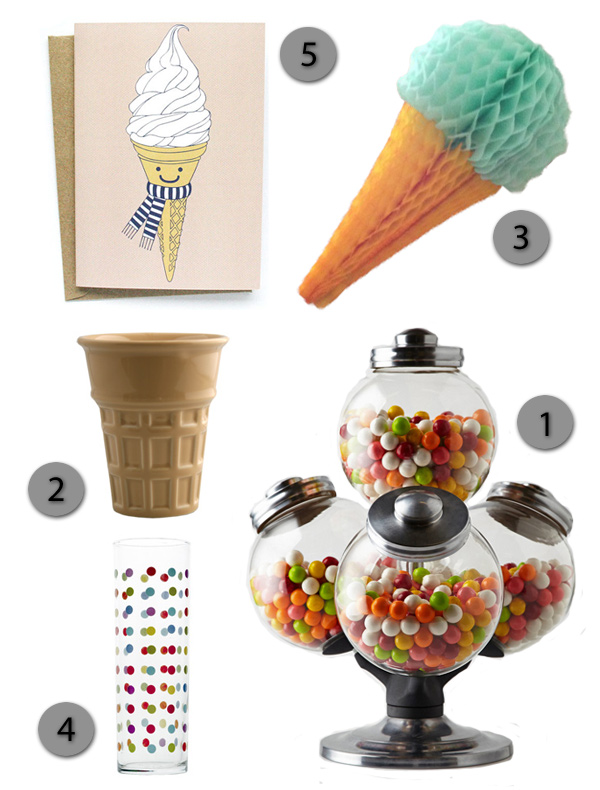 If it's still too warm for your tongue to stick to a pole, then it's definitely not too cold for ice cream. Before the chill sets in, relish the quintessential summertime treat by hosting an ice-cream social, complete with colorful serveware and mountains of marshmallow fluff.
Let guests know from the get-go that they'll be neck-deep in fudge ripple with a whimsical ice-cream-cone invitation. On the big day, a multi-globed candy jar is great for holding candies, cookies, and sprinkles, and also doubles as a colorful centerpiece. Polka-dotted water glasses echo the playful sprinkle motif, and ceramic cone-shaped dishes are a whimsical yet sophisticated upgrade from the classic edible wafer.
1. Argentinean candy jar; Anthropologie ($498)
2. Ceramic ice-cream cone; Fishs Eddy ($11.95) 
3. Ice-cream honeycomb decorations; Paper Party ($17 for three)
4. Polka-dot glass; Fishs Eddy ($8)
5. Happy ice cream card; badbooks on Etsy ($4)
BY: Amelia Buzzell
Guide Staff Writer
Amelia is a Senior Writer who owns about 600 houses' worth of housewares. She daydreams about throwing parties and amassing more housewares.