Set the Table "Little House on the Prairie"–Style
BY: AMELIA BUZZELL | 12.4.2013 |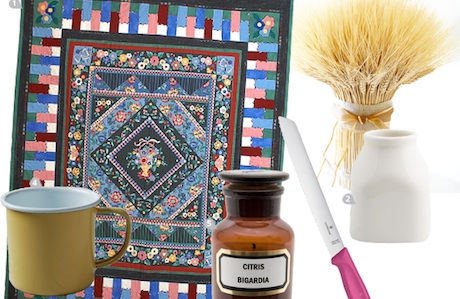 Whether you know it best as a series of bedtime stories or as the classic TV show, chances are Little House on the Prairie made you want to run away from home to become a pioneer. Instead of trading your bike for a team of oxen, try decking your homestead with a tablescape so rustic and charming even mean old Nellie Oleson couldn't turn up her nose at it.
Drape a quilt over the table to serve as a tablecloth—extra-appropriate if it includes scraps of the Ingalls girls' beloved calico—and top it off with a decorative wheat centerpiece as a nod to Almanzo Wilder's summers in the fields. (Not to mention the wheat he lugged home to save the starving town during The Long Winter's epic snowstorms.) Pour the drink of your choice from a "Half Pint" milk bottle into a rustic enamelware camping cup, and use a pretty knife to cut through a wintry loaf of brown bread. A candle makes the whole setting extra-cozy—at least when it isn't sitting in the window to guide Pa home through a blizzard.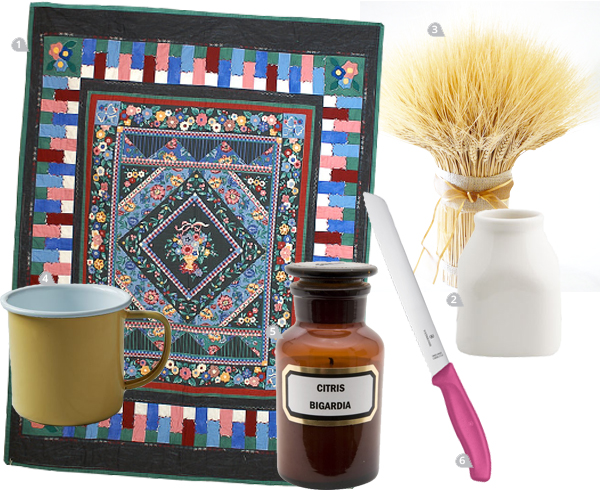 1. Basket quilt; StitchedByDella on Etsy (based in Chicago) ($150)
2. Milk bottle; Fishs Eddy ($6.95)
3. Blond wheat cone; DriedDecor.com ($59.99 on sale)
4. Enamelware camping mug; West Elm ($6)
5. Apothecary candle; Jayson Home (1885 N. Clybourn) ($36+)
6. 8" serrated bread knife; Victorinox Swiss Army ($45)
BY: Amelia Buzzell
Guide Staff Writer
Amelia is a Senior Writer at Groupon who owns about 600 houses' worth of housewares. She daydreams about throwing parties and amassing more housewares.