Set the Table: Retro-Inspired Bachelor Party
BY: AMELIA BUZZELL | 8.21.2013 |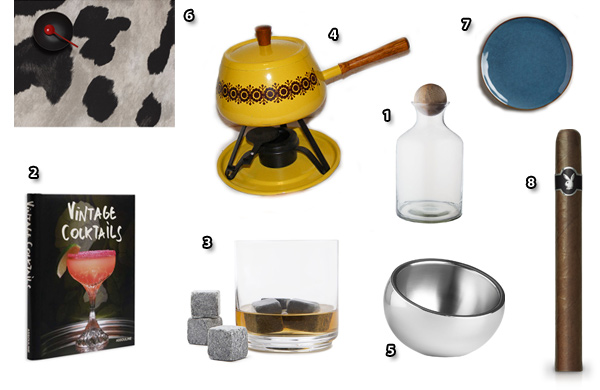 The Spread
A palette that blends royal blue and mustard yellow with pops of wood, glass, and stainless steel keeps the look both retro and manly. Whiskey stones help keep a vintage-inspired cocktail cold without diluting its potency, and a retro fondue pot (find one on Etsy or eBay) will keep beer-spiked cheese warm all night.
1. Glass whiskey bottle with wooden stopper; West Elm ($29)
2. Vintage Cocktails; available at City Lit Books and elsewhere ($50)
3. Whisky Stones; Teroforma ($16 for six)
4. Vintage Gailstyn aluminum fondue pot set; tjsthrift on eBay ($75)
5. Stainless-steel snack bowl; CB2 ($19.95)
6. Cowhide placemat; Chilewich ($20)
7. Indigo Organic Reactive Glaze salad plates; World Market ($9.98 for two)
8. Playboy cigar by Romeo y Julieta (pricing varies by retailer)
BY: Amelia Buzzell
Guide Staff Writer
Amelia is a Senior Writer at Groupon who owns about 600 houses' worth of housewares. She daydreams about throwing parties and amassing more housewares.