Seven Steps to the Perfect Band Selfie with Glam Rockers The Last Vegas
BY: Tyler Clark |
Apr 11, 2014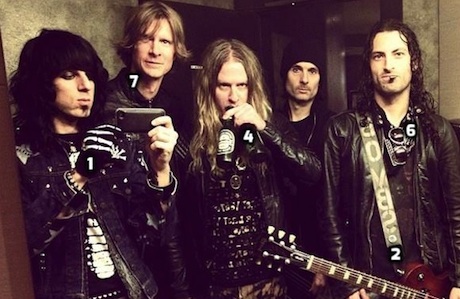 Are your selfies lacking a certain rock-and-roll edge? Add some glam to your Instagram account with the help of Chicago band The Last Vegas.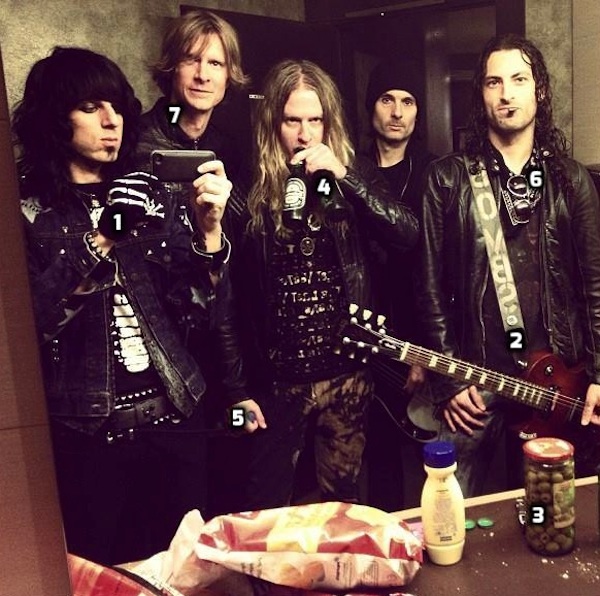 Consider the selfie. Once the domain of
presidents
,
Academy Awards hosts
, and your teenage niece, the picture style is now found wherever people have a smartphone and a face. Chicago glam rockers
The Last Vegas
spend most of their days channeling the sexy swagger of '80s rock titans like Jane's Addiction and Mötley Crüe, but they also stay abreast of modern-day photo trends. Before heading to their album-release show at the
Double Door
, glean a few tips for successful selfies from the above example, which the band took before a recent gig.
1) If you have a cursed hand, show it off!
Cursed hands often come from a combination of really dry winters, gripping the mic stand too hard, and any attempt to play the glowing
Ibanez Destroyer
that sits outside of Eddie Van Halen's North Pole fortress.
2) Write a scary message on your guitar strap.
BOMBS is a good start. Other viable options include KNIFE, SKELETON HAND, and IRS AUDIT.
3) Keep your energy up with olives.
They're a great source of nutrients. Plus, it's a well-known fact that Dio ate nothing but olives during 1983's Holy Diver Tour, and that tour was wicked awesome.
4) Demonstrate your commitment to partying by drinking two beers at once.
Plus, those olives were pretty salty.
5) Keep an extra beer for backup.
Like, really salty. More salt than olive.
6) Make sure you have a disguise close at hand.
When your selfie starts blowing up "the 'Gram," you'll need to make a quick getaway to avoid swarms of lusty fans.
7) Decide on your faces beforehand.
Pictures happen fast, so pick an expression from a
list of common selfie faces
, or try out a custom look like The Last Vegas: From the left, we have the
Concentrating Photographer
, the
Photobombing Uncle
, the
Party Hound
, the
Oh God What Have I Done
, and the
Satisfied Lad
. If you need even more inspiration, check out this video for The Last Vegas's "Come With Me," from their new album
Sweet Salvation
:
Take your own selfies during the band's show at the Double Door on Friday, April 18, at 9 p.m. Draw Blood, The Prowl, Romantic Rebel, and DJ Frankie Snakes open. 21+. Tickets are $10 and can be purchased here.
Photo provided by The Last Vegas
BY: Tyler Clark
Tyler is a writer, storyteller, and musician from Chicago. His stories have appeared on stage at shows including Mortified, Story Club, and Lethal Poetry.