Double Door: The Heart of Wicker Park Is Still Beating
BY: Tyler Clark |
Mar 3, 2014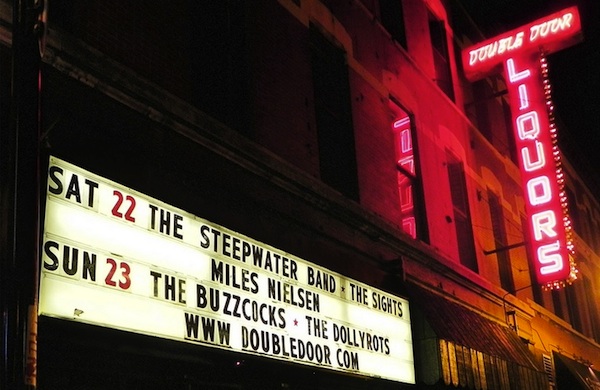 When you're hunched beneath the Blue Line tracks where Milwaukee Avenue meets North and Damen, 2014 can still look an awful lot like 1994.
---
Check Out Our Featured Article for Double Door:
From General Hospital to Big Bang Theory: Augustana's Unlikely Musical Cameos
Even if you've never heard an Augustana song, you've heard an Augustana song. Trust us.

Augustana will be at Double Door on Saturday, May 10. Buy tickets here.
---
For 20 years, it's been there, hunched beneath the Blue Line tracks where Milwaukee meets North and Damen. Current residents of Wicker Park may regard it as an oddity or an institution, a cheap place to go dancing or a bedrock of the Chicago music scene. But whatever they think of the Double Door, most can't remember the neighborhood without it. Sean Mulroney and Andy Barnett remember. They'd followed Wicker Park during Chicago's brief "next Seattle" phase in the early '90s, taking note of everything from the major-label triumph of the Smashing Pumpkins to the crowds of A&R professionals looking for the next Smashing Pumpkins at clubs like the
Empty Bottle
and Lounge Ax. That was the problem, really—for all of its hype, Wicker Park still lacked a venue befitting its tastemaker status. Enter Mulroney and Barnett. Partnering with Joe Shanahan and Joe Prino of the
Metro
, they acquired a dusty honky-tonk at 1572 N. Milwaukee Ave. called the Main Street Tavern. After dispatching the resident cowboys, who
hassled them
for being corporate sellouts, the foursome set to work. They named their new club the Double Door, an homage to the tiny package store whose former space still serves as the club's band entrance on Milwaukee.
The Golden Age
The crown jewel of Chicago's coolest neighborhood opened on a warm June night in 1994 with an acoustic set from former Commotions frontman Lloyd Cole. That show would kick off the club's golden age, a time when it played host to some of Chicago's most memorable musical moments of the '90s. In 1995, during a spat with the white-hot Smashing Pumpkins that saw him banned from their shows,
Chicago Sun-Times
critic Jim DeRogatis
camped outside on a lawn chair
, basing his story on the songs that seeped through the Milwaukee Avenue side's conveniently placed windows. The Rolling Stones staged a secret show there before their sold-out Soldier Field concerts in 1997, announcing the appearance via an understated message on the marquee that simply read "The Rolling Stones. $7." Roger Ebert was in attendance that night, and opened
his breathless review
with the observation every club longs to hear: "The room was so small, it was like everyone was in the front row." The club was also a home away from home for Chicago's hippest eccentrics, none more famous than the late Wesley Willis. The gargantuan keyboardist was a regular, whether he was noodling through a set on the main stage or headbutting his way into the crowd afterward. His second album is named after the club, and even features a pen-and-ink drawing of the iconic neon sign done in his inimitable style. During this time, the Double Door's fame even reached Hollywood: along with the soon-to-shutter Lounge Ax, the club made a memorable cameo as one of Rob Gordon's haunts in
High Fidelity
.
From Upstart to Neighborhood Mainstay
By the early 2000s, the once-upstart Double Door had become a prime target for developers. In 2004, a gentrifying population and a dispute with the landlords spawned a rumor that the club was soon to be replaced with—gasp!—a Banana Republic. Fans launched an immediate
petition campaign
and even filled up a city courtroom in a show of support for their beloved venue. When asked about the turnout, owner Sean Mulroney simply said, "We were absolutely blown away." Perhaps in response to its mid-decade close call, the Double Door has adapted to meet the demands of an evolving neighborhood. Since 2010, it's been the rump-shaking home of the popular free dance night
Soul Summit
. That dedication to dance goes even deeper. No, literally—this year, the club converted its downstairs bar into
Door No. 3
, a showcase spot for the city's up-and-coming DJs. Some things stay the same, though. You can see for yourself on any balmy summer night. Cast in the warm pink glow of the club's neon, scenesters and socialites from across Chicago still get their hands stamped as they head through the doors on Damen Avenue. Although the neighborhood's different, it's a ritual that hasn't changed for 20 years.
Find deals on things to do in Chicago throughout all of Groupon.
BY: Tyler Clark
Tyler is a writer, storyteller, and musician from Chicago. His stories have appeared on stage at shows including Mortified, Story Club, and Lethal Poetry.