Eight Vegan-Friendly Spots to Take Mom this Mother's Day
BY: Katie Cortese |
May 10, 2013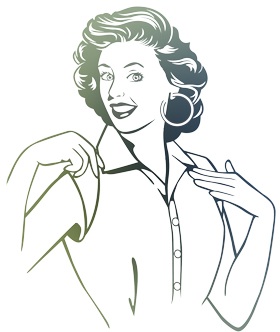 This Mother's Day, treat Mom to a beer, a string quartet, or a giant reflection of her favorite thing in the world: you.
If Mom wants to start her day with a frosty brew:
Handlebar
(Wicker Park) Full-size vintage bicycles hang from the walls of this biker bar, where barbecue seitan sandwiches and breakfast burritos are washed down with eight beers on tap and myriad bottles from Dark Horse, Bell's, Founders, Three Floyds, Goose Island, and Two Brothers Brewing Company.
If Mom wants a string quartet to announce her entrance:
The Lobby at the Peninsula
(Magnificent Mile) Live musicians play to the beat of teacups clinking and lips smacking from finger sandwiches at The Lobby's afternoon tea. The views of the city rival the view of the ceiling: elaborate chandeliers drop down from sunken-in circles blanketed in gold.
If Mom wants to see what she looks like chewing food:
m.henry
(Andersonville) Vintage glass windowpanes and transoms hang between tables as an eclectic barrier between parties. As the sun hits them at a certain angle, feel free to check out your reflection while downing scrambled tofu and veggie sausages.
If Mom wants to spin around on a stool:
Flying Saucer
(Humboldt Park) The breakfast bar—flanked by classic diner stools begging to spin you—offers the perfect place to kick back with some vegan pancakes, fudge brownies, and seitan chorizo. Also, Flying Saucer offers regular chairs situated around tables for those who suffer from motion sickness.
If Mom hands out candy every Halloween dressed up as a panda bear:
Karyn's Cooked
(Near North Side) Show some love for the big 'ole black-and-white at this vegan joint, where bamboo—a panda bear's main diet—blossoms on the wall. Breakfast highlights include banana french toast, and dinners boast barbecue ribs and meatball sandwiches.
If Mom wants to dunk both of your faces into sweet, sticky cinnamon rolls:
Chicago Diner
(Lakeview and Logan Square) The Chicago Diner has it all: country-fried steak, biscuits and country gravy, reubens, gyros, and of course, cinnamon rolls. Each item is meat-free and can easily be hand-fed to your mother if she desires.
If Mom wants to see how you spent four years in college:
Dimo's Pizza
(Wrigleyville) The pizza toppings are unique and delicious. Think macaroni and vegan cheese; crinkle-cut french fries with Upton's Naturals sausage seitan and Sweet Baby Ray's barbecue sauce; and buffalo chicken seitan with pineapples.
If Mom wants to watch her moon flowers bloom while eating:
The Signature Room at the 95th
(Magnificent Mile) The views of the city are astounding from atop the John Hancock building. Request a table near the windows, and find your house while the dinner chefs cook some perfectly seasoned tofu.