Sharing Foodie Stories at Between Bites
BY: Nathalie Lagerfeld |
Jan 28, 2014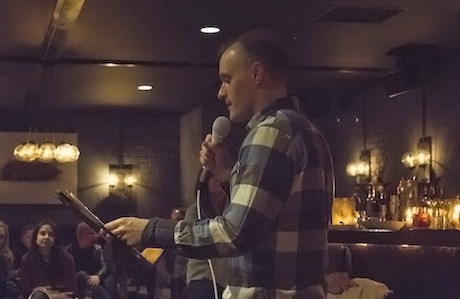 Chicago has an abundance of live lit shows and a thriving food scene, but rarely do the two come together. Now there's Between Bites, a culinary-themed reading event organized by a trio of food writers—Molly Each, Rachel Gillman Rischall, and Liz Grossman. At this Monday's event at
The Dawson
(730 W. Grand Ave.), familiar names including Nick Kindelsperger (Serious Eats Chicago), Kate Bernot (
RedEye
), and David Hammond (LTH Forum) shared tales on the theme "Hot/Cold." For the first time in the series, Grossman (
Plate
magazine) stepped out from behind the scenes to tell her own story, which began with her donning an overlarge chef's coat in the kitchen of the late Charlie Trotter. Just as you'd hope at a food-and-drink-themed reading, there were plenty of refreshments available. Bartenders mixed two varieties of cocktails made with
Thatcher's Organic Artisan Liqueurs
, which sponsored the event. (My Bitter Barkeep, with averna, cynar, 4 Roses bourbon, and Thatcher's Apple-Spiced Ginger liqueur, was smooth and just a little sweet.) Guests could also quaff reds and whites donated by
Candid Wines
. The promised "heavy appetizers" included Texas brisket, grits, and a salad of arugula and beets, laid out in an attractive spread in a curtained back room. The Dawson's globe-shaped hanging lamps and old-timey sconces cast a sepia-toned light over it all.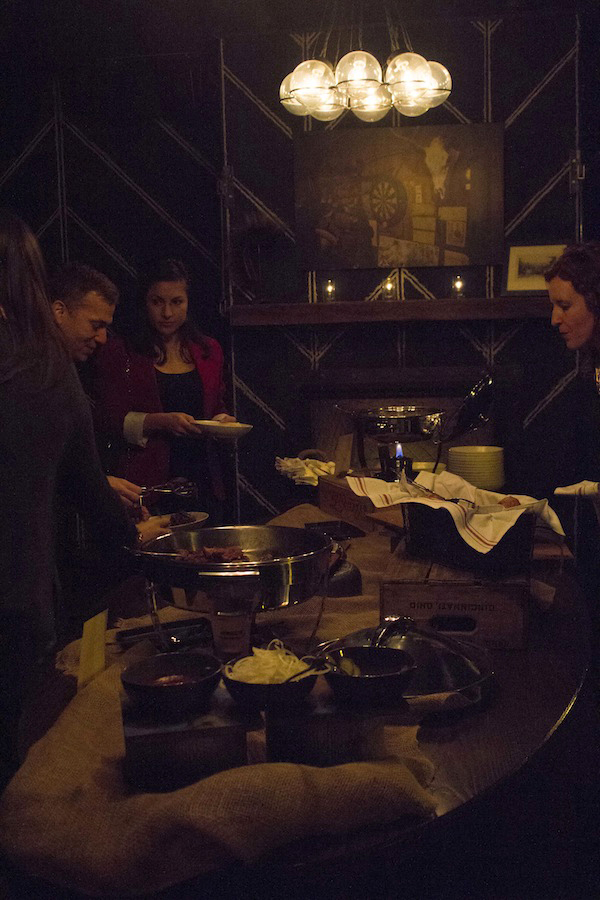 The readers weren't the only familiar names at The Dawson: food photographer Huge Galdones snapped some shots that were
way prettier than mine
, and former Grub Street Chicago editor Michael Gebert was also spotted in the crowd. Proceeds from the event went to a Kendall College scholarship fund set up in honor of Jason Cevallos, a Dawson bartender who passed away this November. Another Between Bites is in the works for spring—follow them on Twitter (
@Between_Bites
) for more info.
THE STORIES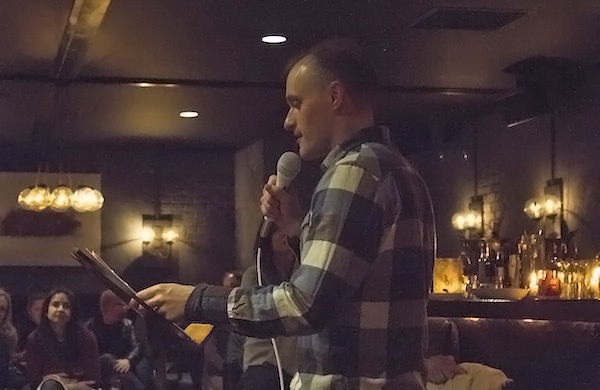 In the series' opening talk, Serious Eats Chicago editor
Nick Kindelsperger
outlined the important role hunger had played in his life, ever since he was 13 and his favorite food was "Taco Bell sauce packets ripped open and taken straight." To this day, the pleasures of fine dining are "nothing compared to the feeling of satisfying my hunger through the physical act of eating," he said. "That's my high." LTH Forum founder
David Hammond
explained how a botched hunting excursion as a teenager left him with a "Jain-like aversion to causing harm to living things," and also maybe led him off a path that was heading toward Charlie Town. That's a juvie in St. Charles that was "the Ivy League for aspiring troublemakers," he said.
Plate
magazine Managing Editor (and Between Bites co-founder)
Liz Grossman
recalled a mortifying incident in the kitchen of Charlie Trotter's, where she and some other journalists were doing a "mini-stage." Trotter had her at the expediting station during a $400 multicourse dinner, sprinkling powdered chocolate to finish plates of rabbit. Just when her "sprinkling abilities had reached professional fairy level," the sleeves of her borrowed men's-XL chef's coat knocked over the canister, ruining 12 platings of the course at once. Trotter took it in stride. UrbanDaddy Chicago editor
Chris LaMorte
talked about his high-school summer job as the Chicken Little man at a south-suburban KFC, which is exactly as ridiculous as it sounds. His main challenge as a fast-food employee was not sweating into the fried-chicken batter when the A/C was broken in the kitchen. "I know that all the herbs and spices are top secret, but I assume that heavy perspiration is not one of them."
RedEye
nightlife reporter
Kate Bernot
recalled a family Thanksgiving in 2007 where the main course burst into flames in the oven. She traced the roots of the tragedy to the fact that her aunt—an Indian woman who grew up in Guyana—was pressured into cooking a turkey instead of preparing a ham like she'd wanted to. "Apparently the Bernots couldn't be thankful except when gathered around one particular type of protein," Bernot quipped. Finally, PureWow Chicago editor
Amalie Drury
sung the praises of cozy neighborhood joints in a piece called "Hotspots Leave Me Cold." Her picks for comfort eating included Chipotle, Waffle House, a Lakeview greasy spoon called
Horizon Cafe
(3805 N. Broadway Ave.), and
Coco Pazzo
(300 W. Hubbard St.), a River North Italian spot whose merits include great service and "water glasses that are the perfect weight."
Photo credit: Nathalie Lagerfeld, Groupon
BY: Nathalie Lagerfeld
Guide Staff Writer
Nathalie is a writer and editor on the Guide's food team. Originally from Virginia, she now lives in Chicago, where she regularly indulges her love of tortas, bibimbap, and Cheez-Its. Follow her on Twitter @maviswillsaveus.