Shop Local This Valentine's Day or Chicago Might Break Up with You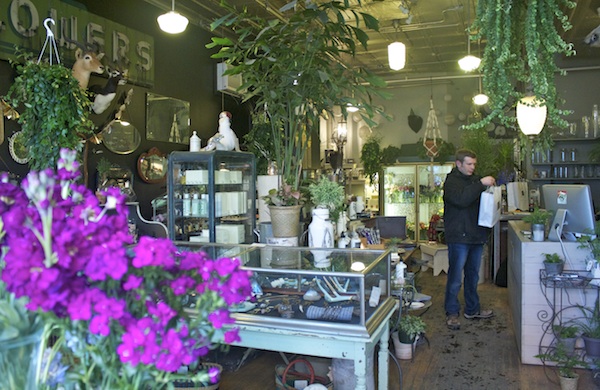 We found Valentine's gifts at nine of our favorite Chicago boutiques. Hope your sweetheart likes vegan chocolate sauce and space rocks.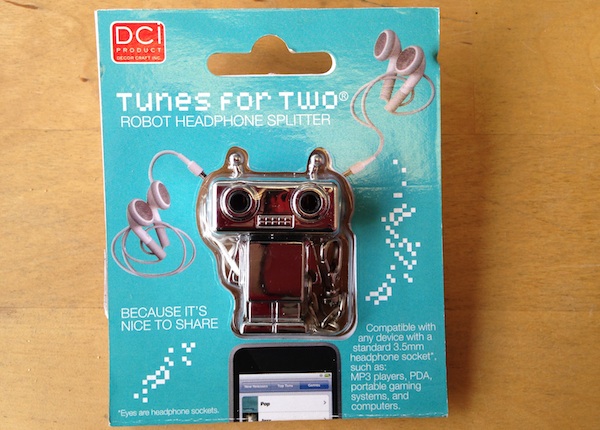 For a Good Listener: Robot Headphone Splitter ($12.95) at Enjoy, An Urban General Store| 4723 N. Lincoln Ave.
The headphone splitter from this Lincoln Square shop is a thoughtful gift for anyone you spend a lot of time with, from your S.O. to your best friend. Now you can plug into the same tunes on a long bus ride, or do an interpretive dance together at a silent rave. The robot clips onto any keychain, and its head hinges off its body to reveal a headphone-jack plug-in. Its adorable face serves a practical purpose, too—you plug your headphones into its eyes.
– Words and photos by Mae Rice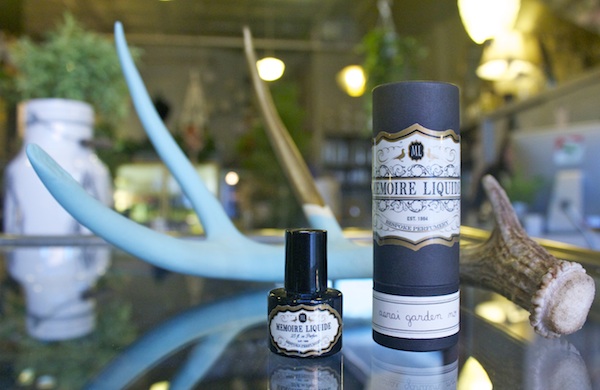 For a Fashionable Flower Child: Asrai Garden No. 1 ($78 for .25-ounce parfum) at Asrai Garden | 1935 W. North Ave.
One part secret garden and one part treasure chest, Asrai Garden makes for an indisputably romantic shopping spot. Narrowing down a gift can be difficult—knuckle rings by Catbird and various
objets
, like Cassandra Smith's hand-painted antlers ($105–$125), all draw the eye. But only the made-in-house perfume, Asrai Garden No. 1, can't be found anywhere else on earth. The blend of fig, rose, and patchouli oils creates a warm scent that's perfect for the would-be wood nymph in your life. 
– Words and photos by Amanda Nyren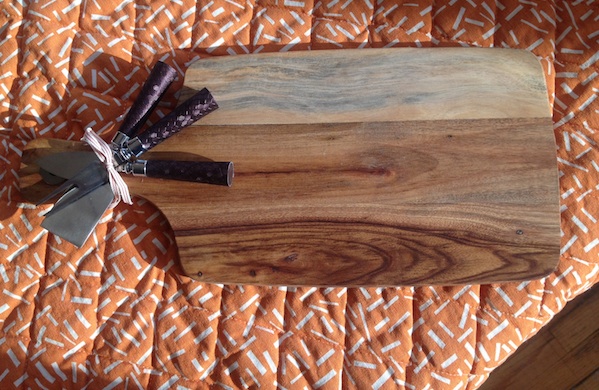 For a Homebody: Wooden Cheese Board with Utensils ($42) at Judy Maxwell Home | 1363 N. Wells St.
I've discovered you need three gifts on Valentine's Day: one from the jeweler, one from the florist, and one from the heart. This cheese board satisfies that last criteria. My girlfriend and I like to eat cheese and crackers and drink wine while watching movies and 
Downton Abbey
, so this homey gift is my way of saying, "Hey, let's continue doing what we love to do together." 
– Words and photos by Chris Hannon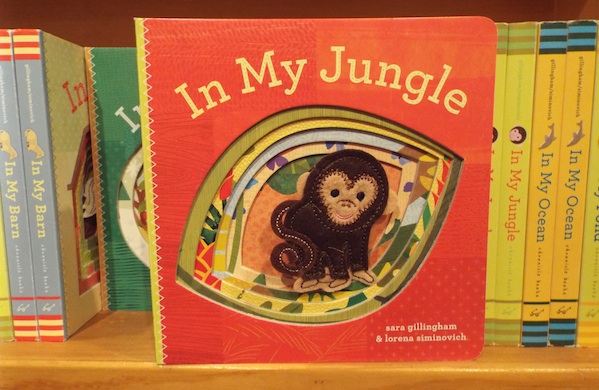 For a Budding Bookworm: In My Jungle by Sara Gillingham and Lorena Siminovich ($8.99) at Timeless Toys | 4749 N. Lincoln Ave.
I do love Valentine's Day, and since it's a day about love, I like to get people things they LOVE as a present. I saw this book, with the little finger puppet inside, which draws together two of my baby daughter's favorite things: puppets and books. Little does this kid know, I will buy her as many books as she ever, ever wants, like my father did for me. 
– Words and photos by Aimee Alker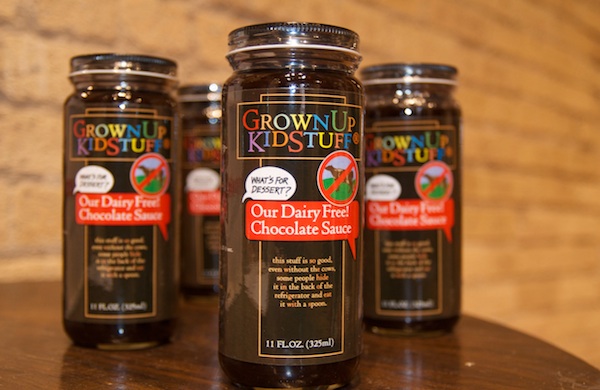 For a Vegan with a Sweet Tooth: Dairy-Free Chocolate Sauce ($12.99) at Andersonville Galleria │5247 N. Clark St.
A jar of chocolate sauce is the modern take on a box of chocolates. This particular sauce from
GrownUp KidStuff
is vegan and crafted with pure cane sugar, cocoa from a sustainable farm, and molasses from a company that supports an elephant sanctuary. The sauce can be drizzled over ice cream and fruit, or eaten alone with a spoon, and is a "big seller" according to a Galleria staffer.
– Words and photos by Katie Cortese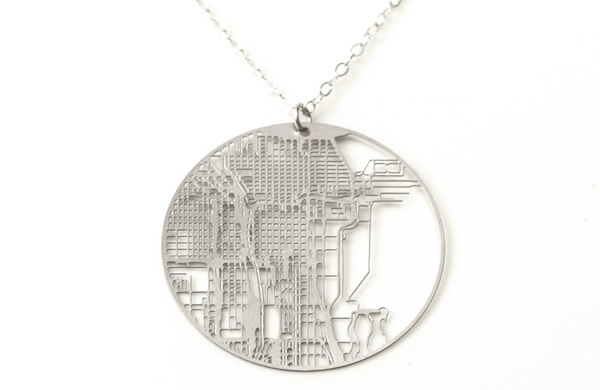 For a Long-Distance Love: Urban Gridded Necklace ($40­–$50) at Hazel | 1902 W. Montrose Ave.
This stainless-steel necklace by
Aminimal Studio
, laser-cut to resemble the Chicago city grid, struck me as a thoughtful gift for my homesick, Denver-bound sister—although the necklaces and matching earrings would also tug the heartstrings of anyone in a long-distance relationship. The pieces come in other city cuts, from Seattle to Baltimore, and you can walk out with a ready-to-mail package, thanks to Hazel's stock of unique wrapping paper and vintage-style greeting cards.
– Words by Emily Wachowiak; photos by Aminimal Studio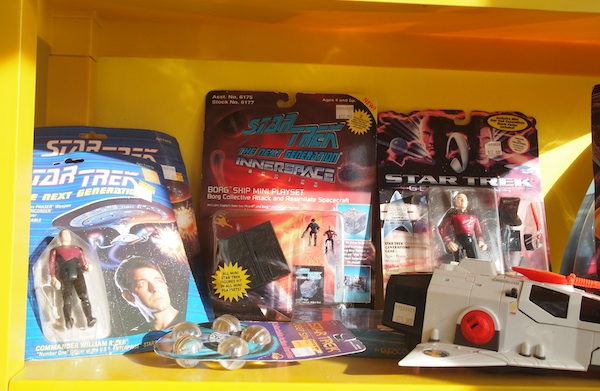 For a New, Nerdy Beau: Star Trek, The Next Generation Borg Ship Mini Play Set ($12) at Bric-A-Brac Records | 3156 W. Diversey Ave.
It can be awkward picking out a Valentine's Day gift for a new boyfriend, but the throngs of new and used records and nostalgic knickknacks at this Logan Square shop will make your decision much easier. If your guy is a Trekkie, the 
Star Trek
 play set says, "I've paid attention to what you're interested in, and I'm also fun and quirky!" Pair that with the 
Star Trek: The Motion Picture
 soundtrack ($8), and you've got yourself a budget-friendly ticket to Pleased Manville. 
– Words and photos by  Jessica Duff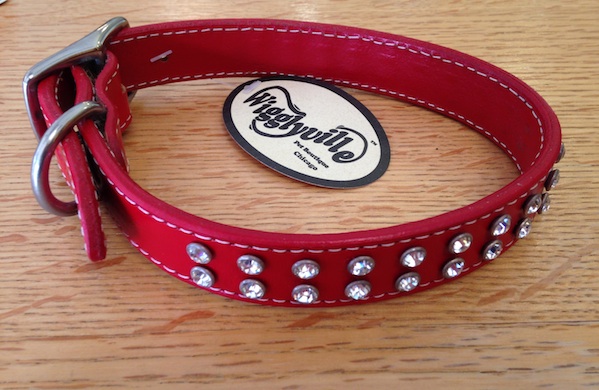 For a Pet: Auburn Leathercrafters Maxwell & Madison Collar ($55–$125) at Wigglyville | 3337 N. Broadway
Fancy jewelry is never a bad gift idea, even if your valentine has four legs and a tail. These leather collars come in various colors and sizes, from 10" to 18", and sparkle with genuine Swarovski crystals. Wigglyville also has matching leashes, and a resident mastiff who can give firsthand fashion advice. 
– Words and photos by Mel Kassel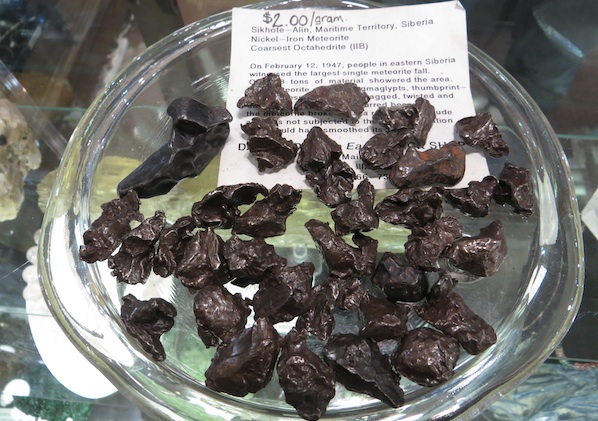 For a Star-Crossed Lover: Meteorite ($2 per gram) at Dave's Down to Earth Rock Shop | 704 Main St., Evanston
Walking into Dave's Down to Earth Rock Shop is like stepping inside a natural history museum. Except these rocks, minerals, and fossils can come home with you. Though I looked at petrified wood, quartzite bookends, and handmade dreamcatchers, a selection of meteorites caught my eye. These small rocks flew about in space before breaking up in the Earth's atmosphere and crashing into Siberia. As a Valentine's present, they say nothing less than "our love is bigger than this world; it is galactic."
– Words and photos by Stephanie McDaniel