Shortening the Distance from Farm to Table: Growing Power's Urban Agriculture Operations in Bridgeport
BY: Halley Lawrence |
Apr 19, 2013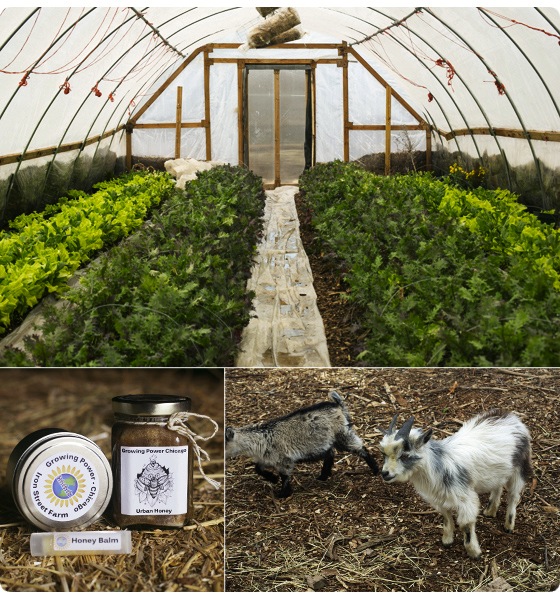 Even from a distance, 3333 S. Iron St. stands out against the drab industrial neighborhood around it. Vivid murals brighten the warehouse walls there, and hand-built greenhouses line the lot, which borders the Chicago River. If you get closer, you might notice a pair of pygmy goats nibbling grass. It's picturesque, but the farm is more than a scenic vision against a bleak backdrop. It is an oasis of fresh vegetables and fruits in a desert of convenience stores, a place where you can see something sprout and blossom from forgotten asphalt. The farmers who till the soils there are growing more than seasonal crops—they're nurturing hope for the future of Chicago's struggling neighborhoods. And they're doing it with help from a gaggle of kids and a few city employees.
Clockwise from top: Ruffled heads of red russian lettuce and kale, and oyster mushrooms growing in hanging chandeliers // Pygmy goats Little Debbie and Billy Rae Valentine // Honey harvested from the farm's rooftop beehives, plus lip balm and a candle made with the honey.
Putting Down Roots
Iron Street Farm
, which is overseen by a group called
Growing Power
, wasn't always there to provide aesthetic and culinary relief. According to Erika Allen, executive director of Growing Power's urban farming operations in Chicago, the property used to fit right in with its neighbors. "It was a truck depot that wasn't occupied or used for about 10 years," she said. If you asked a kid in this neighborhood where their food comes from, they might think of tin cans and vacuum-sealed bags rather than seeds and soil. Allen aims to change that, giving youth firsthand knowledge of the foods that sustain them. She knows how valuable that can be: from an early age, she was familiar with the empowering feeling of growing your own food. "My brother and sister and I helped with growing vegetables, starting farm stands," she said of the years after her father, Will Allen, finished his career as a professional basketball player and began to farm 120 acres of land near Milwaukee. "We started selling at farmers' market when I was 8." Will eventually extended his teachings outside of the family to local youth who wanted to learn how to grow. They ended up learning much more than that, picking up business and marketing skills by selling their crops at area markets. That's how Growing Power got started. In 2002, Allen expanded her father's program to Chicago. In the city's disenfranchised neighborhoods, she saw a deep need for the empowerment that nurturing a crop to fruition can bring. Working with
After School Matters
, a nonprofit that organizes enriching extracurricular activities for high schoolers, Growing Power began to recruit youth from neighborhoods all over Chicago. It started in neighborhoods such as Cabrini-Green, the now-defunct housing project, and Back of the Yards, a gritty industrial sector immortalized in Upton Sinclair's
The Jungle
. While receiving a hands-on education in every step of food's journey from seed to table, participants also receive a regular paycheck, showing them the potential of a career in the food business. "We hope that they'll develop a passion, whether they end up going to culinary school or getting involved in farming," Allen said. "We see it as a way to create jobs and address social inequity in a very physical way. We're taking land that isn't being used or is an environmental hazard and transforming it into something highly productive, creating food security and jobs … re-engaging folks around healthy places."
Sending Out Shoots 
The pair of goats kicks up bits of mulch not far from a warm hoop house, where a rough wooden path cuts between ruffled bunches of kale and heads of lettuce. Iron Street Farm distributes these crops through its
Market Basket program
, which provides neighborhoods across Chicago with a healthy alternative to processed convenience-store foods. What's more, the process of growing those plants provides a source of hope and employment to residents of neighborhoods where those things are as tough to find as a healthy meal. According to Allen, 85%–90% of the youth who have completed internships with Growing Power now hold full-time jobs at its farms. Allen has worked to enrich children's lives and revitalize urban spaces across Chicago, and she's not slowing down. In March 2013, Mayor Rahm Emanuel unveiled an initiative that Allen and her team spearheaded: Farmers for Chicago. The tuition-based program will train participants in urban-farming techniques and help them develop business plans centered around growing. In the process, it will transform vacant city lots into urban farms just as lush as the one on Iron Street, starting with a 7-acre plot of land located across from a former steel plant on the South Side. The program's participants will get training, seeds, equipment, access to local markets, and the opportunity to earn income for three years, according to
Grist
. After that period, they'll get the rights to lease the land, continuing their transformative work for the long term. "Once made available, these vacant lots will help stabilize communities by bringing productive activity to areas that need it around food deserts," Emanuel said in a
press release
. "Farmers for Chicago will give local residents a chance to not only learn how to grow food in their communities, but also build their own food enterprise." Now that the land and resources for the program have been allocated, the solution to Chicago's food deserts could come from within the neighborhoods that harbor them. But the work isn't over. There's another difficult task that's vital to the program's success: finding the next generation of young people who want to plant the seeds of positive change in their neighborhoods. At its height, Farmers for Chicago aims to take on 100 new students each year. Allen speaks with an eye to the future, like a farmer looking out at a freshly sown field. "We need people who are younger who want to do this for a living."
Growing Power's fresh, organic produce is favored not only by residents who partake in the Market Basket program but also by professional chefs in and around Chicago. Taste masterful preparations at these area restaurants, each of which is committed to buying organic local produce:
Allium at Four Seasons | 120 E. Delaware Pl.
Growing Power's leafy greens might turn up in executive chef Kevin Hickey's Big Bowl of Urban Greens, which he tosses with orchard apples, grilled kentucky blue-cheese sandwich croutons, and a stinging-nettle vinaigrette.
RPM Italian | 52 W. Illinois St.
Growing Power's tender spring vegetables might show up flanked by creamy burrata cheese and aromatic mint.
Graham Elliot Bistro | 841 W. Randolph St.
Swiss chard and dainty pea tendrils are two of Growing Power's specialties, and they lend fresh, springy flavor to chevre agnolotti pasta with green garlic.