Singles Event Focuses on "The Unlikely Things That Connect Us"
BY: Courtney Ryan |
Aug 20, 2013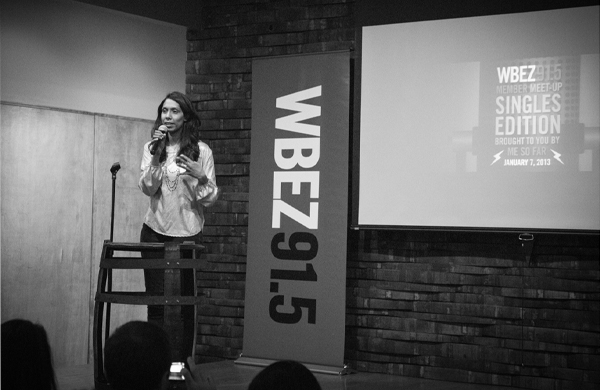 "Dating was becoming so data- and search-driven. It was turning into a marketplace instead of a meeting place." That's Lakshmi Rengarajan, a senior strategic planner and the founder of local singles event
Me So Far
. Suspicious that true love requires more than a good search engine, Rengarajan set out to find a way for singles to step outside the "pitch culture" of online dating profiles. She wanted people to get away from age, height, and occupation and instead focus on the "unlikely things that connect us." Popular myths aside, most couples don't experience love at first sight. Love requires time and patience, but too often dating websites force their users to make snap judgments about potential mates, clicking through profiles as if shopping online. Most in-person singles events aren't much better. "No one puts thought into them," Rengarajan laments. "They're a way for bars to sell more alcohol." She envisioned a different kind of dating event, one that would help people connect in a way that "normally takes years." Her solution came from an unexpected source: Microsoft PowerPoint. Having witnessed the rise of PowerPoint slideshows as a presentation tool, Rengarajan invited 10 singles over for an experiment in October of 2010. She encouraged the participants to share what they
really
wanted a prospective match to know about them, rather than what might distinguish them in a sea of online profiles. After a few presentations, Rengarajan "could see the room transforming" as the participants connected over their shared interests. There were some surprising revelations, but equally surprising was what they didn't share. Two of the male presenters were doctors—a profession that typically gets top billing in an online profile—but neither of these men mentioned their profession. The experiment, it seemed, was working.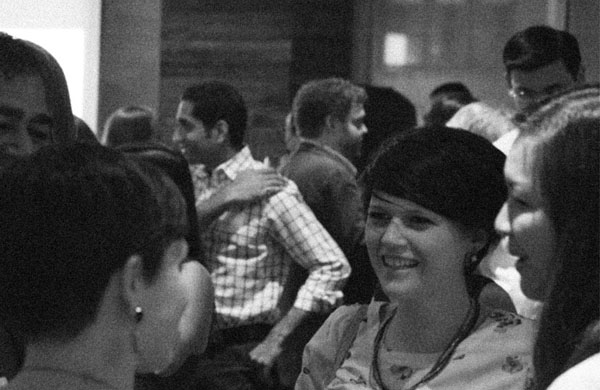 A New Kind of Date Night
Me So Far has come a long way since that autumn night in Rengarajan's living room. Since February 2011, the company has hosted an event almost every month. The events are typically held in a restaurant's private banquet room on a weeknight, and no more than 60 people can attend. Rengarajan and her team of six event coordinators strive for a balanced ratio of men to women, though they do host same-sex events. The concept is certainly novel, but it's also refreshingly simple: participants enjoy cocktails and hors d'oeuvres before taking a seat to watch five lighthearted PowerPoints created by singles who volunteered when they signed up. A break for refreshments follows, after which there's a chance for non-presenters to participate in a "lightning round" with questions crafted to elicit quick and insightful responses. Then, five more presenters share their slideshows before a happy hour concludes the night. The atmosphere is low-key, informal, and aimed at facilitating conversation between total strangers. Many of the attendees typically reconvene at a nearby bar for an after party.
Making Unlikely Connections
Every Me So Far event has a theme that shapes the presenters' slideshows. You won't find any events geared toward pet lovers or fitness lovers; instead, the themes focus on more unexpected connections. During "Nerd Alert" night, presenters share anecdotes about the things they geek out about. "Being a nerd just means being passionate about something," Rengarajan explains. "People are drawn to one another when they learn of their passions." Another theme, "Red Line/Brown Line," asks presenters to open their slideshow with the El stop they live closest to. Rengarajan explains that this theme was inspired by her own experience struggling to date someone who lived in a distant neighborhood. "Getting a glass of wine doesn't have to be a herculean event," she says.
Bringing Joy Back to Dating
"Success metrics are hard to capture, even for online dating," Rengarajan says, "so we can only use soft metrics." By any metrics, Me So Far seems to be working. The company has grown almost entirely through word of mouth, and Rengarajan often hears from happy couples who met at one of her events. She even recently learned of an engagement. More than nuptials and happily-ever-afters, however, she's interested in changing people's general outlook on dating. "I get emails from people who have gone back on OkCupid and changed their filters and had success. It resets people," she adds. Rengarajan hopes to see Me So Far grow into a full-time job, though she didn't always see herself as cupid. "I'm not the girl who was setting up her friends. I don't have natural hostess qualities," she says. "But I really care about helping people have a place where they can meet people in a thoughtful way. Dating has become drudgery…if I can bring joy to dating, then I have done my job."
Photos courtesy of Lakshmi Rengarajan
BY: Courtney Ryan
Guide Staff Writer
Courtney Ryan is a Chicago-based writer and Derrick Rose fan. She spends almost 100% of her time making or eating popcorn.