Sipping on Art: The Designs Behind Three Floyds and Metropolitan Brewing
BY: Cody Braun |
Apr 8, 2013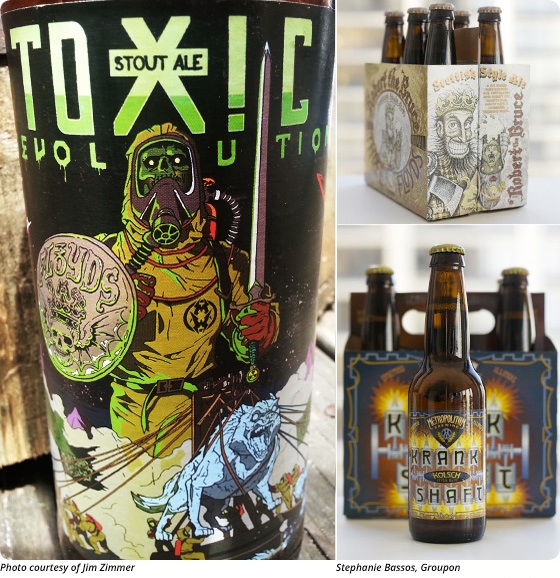 When
Jim Zimmer
gets a note from his boss, it doesn't say anything about productivity or excessive personal use of the office hole punch. "It might be as simple as 'space marines' or 'Russian Orthodox' or '
Clockwork Orange
,'" he said. "I take that little tidbit of direction and just let my mind wander." Zimmer is a graphic designer for
Three Floyds Brewing Company
in Munster, Indiana. On the label of the very first beer he created for the brewery is indeed a simple silhouette of one of the ominous hooligans from
A Clockwork Orange
. He said that it's still his favorite piece of art he's produced for the company, though his work has adorned everything from precious tickets for Dark Lord Day—when the brewery releases a tiny annual batch of a stout famous among Midwestern beer buffs—to the skeleton-bedecked exterior of the brewery's delivery truck. "I've always loved beer and beer-label design going all the way back to seeing vintage beer cans and advertisements in old dive bars in Michigan," he said. "The time and effort that went into the typography and design is incredible. The attention to detail, color choices, you name it." Wandering through the grocery-store aisles, it is clear that beer is a labor of artistic love in a way that many products are not. "There are tons of super-talented designers and illustrators getting gigs from all of the breweries that are popping up all over," Zimmer said. "They want their product to stand out on a shelf and be their own. What better way than to hire your favorite graffiti artist or illustrator." He was also willing to admit that "beer is way more fun than pretty much anything else in the aisles." Tracy Hurst, cofounder of Chicago-based
Metropolitan Brewing Company
, said that the freedom of artists like Zimmer to draw on diverse subject matter is part of what makes beer design so exciting. "Beer is an adult product, so you can tap into a wide range of influences. Comic books, sci-fi, you name it." Metropolitan's beers are, aesthetically at least, a foil to those at Three Floyds. Rather than channeling such a broad range of artistic traditions, their bottles are unified by a simple theme. Randy Mosher designs the artwork for Metropolitan, where his industrial motif is stamped across bottles of Krankshaft kölsch and Iron Works alt. In some cases, art and beer come together seamlessly: pour a bottle of Dynamo copper lager, and the twisting coils of wire on the bottle perfectly match the Southern-clay umber of the beer. That link between art and beer is a natural one, and Mosher illustrates that point perfectly. When he's not designing labels for Metropolitan, he runs upstart brewery
5 Rabbit Cervecería
. "Graphic design is [Mosher's] Clark Kent," Hurst said. "Beer is his Superman."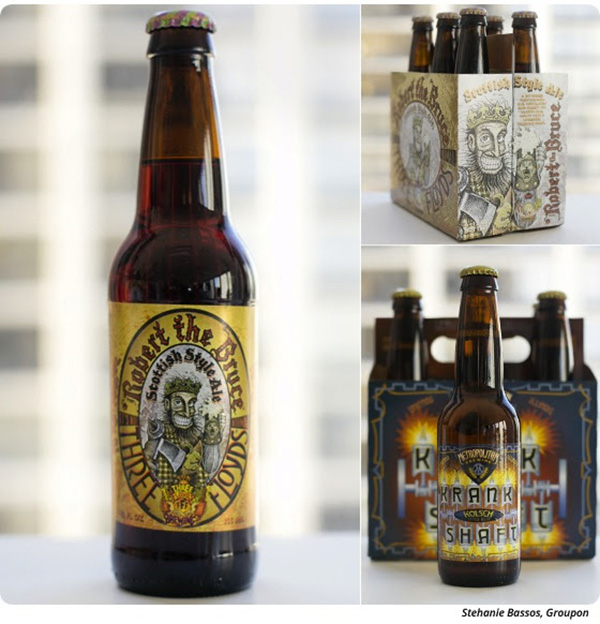 Get yourself a glass of these artists' work by checking out three city bars Zimmer recommends:
Hopleaf | Uptown
At Hopleaf, two levels of towering windows beg to open in warm weather. The selection of draft beers is lengthy and changes often, as a good beer list or story about why you missed work should, but currently includes Three Floyds' Zombie Dust. Bottles for that beer are illustrated by comic-book artist Tim Seeley, and the draft pints allow the waves of fruity Citra hops to truly shine.
Northdown | Lakeview
Labels aren't the only beer-related outlet for artists, as the wall of retired tap handles at Northdown attests. Beneath those colorful icons, bartenders pour a staggering range of beers, including Alpha King, Three Floyds' flagship beer. Three varieties of hops tangle in the coppery brew, coming together in a hearty but not palate-smothering 66 IBUs.
SmallBar | Logan Square and Wicker Park
Pumpkin seeds with paprika, edamame with preserved lemon, and scotch eggs with garlic aioli don't just complement beers at the Wicker location—they necessitate them. Luckily, there are brews for washing down those salty snacks, including some as tough to find as Risgoop, a collaboration between Three Floyds and Copenhagen-based Mikkeller. Zimmer said Keith Shore, who works for Mikkeller, has designed some of his favorite beer packaging.