Six Things You Should Know About 19-Year-Old Chicago Rapper Logan
BY: DAN CAFFREY | 4.17.2014 |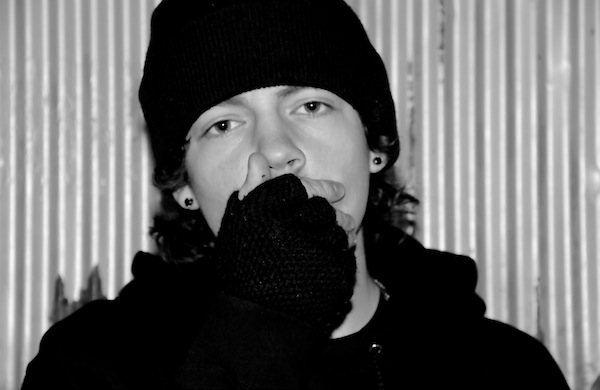 You may not have heard of Logan, but he plans to one day be a household name. Fairly new to Chicago's storied hip-hop scene, the 19-year-old rapper already has a full crew in place (known as the Feo Mob), and they're looking to take the world by storm. We sat down to chat with the young emcee at Classick Studios, where—along with producer Flight, engineer Elton Chueng (who also worked on Chance the Rapper's Acid Rap), videographer J. Krown, and manager Von Heir Jay—he's currently hard at work on his debut full-length album. While he can't promise when it will drop ("We're nowhere near finished," he says), you can check out a steady release of its singles over at Fake Shore Drive. Here are six things you should know about Logan before catching his first headlining gig at Reggies' Rock Club on, ahem, April 20.
Logan writes what he knows.
In J. Krown's music video for "Came Up," Logan is seen bowing his head at a cemetery. The setting isn't just for dramatic effect. "The grave that I'm standing in front of is my man Feo," he says. "And that's who we named the whole movement after. He was shot and killed last summer."
Logan has realistic heroes.
Logan's song "Look Up To" finds him stressing that everyone needs a role model. When asked who his own role models are, he reveals, "Honestly, just my mom. She's a correctional officer at the county jail [on] California and 26th Street. When she first started, I never really asked questions. But as I got older, I started asking things like 'What do you really do?' What goes on in there?'"
And while Logan's had a few brushes with the law himself, he tells us that his mom's stories have made prison "definitely not a place I want to be."
Logan loves owls.
Logan's right forearm is emblazoned with a tattoo that's admittedly unusual for a rapper: an owl.
"My great grandma," he explains, "she held the family together, and she was in love with owls. She had little wooden owls everywhere. She had paintings of owls. That was her favorite animal, so it just means a lot to me. I actually have one of the wooden owls she used to hang up at my house. [My tattoo] kind of resembles it. It's a dope owl."
Logan hates the term "mixtape."
"I like to call it a project or an album as opposed to a mixtape. Because it's really art, and you're putting a lot of thought and work into it. Mixtape just sounds like someone else's work."
Logan hates the term "Chiraq."
"It's such a dumb name," Logan says. He believes it reinforces negative stereotypes about gang violence in Chicago. And yet, at the same time, he understands where it comes from. "I believe that this city is just built for the same shit to keep happening over and over."
"But there's still hope," points out his engineer, Elton. "That's one of the lyrics in your songs: 'There's still hope in the city.' That's what we represent: a little bit of hope and some positivity."
Logan is a cautious optimist.
There's a certain grime about the beats Flight produces for Logan.
"Flight does a great job keeping that gritty feel," Elton tells us. "The low ends and dirty-sounding kicks." I ask Logan if he ever sees himself gravitating toward a warmer, more soul-infused sound.
"I just like my production and the mixes to be how I'm feeling," he answers. "So a couple of years from now, if I'm feeling for-real happy-type shit, then let's do it."
Logan performs at Reggies' Rock Club (2105 S. State St.) on Sunday, April 20. Doors open at 5:30 p.m., with opening sets from St. Millie, Jay2 "The Kidd Classic," Jonny Wild, Saba, Sendhelp!, and Roosevelt Titan. Tickets are $7–$10, and can be purchased here.
BY: Dan Caffrey
Guide Staff Writer
Outside of Groupon, Dan is a playwright, Senior Staff Writer for Consequence of Sound, and contributor to The A.V. Club.