Six Ways to Add Pizzazz to a Little Black Dress
BY: Stephanie McDaniel |
Jan 3, 2014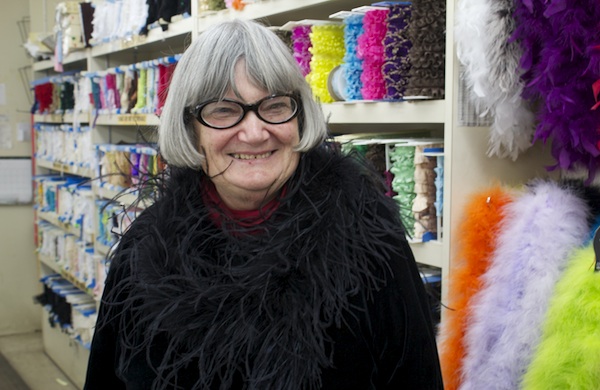 "We just have a wealth of things in here that you can do to decorate your garments," says Bobbi, who works in the notions department at Vogue Fabrics Store in Evanston, just outside Chicago.

The mammoth, half-a-city-block shop carries everything from silk to bridal lace to upholstery fabrics. Bobbi, who has been a customer of the shop since 1972 and used to design fabrics at a mill, leads workshops and shows customers how to enhance their garments using the odds and ends that line Vogue's shelves. She notes that even simply replacing the buttons on a blouse can have a profound effect. "All of a sudden, it's a new blouse. It's different from what it used to be."
Below, Bobbi shares her expert advice on using trims and add-ons to transform simple frocks into elegant cocktail dresses and gowns.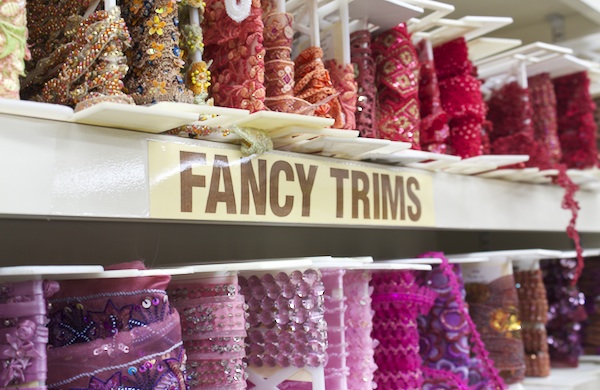 Enhance the Neckline
Take a simple black dress and add a fancy trim with lace or beads. Wavy rickrack in neon colors can create a funky look, whereas gold metallic trim or translucent organza beaded trims lend a more elegant touch. Sew them on by hand or take them to a seamstress or tailor for a stress-free addition.
Tip: Trims with beads have loose thread when cut. Put a piece of scotch tape around the end to prevent unravelling.
Meanwhile, if a neckline is too low, you can put a section of lace behind a v-neck or low scoop neck for modesty, or add some rubber elastic to tape the dress down to your skin. A rubber border along the inside can also help hold up a strapless dress.
Add Interest to the Hem
According to Bobbi, "people often find that their dresses are too short." To add some length, she suggests adding some lace or ruffles to the bottom. Ostrich feathers on a ribbon also make a nice accent. Once, one of her customers added a couple of rows of feathers to the bottom of her dress to create movement. If ostrich isn't to your taste, Vogue also has peacock, partridge feathers, and rabbit-fur trims.
Make the Bodice Sparkle
Individual beads and rhinestones add a touch of shimmer. When Bobbi was working on her wedding dress, she applied individual beads to the bodice of the dress so that it shined. Vogue carries a large variety of seed, glass, and Hawaiian beads that can be sewed on, whereas rhinestones—sold in packages of 12—can be easily glued on.
Define the Waist
Vogue boasts a shelf of stretch sequins that come in two widths and a variety of colors including emerald, gold, purple, and scarlet. The stretch sequins are easy to sew into a circle, so they make good statement belts on dresses. When measuring, find the width and cut the correct length unstretched. Bobbi has also found that people going to parties like making stretchy, sparkling headbands and neck chokers out of the sequins.
Tip: When working with a stretch fabric or knit, stretch it and let it relax a little before sewing the sequins or trim on.
Adapt to the Season with Sleeves or a Shawl
Non-fray fabrics like glitter tulle, stretch lace, and stretch velvet are perfect for creating no-sew shawls or to attach as flutter sleeves. Using a contrasting color creates a vibrant look and draws the eye up.
Create a Whole New Look
Adding rows of fringe is an easy way to repurpose a sheath dress into a 1920s flapper silhouette. When she was in college, Bobbi made her own flapper dress this way by sewing "4-inch black fringe on from top to bottom, with one line dangling off the hem." She also used rhinestones to make sparkling straps.
Photo: Stephanie McDaniel, Groupon
BY: Stephanie McDaniel
Stephanie McDaniel is a political theorist-turned-novelist from South Carolina. On the rare occasion she's not writing, she spends her time folk dancing, singing, and adding sea salt to Lake Michigan.