The Makers of Upton's Naturals Build Their Slaughterhouse-less Seitan Factory in Chicago
BY: Katie Cortese |
Jul 25, 2013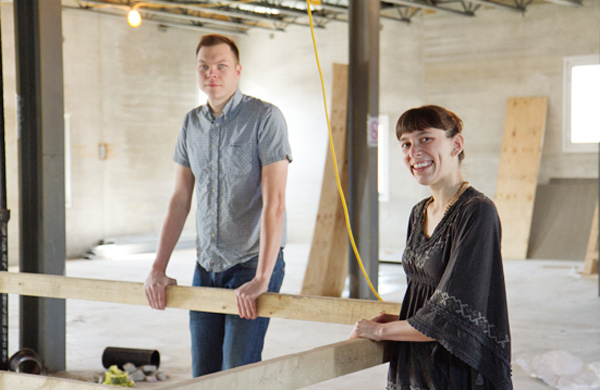 A new manufacturing plant is going up along Grand Avenue in West Town on a lot that had been vacant for 30 years. Three stories of concrete slabs and metal beams form what will be the new home of
Upton's Naturals
. In April, the company's president, Dan Staackmann, and vice president, Nicole Sopko, led me on a walking tour of their new facility, slated to open in the summer of 2013. Their eyes lit up as they explained where all the bacon, chicken, and sausage will be made once construction is complete.
But unlike other factories that churn out bacon and chicken, nary a dead animal will be seen here. In fact, all the meat produced is not meat at all. Rather, it is seitan, or wheat meat.
In 2006, Staackmann started Upton's Naturals, a seitan-producing company in the city once known for the sale and slaughter of animals. "Seitan has always been one of my favorite foods," he said. "There weren't a lot of people making seitan—there were only a few restaurants doing it. So I kind of decided to do it."
Despite having no culinary background, Staackmann, 36, went from working in an office to experimenting with recipes for nearly a month before creating the company's first product: italian seitan, a meat-free alternative to ground sausage that can be tossed atop pizzas and stuffed inside lasagna.
Upton's has grown significantly since its inception. In 2009, Sopko, 32, joined the team. At that time, Upton's Naturals products were sold in seven states, and the company employed five people, including Staackmann and Sopko. Today, the products are sold in 42 states, and the company has a staff of 15.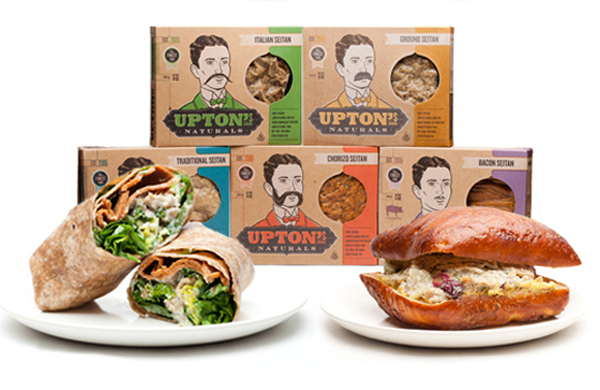 Putting Chicago on the Map for Meat Alternatives
"Eight people make all the seitan to supply the country," Sopko said. Although the company's rapid growth has created a need for more space, production is currently in a building half a mile away from the new plant being built on Grand. The company's seitan products can be found locally at supermarkets such as Whole Foods, in eye-catching packages stamped with the company's trademarked old-timey man with a mustache. "I know people tend to respond better to names and faces," Staackmann said of his choice of business name and logo. He commissioned his friend Johnny Sampson to create the man donning a different mustache for each product offered. And just as mustaches are becoming synonymous with Upton's Naturals, Staackmann is becoming synonymous with putting Chicago on the map for its meat alternatives.
The lack of seitan at restaurants that pushed Staackmann to create his own is also no longer a problem thanks to Upton's. Many local joints, including Bucktown's
Handlebar
and Wrigleyville's
Dimo's Pizza
, offer the meat substitutes on their menus.
Dimo's Pizza uses Upton's italian seitan, chorizo seitan, and traditional seitan marinated in Frank's RedHot sauce on its vegan pizzas. "Being a local company, it was an obvious choice for us," Dimo's brand manager Ann Wanserski explained of the restaurant's relationship with Upton's. "They have really helped broaden the awareness of vegan options in Chicago."
The Antithesis of the Meatpacking Industry
Upton's Naturals offers another healthy food option for people who think twice about what they are eating. And although Staackmann said Upton's Naturals was not officially named after Upton Sinclair—author of the 1906 Chicago novel
The Jungle
—it is hard not to connect the two. Sinclair depicted the abhorrent working conditions in the stockyards and the meatpacking plants, which made people think twice about what they were eating.
Dr. Dominic Pacyga, professor of history at Columbia College Chicago, has firsthand knowledge of Union Stock Yard & Transit Company. He followed in his family's footsteps and worked at the stockyards, first as a livestock handler and then as a security guard, until it closed in 1971. He is currently writing a book on the stockyards, due to be released in 2015 for the 150th anniversary of the stockyards' opening.
At its peak, Union Stock Yard & Transit Company employed almost 50,000 men and women and shipped livestock across the country, Dr. Pacyga said. That included animals sent to local meatpacking plants, which at one point produced the majority of the meat consumed in the United States. In the 1950s, meatpacking companies started to pull out of Chicago, and today, only two smaller ones remain.
What was once the face of Chicago has all but faded. "It's been gone for 50 years; nobody is thinking about meatpacking anymore," Dr. Pacyga said.
Today, the footprint of the stockyards is now a flourishing industrial park. And another industrial section of Chicago in West Town now houses Upton's new factory—the antithesis of the meatpacking industry.
The Grand Avenue plant is five times the size of the old workspace, and its completion, set for this summer, marks a new era for Upton's Naturals. The staff will blossom to between 30 and 35, and there will be much more than seitan-making inside. On the third floor, a yoga studio will host donation-based yoga classes taught by Sopko, a certified yoga teacher. A cozy nook on the ground floor will hold a 15-seat café, tentatively called Upton's Break Room. Made-to-order seitan sandwiches, baked goods, and possibly vegan soft-serve will be available for breakfast, lunch, and dinner. A daily special, called the Employee Meal, will be free for Upton's employees and sold at a discount to customers.
Advancing the Cause
Staackmann and Sopko also regularly donate money and their company's products to charities—including Farm Sanctuary and Mercy for Animals—to further the vegan cause. And for the first time, their mode of giving back is directly tied to the sale of their product. Five percent of the proceeds from each package of bacon seitan, the newest addition to the retail line, will be donated to Farm Sanctuary. "The product gives people an alternative to eating pigs and also goes to keeping happy pigs happy," Sopko said with a smile.
The busy couple travel to veg-friendly events across the country about twice a month, and before their business grew exponentially, they visited every store that carried their product. Their visits showed Sopko how creating vegan products supports her passion for activism. "There are a lot of people we meet who aren't vegetarian and eat our product once or twice a week, and that is really important to us," she said.
In fact, not even everyone on staff at Upton's Naturals is vegan. "It is not required that they be vegan," Sopko said. "But it is a requirement that our employees get what we are doing." Upton's is flourishing all around. Not only does the business growth necessitate an expansion for the seitan-processing plant, but Staackmann and Sopko are also able to provide more people with jobs, provide the public with an alternative to meat consumption, and provide charities with more power to help save animals' lives.
Their success is almost surreal to the two. Sopko even commented on how surprised she was when the loan was approved for their expansion—she couldn't believe someone else saw the potential and trusted in their vision. The new building is three stories of concrete proof of their hard work.
Our April tour concludes on the roof of the third floor, a space Staackmann and Sopko hope to transform into raised garden beds. The entire Chicago skyline and beyond can be seen from here. Fifty years ago, that view would have included Union Stock Yard & Transit Company. But not anymore—its chapter of Chicago history has been written, and its page has been turned. The stockyards' legacy, if just a shadow today, still remains. And yet here is Upton's Naturals. Staackmann, Sopko, and their burgeoning staff are penning a new, bloodless page in the city's history. Their new factory, cross-continental distribution, and mustachioed mascot all seem to whisper, if not taunt: "Hog Butcher for the World no more."
Top photo: © Michelle Klosinski, Groupon Bottom photo: © Chris Zibutis, Groupon