Small Plates, Delectable Bites
BY: Kimberly Moore |
Oct 9, 2012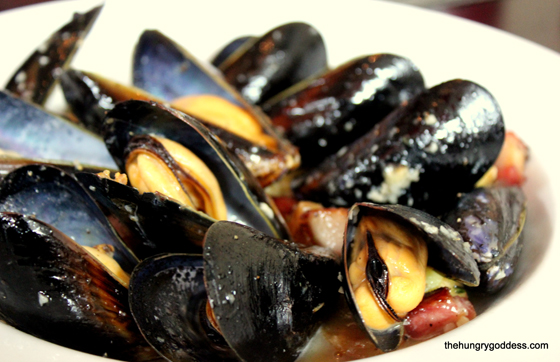 Small plate eating is running rampant in Miami and it's a trend that I embrace fully.  Tapas has always been a preferred eating style for me - after all, one entree is never enough for The Hungry Goddess.  I want to experience multiple delectable bites and I don't want it to break the bank. To identify a small plate, I have a loose definition.  It should be under $15 (or in that area), ultimately shareable and it should communicate its gastronomic punch in that one bite.
 Michael's Genuine Food & Drink
has a menu full of small plates that just beg to be shared.  Their Steamed Mussels is a completely social small plate.  Everyone can pick a perfectly cooked mussel, spear a generous chunk of house made bacon and a fingerling potato and complete it all with the grilled sourdough bread dipped in the savory juices gathered at the bottom of the bowl. Lest you think that Bacon or some form of pork figures in all of my food excursions, let me tell you about
Blue Collar
.  Their Veg Chalkboard is priced at $4 per veggie plate and Chef Daniel Serfer is serving up some of the freshest food in Miami.  Be greedy and order the Veggie Plate that gives you 4 of the veg dishes for $14.
 Yardbird
and Chef Jeff McInnis serve up Southern favorites with a flair!  The best small plate is the Fried Green Tomato BLT - a stack of perfectly fried green tomatoes with pork belly, greens, tomato jam and house made pimento cheese.  The seasonal Butter Bean Risotto with Grilled Hen of the Woods mushrooms is a great dish for several forks and don't discount the Grilled Endive Salad with generous amounts of Virginia Ham, Blue Cheese and candied pecans.  Yardbird is open for lunch during the week and is just the excuse you need to share some food over a business meeting.
The Bazaar
by Jose Andres takes traditional Spanish cuisine and makes it new, modern and droolworthy (not that it already wasn't but...).  The Bazaar menu meets small plate standards and exceeds them (by about 60 shareable plates).  Weeks could be spent reveling in Chef Jose Andres' creations.  The Cubano Sandwich with Iberico Ham and a mouthwatering foam inside the sandwich which makes it easy to end up with some of it down the front of you but you really won't care.  Delicate cones and skillets and plates filled with gastronomic wonders abound - this is small plate paradise.
 Michy's
by Chef Michelle Bernstein encourages "half" selections on the menu - all the better to eat a varied smorgasbord.  Serrano Ham and Blue Cheese Croquetas as well as Ceviche and White Gazpacho are siren calls of small plate delight.  Warning, you may end up just ordering one entree for the table to share as well!
 The Pubbelly Restaurants
could be known as the Small Plate Empire - each restaurant has a slew of delectable bites that can be eaten with one or more companions, enabling you to sample more than one (or five if you are greedy like me) dish.  The Pork and Scallion Dumplings at the Gastro Pub ensure everyone in a party of four gets a flavorful bite.  The Barceloneta Pulpo a Feira is a requirement to savor a spoon of potato foam, grilled octopus and the house made chorizo (best I have ever had!).
BY: Kimberly Moore
I am Hungry.  I am a passionate person and I translate that passion into life … and food … and experiences … and travel!  I will always take the road less traveled and since I am always hungry, I always stop to eat. Food is a central experience in my life – I love to eat it, tweet it, write about it, experience it and discover new foods or recipes.  I have several Food sites – Foodies Unite and The Hungry Goddessand Fennel Friday.  I am the Co-Founder of the #HGEATS twitter chat (every Wednesday at 12noon eastern) and I am the Creator ofFennel Friday (#FennelFriday) which is a joint project with Pollen Ranch and Foodies Unite.