Plate by Plate: Smoked-Chicken Bruschetta at Brand Smokehouse & Tap
BY: Will Landon |
Sep 20, 2013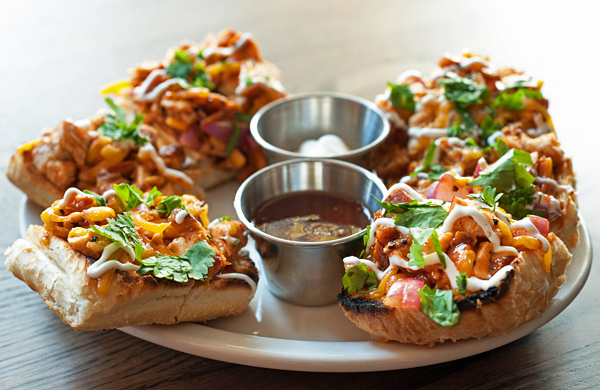 Late last year, Brand BBQ suddenly shuttered. It left me without a local supply of pulled pork and no access to my favorite dish, mac 'n' cheese with pork burnt ends. I grew up with crab cakes and pit beef, and Brand's mac 'n' cheese's combination of rich ingredients was striking. When Brand was gone, I wanted it even more. Now, Brand is back—and with a liquor license—as the new
Brand Smokehouse & Tap
(2824 W. Armitage Ave.). Pursuing the license was the main reason Brand closed, said the general manager, Patrick. He met my girlfriend and me at the door and showed off the new space, including a row of shiny chrome taps that had just been installed behind the bar that day. Another reason it closed, he said, was to revamp the menu—a curious choice, since good old barbecue doesn't usually get reinvented. Brand's temporary dine-in menu features items such as pulled-pork nachos and fried spicy jack cheese. Even with the new additions, "it's a lot of the same old stuff," Patrick assured me. As much as I loved the same old stuff, however, I was there for one of the unfamiliar dishes: smoked-chicken bruschetta. Beside the entrance, just in front of the restaurant's single, garage door–sized window, we sat at a wooden communal table. Patrick brought us our plate of six huge pieces of bruschetta and a small bowl of mac 'n' cheese topped with those pork-belly burnt ends. I dug into the bruschetta. The sweetness hit first. The dish was much lighter than I expected. Hints of brown sugar or molasses mingled with the mild smokiness of the small morsels of chicken—the flavor was bold without being overwhelming. The sweet was offset by pungent cilantro and creamy hints of cheese. Perhaps the most original part of the dish was the bread: thick, doughy, and lightly charred on the edges, which gave way with a light crunch. The light maltiness of my $1 PBR truly allowed the dish to shine. Brand dresses the bruschetta with a tomato-based classic sauce, which the menu describes as "sweet and aromatic, with notes of molasses and citrus." It can also be prepared with a smoky-spicy sauce infused with chipotle peppers. These sauces almost make it worth ordering two. I'm still fond of Brand's take on the classics—we ordered a container of the burnt-ends mac 'n' cheese to go before leaving. But if Brand's other new dishes are anything like the smoked-chicken bruschetta, Chicago should expect more inventive dishes to enter its barbecue scene.
Photo: © Andrew Nawrocki, Groupon
BY: Will Landon
Will Landon is a Chicago-based writer who sings punk rock songs with the Blue Ribbon Glee Club and occasionally works for free as an assistant stage director.