Soak Your Beard in These Beers at Punk-Rock Festival Ian's Party
BY: Collin Brennan |
Dec 30, 2013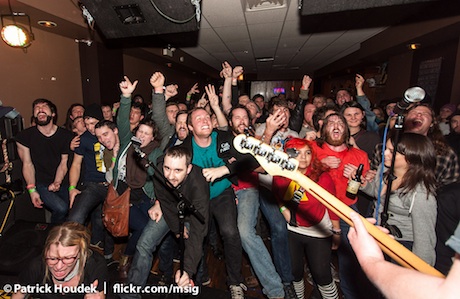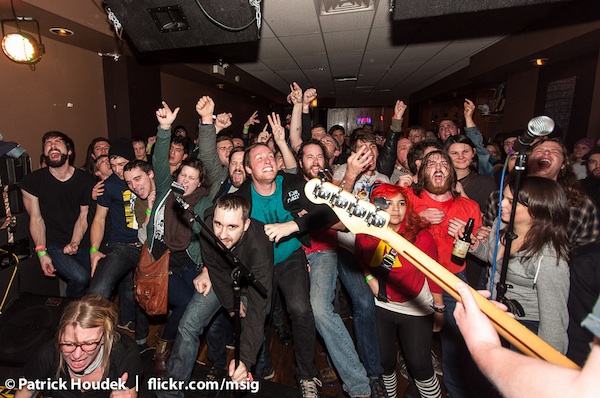 Let's set the scene: it's the Friday after New Year's and the dirt is still fresh on the grave of your resolutions. Your head is pounding thanks to a hangover two nights in the making, and the kitchen floor is sticky with beer (you know this because that's where you woke up this morning). All signs point to 2014 being another long and unfulfilling year, but there's still one thing left to look forward to.
Ian's Party
is an annual three-day punk festival geared toward the kind of people to whom the phrase "all partied out" doesn't apply. This year, the fest will take over
Township
(2200 N. California Ave.) and
Quenchers Saloon
(2401 N. Western Ave.) in Logan Square, with bands from across the country coming to join the best and brightest of Chicago's punk scene. To prepare you for another weekend of bad dancing and worse decision-making, we've paired five of our favorite locals with a beer you'll be able to find at the bar.
Galactic Cannibal
Friday, January 3, 9:15 p.m. at Township
Pairs with:
Surly Brewing Company's
Furious
The first song on Galactic Cannibal's debut LP is called "Hate Everything More." This is sound advice for listeners who want to get on the band's level. Vocalist Nick Woods (also of local pop-punk outfit Direct Hit!) will drum up enough vitriol for the entire crowd during the band's raucous live set, but just in case you're short on rage, Surly Brewing Company has you covered. Cans of Surly's Furious IPA recently arrived at Township, and the aggressively hopped ale might be the beer list's only match for GC's own aggression.
Swimsuit Addition
Friday, January 3, 10:45 p.m. at Quenchers Saloon
Pairs with:
Three Floyd's
Pride & Joy
Like Three Floyd's Pride & Joy, Swimsuit Addition is many things at once. The quartet has been likened to riot grrrl forebears Bikini Kill and Bratmobile, but those comparisons seem a bit easy given the band's all-female makeup. What they really are is a fascinating mutation of surf rock, power pop, and Stooges-era garage with just a tinge of spazzy post-punk à la Gang of Four. Lead singer Jen Larson has a knack for finding that sweet spot between a sunny beach and a basement littered with broken glass. With a light caramel sweetness that gives way to an assertive hop profile, Pride & Joy seems the perfect match.
Absolutely Not
Friday, January 3, 12:15 a.m. at Quenchers Saloon
Pairs with:
Bell's
Two Hearted Ale
Bell's intensely hoppy Two Hearted Ale pairs nicely with Absolutely Not, a band with two hearts of its own. The first beats at a frenetic tempo that's fueled by vocalist Donnie Moore's snotty delivery and bright, melodic guitar hooks. It's the kind of thing you'd expect from a band that grew up on a hodgepodge of hardcore and late-era Ramones records, but it's pitted against another influence that's more out of left field: glam rock. Flashes of T. Rex and David Bowie are evident among the barrage of spastic riffs, and one gets the (somewhat ironic) impression that the band says "Absolutely, yes!" to nearly every rock record made in the decade between 1975 and 1985.
Vacation Bible School
Saturday, January 4, 12:15 a.m. at Quenchers Saloon
Pairs with:
Two Brothers'
Cane and Ebel
If you attended Vacation Bible School as an impressionable child, you probably remember the story of Cain and Abel. Similarly, if you've paid any attention to Chicago's craft-beer explosion in the past decade or so, you're probably familiar with the hopped-up red rye ale that is Two Brothers' Cane and Ebel. Quenchers doesn't have a pastor on hand to cut you off at three pints, so feel free to indulge during a late-night set by Chicago's own Vacation Bible School. The veteran band preaches a variety of pop punk that's rough around the edges, and their lurid tales of regret will likely send you straight to the confessional in the morning.
Meat Wave
Sunday, January 5, 10:45 p.m. at Township
Pairs with:
5 Rabbit Cerveceria's
5 Vulture
Is it hot in here, or is it just the roasted ancho chilis in my beer? Local brewery—ahem,
cerveceria
—5 Rabbit turns to Aztec mythology for inspiration, resulting in beers that combine curious flavors such as juniper, pepperberry, and the abovementioned chili. Vultures will be circling the pit at Township during Meat Wave's set, as the band's ear-blistering punk takes no prisoners and leaves few survivors. Scare the scavengers away by taking a swig of the amber-hued 5 Vulture ale and blowing some flames in their direction.
Photos:  Patrick Houdek Photography
BY: Collin Brennan
Guide Staff Writer
Collin is a senior editor and a staff writer for Consequence of Sound. He self-publishes zines and moderates writing workshops for The Chicago Publishers Resource Center (CHI PRC).