Solar Panels Could Be Coming to a Barbecue Near You
BY: Stephanie McDaniel |
Jul 31, 2014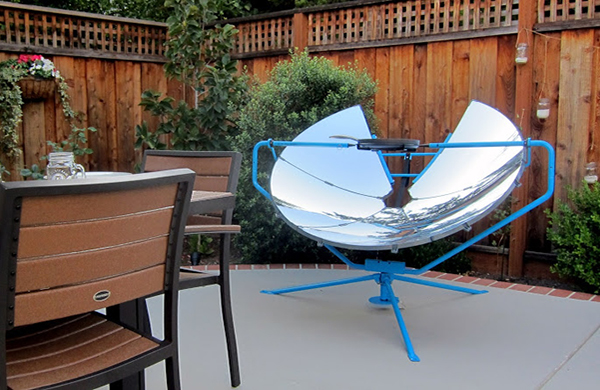 Above: the SolSource, a portable stove and grill powered by solar panels that proclaims to "cook anything under the sun."
Every year, students across America spray-paint cardboard boxes, wrap them in foil, and stick them outside to use the power of the sun to slow-cook pizza or cookies. "There's still fifth-grade students that do that where I live," said Louise Meyer, a cofounder of
Solar Household Energy
, a nonprofit organization that teaches people around the world how to cook and sanitize water using solar power. "[The kids] love it, they learn, and fortunately, they remember." The concept of solar cooking—and the technology behind it—has come a long way from those grade-school experiments. New models of solar cookers are popping up in a wide range of unexpected places, from backyard patios in California to remote villages in Ivory Coast and the Himalayas. To learn more about the emergence of solar cooking, we talked to Meyer and to Caitlin Powers, a cofounder of
One Earth Designs
. Here are six things you should know:
1. Solar Cookers Harness the Power of Parabolas
The wide range of cooking devices currently on the market includes everything from a simple solar oven to complex parabolic and paraboloidal reflectors, which use the geometry of a parabola to redirect light for cooking. One Earth Designs sells the
SolSource
, a collapsible, weatherproof cooker. Powers said it can reach temperatures comparable to a traditional grill within five minutes and can sear, sauté, bake, and smoke foods. Meyer's company created a hybrid cooker, the
HotPot
, a portable solar oven that uses reflective panels but bakes food instead of grilling it.
2. They Cook a Multitude of Cuisines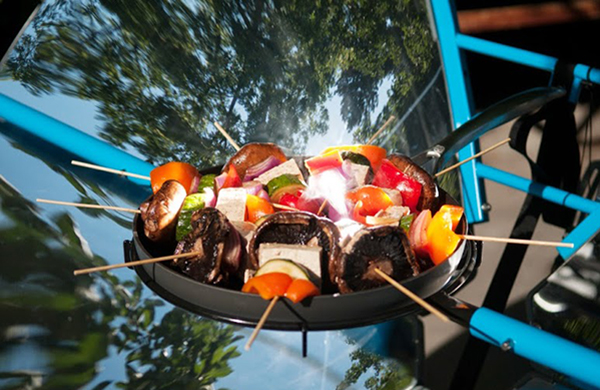 "Every sunny day, I'll cook something because I can't stand wasting energy," Meyer said. "I see this great sunlight, and I think, 'I have to use it.' It's as if I'd turn my stove on and not use it." She bakes everything from potatoes to banana bread in her hybrid panel cooker. Powers, on the other hand, enjoys cooking cedar-smoked salmon, fajitas, cornbread, and vegetable skewers. Solar cookers can be used to make all kinds of cuisines, though. "Our customers in rural areas of Asia routinely cook noodle dishes, tea, rice, steamed dumpling, stir-fries, and stews," Powers said.
3. They're Found at Restaurants Around the World
Combine high-intensity cookers and solar ovens and the result is an entire solar kitchen. Restaurants in
Nicaragua
,
India
, and
Finland
, among other countries, are using this technology to their advantage. In the United States,
Solar Roast Coffee
slow-roasts its coffee beans in solar cookers to create a dark roast with an intense flavor. Its
Helios V
model roasts 70 pounds of coffee every hour; the roasts are then
shipped
across the country.
4. They Cook with No Carcinogens or Pests 
Every day, the sun's rays shine on the earth. A parabolic solar cooker's mirrored panels collect those beams of light and redirect them onto a single point, converting that light into heat that can be used for cooking. Creating a bubble of heat inside the cooker not only heats the food but also keeps away ants and bugs. Powers prefers this method because it doesn't emit carbon dioxide and it prevents particles of burnt fuel—filled with carcinogens—from landing in food, the way it would with a traditional grill.
5. They're Another Facet of a Green Lifestyle
Solar cooking has recently become a popular activity among urban gardeners. Meyer often gives demonstrations in urban gardens, showing people how they can harvest their vegetables, put the food in the cooker, and immediately have lunch. Because most urban gardeners already live eco-friendly lives, "it doesn't make sense to drag a barbecue thing with a big gas tank when you can just take something small in your backpack and unpack it and cook right there," she said.
6. They Improve Impoverished Rural Areas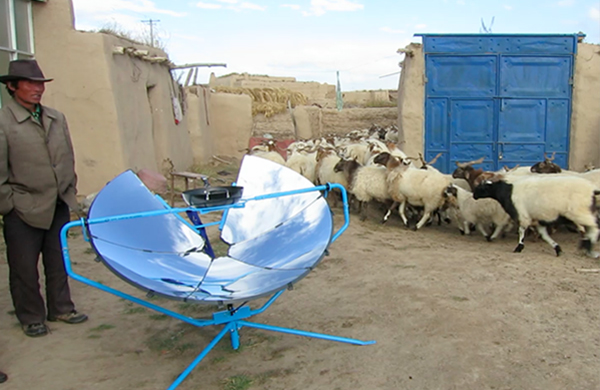 Today, the rural areas of China and India hold the largest populations of solar-cooker users. Here, the benefits of solar cooking are twofold. By not using wood, it prevents deforestation. It also provides users with a lifetime source of energy to cook with at no cost. And, though the process is time consuming, it actually provides the chefs, who are generally women, with free time while food cooks. Without solar cooking, Meyer said, "women would never have time to pursue anything."
Photos courtesy of One Earth Designs
BY: Stephanie McDaniel
Stephanie McDaniel is a political theorist-turned-novelist from South Carolina. On the rare occasion she's not writing, she spends her time folk dancing, singing, and adding sea salt to Lake Michigan.