Best South Beach Brunch Spots
BY: KIMBERLY MOORE | 8.7.2012 |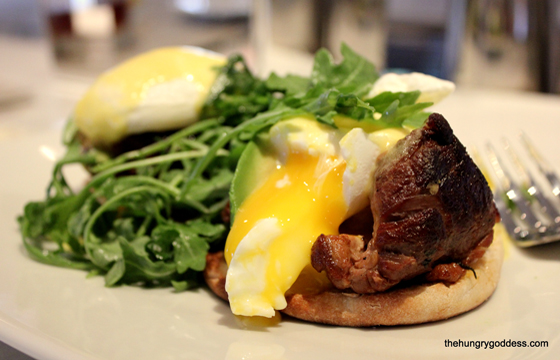 South Beach on Sunday morning has a silence that is golden...or like a ghost town. Tourists and late-night partiers are still snoozing while the residents are heading to a relaxing yoga class or paddle boarding on the early morning bay. It's a great time to walk the beach or wander through the Miami Botanical Gardens but, as late morning approaches, brunch is the order of business. The choices are vast on South Beach but here are a few top picks that make me long for Sundays.
I often like my brunches tapas style (so I can try more dishes and share plates with friends), and for real tapas, I go to Barceloneta. Headed by Chef Julia Gonzalez and part of the infamous Pubbelly group, Barceloneta provides vibrant Catalan-influenced food, traditional and contemporary. The dish that sounds a siren call in my head from Barceloneta is the Alubias con Botifarra:  housemade Catalan Sausage with white beans, roasted peppers and an organic poached egg.  I restrained myself from licking the bowl but only because I was distracted by the delightfully sweet and addictive Shishito peppers with candied walnuts and Valdeon sauce (blue cheese) pooled at the bottom of the plate.  Eggs Benedict is mandatory for brunch in my opinion and Barceloneta accommodates my picky palate with their Benedict that includes a potato roll, pork belly, Serrano ham, Hollandaise sauce, & a poached organic egg.
Some Sundays you wake up craving grits.  At least, this started happening to me once I experienced the fresh Adluh South Carolina stone ground cheesy corn grits at Yardbird Southern Table & Bar.  I crave their fluffy, creamy and cheesy deliciousness and I guarantee that they don't taste like most of the grits you have ever experienced.  Yardbird has service with a smile and genuine Southern friendliness.  Their farm-to-table classic Southern menu delivers some of my favorites like the Fried Green Tomato BLT (pork belly, pimento cheese & tomato jam with the fried green tomatoes) and the BLT Benedict Cast Iron Casserole (made with a buttermilk biscuit crumble).  Notice there are lots of "B"'s - that is for Yardbird's dedication to intensely flavorful bacon, pork belly and Virginia ham.  If you don't like pork, you might drool over the rolled in sugar and seated in strawberry jam Pumpkin Beignets.  Close your eyes and it's as if you had traveled to the South.  Fried chicken is also an option at brunch … fried chicken and bacon?  Thank you, Yardbird.
Something about brunch makes Southern cooking so right and Georgia's Union brings organic soul food right to the table peppered with the passion of Chef Nate Martin for hand-picked, fresh food.  Even some of my fried favorites like frog legs with buttermilk dressing  and golden fried chicken livers with caramelized onion aioli are light and fried with non-hydrogenated oils and no trans fats.  But, there are two particular dishes which have stolen my heart at Georgia's Union. The first is "Bleu Collared" Greens with baby greens, roasted yellow beets, oyster mushrooms, honey'd pecans and a Winter Park bleu cheese to make you weep.  The second dish is where the grits come in - creamy fresh Riverview Farm white corn grits buried under a mound of crayfish (Florida spiny lobster), lobster jus, green onions and roasted tomatoes.  Dig deep and savor those bites or you could just order two.
There is a newcomer to the breakfast and brunch scene on South Beach … FIX, at the newly renovated Blue Moon Hotel on Collins Avenue.  Fix has just opened but word of the scrumptious offerings are spreading like wildfire.  Lounge by the gorgeous pool under a wood-beamed porch and prepare to be delighted by Chef David Welch's contemporary menu.  I recommend two brunch must-haves: The Kurobota Pork Belly Benedict and the Rice Krispie®-Crusted French Toast.  There is no way to be flowery - Chef David Welch has delivered the best pork belly that I have ever eaten.  Period.  I was a hard sell for the French Toast but after one bite of the brioche bread, bourbon caramel sauce (OMG), mascarpone zabaglione (OMGx2), and fresh strawberries, I am a convert.  The Fried Oyster Po-Boy with the bacon-chive aioli sealed the deal - FIX is here to make a statement and it is "Come and Eat" which I will do again and again.  For those who like cocktails with brunch, all cocktails at FIX use freshly juiced fruits when appropriate and when aren't mimosas appropriate?  Or blueberry caipirinhas?  Or White Sangrias?
Brunch in South Beach is an adventure - a delectable one - and what gets me out of bed on a Sunday morning.
BY: Kimberly Moore
Hungry Goddess
I am Hungry.  I am a passionate person and I translate that passion into life … and food … and experiences … and travel!  I will always take the road less traveled and since I am always hungry, I always stop to eat. Food is a central experience in my life – I love to eat it, tweet it, write about it, experience it and discover new foods or recipes.  I have several Food sites – Foodies Unite and The Hungry Goddessand Fennel Friday.  I am the Co-Founder of the #HGEATS twitter chat (every Wednesday at 12noon eastern) and I am the Creator ofFennel Friday (#FennelFriday) which is a joint project with Pollen Ranch and Foodies Unite.