GROUPON GUIDE TO SAN FRANCISCO
Southern in San Francisco: Fried Chicken and Whiskey
BY: BarFlySF |
Mar 12, 2014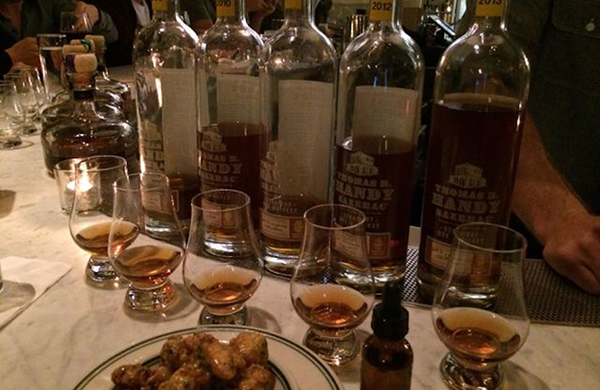 There are plenty of restaurants in the City serving great fried chicken, but very few offer a full bar with a decent whiskey selection.  Sure, beer pairs well, but we believe that whiskey is a better choice to imbibe with the crispy poultry.  After all, it is the other Southern staple and is a lot less filling.  Whiskey's higher alcoholic content also helps to cut down the fat.  A natural pairing together, fried chicken can also help ward off the hangovers from too much whiskey.  Don't believe us?  Try it yourself at one of these places.
Hard Water | Pier 3, The Embarcadero
It's hard to say whether the whiskey or the chicken is the draw for this tiny 1000 square foot waterfront restaurant, owned by The Slanted Door's Charles Phan, specializing in whiskey and Southern food.  More than 150 different bottles of whiskey (many of them premium and hard to get) are available as one or two ounce pours, providing the ultimate tasting to pair with their excellent fried chicken.  Three crispy, cornmeal coated pieces are served with a tasty pepper jelly, but the house-made hot sauce is our choice to spice it up. Make sure to get the fried alligator or pork cracklings to complete the fried experience.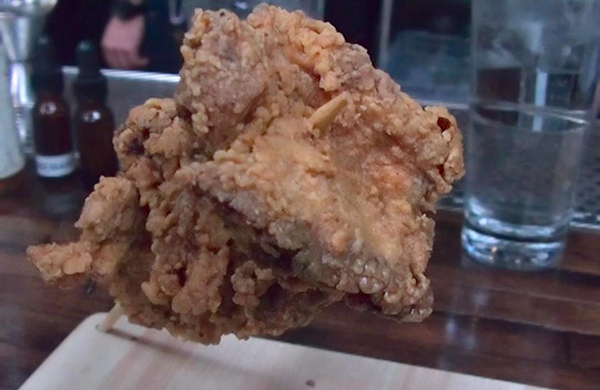 Mission Bowling Club | 3176 17th Street
Three perfectly fried boneless thighs arrive suspended from skewers on a tray made from recycled bowling alley wood
(pictured above)
. At $10, it's a great deal; so much so that you should just go ahead and order two so no sharing is required. There are plenty of bourbon and rye choices to pair with the chicken. The background bowling noise adds a retro feel to this Mission joint.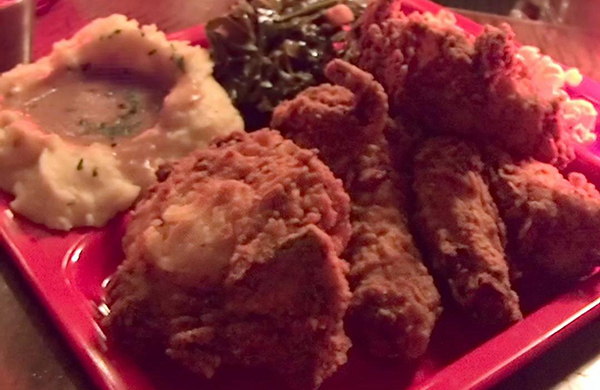 The Front Porch | 65a 29th Street
Their motto is Mission Southern Hospitality, and they certainly deliver.  Fried chicken comes in a single order of four pieces served in a cafeteria-style tray with mashed potatoes and collard greens
(pictured above)
, or by the bucket of 10 pieces with some popcorn thrown in. Make sure to ask for their house-made spicy sauces to dress the crispy chicken. Bourbon is the right choice to pair with their chicken, and they have more than a few selections available.
Town Hall | 342 Howard Street
The fried chicken has been on the menu since day one of their decade-long existence.  It's a good thing because their version is one of the best around.  A garlic, onion, and butter solution is injected to the buttermilk-soaked chicken prior to frying, adding a ton of flavor while keeping the chicken very moist. They have lots of other good Southern-inspired food on the menu, but the fried chicken is a must-order.  A selection of one of the few bottles of bourbons is the right pairing with the chicken.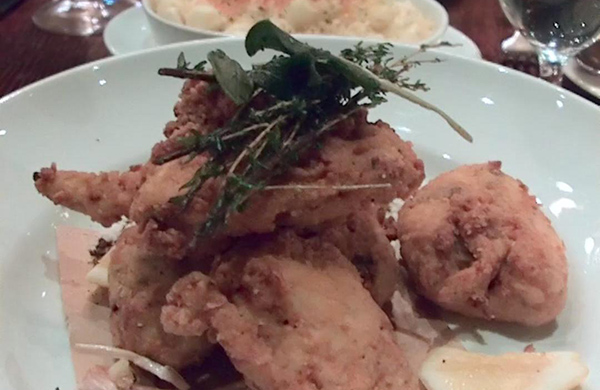 Wayfare Tavern | 558 Sacramento Street
Celebrity Chef Tyler Florence returned to the restaurant scene three years ago and more than proved that he can cook at this perennially crowded place. He recently shared the secret to his excellent moist fried chicken:
slow cooking at a low temperature of 200oF
prior to battering and frying. The chicken is accompanied by fried garlic cloves and topped with fried herbs (sage and thyme), and the best way to eat a piece is with a squeeze of lemon supplied with the dish. The dish
(pictured above)
 is fairly large with 5 pieces, so plan on sharing and ordering a side of mac and cheese to complete the meal.  It's a tavern, so the selection of whiskeys is great, as befits the gentlemen's club atmosphere.