GROUPON GUIDE TO SAINT LOUIS
St. Louis Has More Than Ribs (Though They're Really Good, Too)
BY: Shannon Grilli |
Feb 24, 2014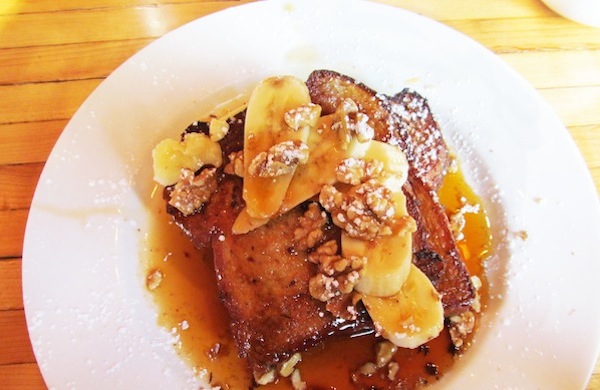 If you're anything like me, you probably plan your vacations by giving as much consideration to the things you're planning to eat as the things you're planning to see. A mere five-hour Amtrak ride from downtown Chicago, St. Louis certainly has enough to recommend it as a foodie destination—after all, the Missouri state food is the ice-cream cone. But one cannot live on gooey butter cake alone (I've tried), and a weekend spent scaling giant arches and navigating caves in City Museum demands substantial sustenance.
Below, I've highlighted six restaurants in Saint Louis that wowed me on a trip to the Gateway City—make it your manifest destiny to try them all.
Sweetie Pie's (4270 Manchester St.)
This soul-food eatery is famous for its ultra-creamy macaroni and cheese, which is made with four kinds of cheese—including copious amounts of Velveeta. But the thing that really sets this mac over the top is its crispy golden-brown crust. The staff here know that, so they make sure every helping includes some of that burnt cheesy goodness as they pile it onto plates alongside crispy fried catfish, corn bread, and other sides like candied yams or collard greens.
Juniper (360 N. Boyle Ave.)
Regardless of what you order here, you'll want to start with the breadbasket. No, it's not free, but then this isn't your average cradle of dinner rolls either. For $9, you'll get a wooden board loaded with buttermilk biscuits, angel biscuits (which are light, airy, and made with lard), green onion–studded hush puppies, a giant wedge of corn bread, and a mammoth fluffy popover. Sides of housemade jam and butter complete the comfort-food spread. You can also save room for dessert by getting a half order—trust me, the bacon-bourbon ice cream's worth it.
The Mud House (2101 Cherokee St.)
The Mud House has everything you could want in a neighborhood coffee shop: exposed-brick walls with lots of nooks for reading, creative drinks, and close proximity to shopping—it's located on St. Louis's famous Cherokee Antique Row. But its kitchen kicks things up a notch by serving hearty breakfast and lunch fare, like thick-cut brioche french toast topped with apple-cider syrup (pictured above). As for coffee, the shop offers some unique flavored options, including a lavender mocha and a rosemary latte. I don't typically enjoy sugary coffee drinks, but the rosemary latte had only a hint of sweetness, and the herbal notes contrasted nicely with the rich bitter coffee.
Bogart's Smokehouse (1627 S. 9th St.)
You can smell Bogart's before you see it. Walking down 9th Street, you can almost picture the smoky, meaty scent moving toward you, waving cartoon-like fingers under your nose, and beckoning you inside. Brisket, burnt ends, and pastrami are all popular, but the star attraction is, of course, the ribs. These are cooked until they bear a perfect pink smoke ring, then finished with an apricot glaze and "brûléed" to create a slightly caramelized crust. If you like your ribs on the saucy side, you can do that yourself by picking one (or several) of the bottled sauces on each table.
Planter's House (1000 Mississippi Ave.)
I could go on for hours about the perfectly cooked lamb loin I had here—in fact, I think I did in a post-dinner phone call to my mom. I might have also waxed poetic about the smoked fingerling potatoes or about the donuts, which were filled with pineapple jam and molasses cream and were the best I've ever eaten in my life. But at its heart, Planter's House is about craft cocktails, and they don't disappoint. On my visit, I tried the Manhattanite, a modern take on the classic manhattan made with Rittenhouse rye, house sweet vermouth, and chocolate bitters. The chocolate comes through front and center, giving the drink incredible richness. Any lingering bitterness was balanced by a slight caramel-y finish that came courtesy of an orange peel that was torched tableside, then extinguished in the drink.
Rooster (1104 Locust St.)
This downtown breakfast spot specializes in crepes of both the sweet and savory variety. There are plenty of options to tempt you in either direction: crepes stuffed with cheddar and Missouri-made german sausage, for example, or with caramelized bananas and blueberry mascarpone. But if you're torn between both sides of the menu, the raspberry, basil, and ricotta crepes are a good bet. The crepes themselves aren't particularly sweet, and the bright herbal notes from the basil are a nice balance to the tart raspberries. They'll also fill you up without weighing you down, which might be exactly what you need after several days of barbecue.
Photo credit: Shannon Grilli, Groupon