St. Patrick's Day Dos and Don'ts
BY: Halley Lawrence |
Mar 11, 2014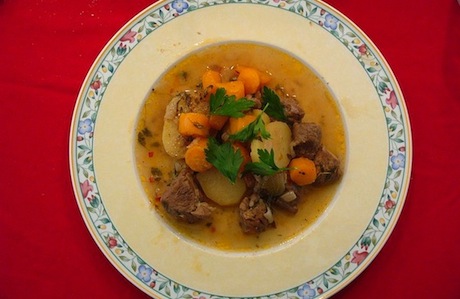 March 17 was originally designated to honor St. Patrick, patron saint of Ireland. However, many see the modern holiday as a simple excuse for overindulgence (think of green beer and questionable leprechaun costumes). You can easily reclaim March 17 as a celebration of Irish culture, however: just follow our guide, made with the help of Kathy O'Neill of the
Irish American Heritage Center
(4626 N. Knox Ave.).
Thirsty?
Do:
Sip some Guinness, which has been brewed in Dublin since 1759. Or if you prefer a nonalcoholic drink (or a base for whiskey), try Barry's Tea, a black tea popular in Ireland. Laughing, O'Neill recounted the times when she's offered her Irish colleagues a different brand. "I'll be like, 'Do you want Lipton's?' and they're like 'Oh, honey, no,'" she said. Barry's Tea also makes delightfully cheesy commercials, as though you needed another reason to try it.
Don't:
Order a Carbomb. No one drinks them in Ireland, and the beverage's name is considered offensive because it seems to poke fun at Northern Ireland's violent political conflicts. Some bartenders even refuse to serve it.
Hungry?
Do:
Try some shepherd's pie, irish stew, or colcannon—a traditional dish made from mashed potatoes and cabbage or kale. The first two should be easy to find at an Irish pub. If you want colcannon, you may have to prepare it yourself. Try this
recipe
from IrishCentral.
Don't:
Go straight for the corned beef, as it's not authentic. O'Neill confirmed this. "I like corned beef," she said, "but it's not a real Irish thing." The dish's roots actually lie in the Irish-American immigrant populations of major cities.
When it comes to music…
Do:
You've likely heard of Bono and The Pogues. But have you listened to Glen Hansard? At 13, he quit school and began busking on the streets of Dublin. More than 20 years later, he won an Academy Award for "Falling Slowly," a song that he cowrote with Markéta Irglová for the 2007 Irish film
Once
(which they also starred in).
Don't:
Start a rap battle with a leprechaun. The miniature MC from straight-to-video classic
Leprechauns in the Hood
is said to roam the streets on St. Patrick's Day, looking for trouble. With lyrics like "I come from the land of the Irish spring, Dublin's the place where I learned my thing," it should be easy to see why he's the baddest leprechaun on the block. Don't engage him in a rap battle: you will lose.
Staying in?
Do:
Brilliant literature is one of Ireland's main exports, so if you're staying in, we recommend curling up with a book by an Irish author. O'Neill offered a couple of suggestions. "Roddy Doyle—he is a Dublin author who wrote
The Commitments
about a band trying to get famous," she said.
[Ed. note: Doyle just published a follow-up novel to his debut
The Commitments
entitled
The Guts
.]
"Colm Tóibín is another great contemporary writer," O'Neill said. We'd add Kevin Barry, who once spent six months writing in a caravan parked in a field, to the list: check out his award-winning novel
City of Bohane
. In the mood for a stirring psychological mystery? Pick up a copy of
In the Woods
by Tana French.
Don't:
Read Amanda McKittrick Ros, who
Slate
named as a contender for the title of "worst novelist in history." Some people still read her books, but for all the wrong reasons: "It isn't for their plots that people read Ros' novels," wrote
Slate
journalist
Mark O'Connell
. "They read them for their rigorously terrible sentences and for the masochistic pleasures of translating them into something like sense."
Feeling cinematic?
Do:
Feast your eyes on Irish and Irish-American cinema. O'Neill recommends the work of Edward Burns, who directed
The Brothers McMullen
. For pitch-dark comedy, watch Martin McDonagh's 2012 film
Seven Psychopaths
(McDonagh was actually born in England, but to Irish parents; he's also set much of his work in Ireland). Check out McDonagh's Oscar-winning short film,
Six Shooter
, below.
Six.Shooter.2005.Short.Movie.Martin.McDonagh
by garnetian
Don't:
Watch
High Spirits
, a 1988 film named in IrishCentral's list of "
The Worst Irish Movies Ever Made
." Although talented actor Peter O'Toole plays a major role, the film is hampered by embarrassing stereotypes and a predictable plot.
If you're in Chicago on March 17, don't miss the Irish American Heritage Center's St. Patrick's Day celebration (1 p.m. to midnight). The family-friendly event includes children's activities, food, drinks at the center's authentic pub, and live entertainment by performers on tour from Ireland.
Photo of Irish stew courtesy of meAsmoo viaWikimedia Commons
BY: Halley Lawrence
Guide Staff Writer
Halley is a Chicago writer with southern roots. When she isn't typing, she enjoys cooking without recipes and designing garments for her upcoming clothing line, Ambidestre.