Stacked a Mile High: A Guide to Denver's Best Sandwich Shops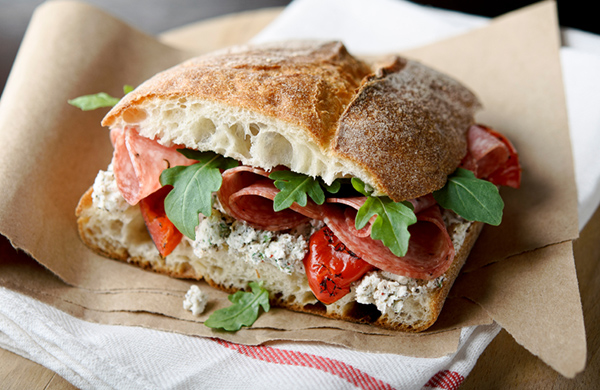 Purposefully portable, wonderfully versatile and requiring nothing more than a pair of hands (and wide jaw) to consume, the sandwich is about a lot more than just bologna and cheese. It's prosciutto di parma, a smear of Gorgonzola dolce and fresh figs on a baguette; a spicy torta de milanesa on crusty bolillo; a classic Reuben on toasted rye. And while you could inhale a different sandwich every day of the year in Denver, these are three of the city's greatest shops. At Masterpiece Deli, a cosmopolitan sandwich shop in Lower Highland, regulars get positively grabby for the housemade truffled egg salad, punctuated with briny capers and dots of red onion. Sheeted with leafy romaine, the earthy mix is then piled high between two halves of toasted classic white bread. The braised beef brisket, boosted with caramelized onions, arugula, red-wine gastrique and Taleggio fondue has a devoted legion of fans, too. Order at the counter before you stake out a seat, preferably on the patio overlooking the city skyline, and behold the masterpieces that live up to the deli's name. The lunch line at Vert Kitchen in Washington Park often stretches beyond the front door, and the menu is as small as the artsy brick space. The sandwiches themselves unleash huge pops of flavor combinations, inspired by French culinary techniques. They're all notable, but the house-roasted turkey, bolstered with chèvre and stacked with mixed greens, roasted tomatoes and figs soaked in balsamic vinegar, is divine. The sandwiches are paired with a side, the seasonal selections of which change on a whim, but if it's available, insist on the pumpkin seed, quinoa and sweet corn salad. Torta Grill, a modest, spare joint that sits in Capitol Hill, is mostly a takeout operation. During off-peak hours, it's possible to secure one of the five stools that overlook the open kitchen, a hustle-bustle galley that trumpets the signature sandwich of Mexico: the torta. The skyscraping gut bombs are made with split, pre-buttered and toasted telera bread, then smeared with fresh avocado, refried beans and mayonnaise and topped with onions and tomato. Your protein of choice – chicken, ham, breaded steak, chorizo and more – comes loaded with cheese and chipotle sauce or jalapeños, depending on the sandwich you've ordered. But all of them are heroic in their abundance, ensuring a full stomach and plenty of leftovers.
BY: Gayot
GAYOT.com serves as a leading worldwide authority on the good life. Millions of readers turn to Gayot's savvy, professional reviews on dining, travel and lifestyle. From "Best of" lists and travel guides, to a searchable restaurant and hotel database, Gayot provides dependable coverage while keeping up with the latest trends and news.