Step 1: Trust Your Bartender
BY: Lisa Ladehoff |
Nov 7, 2013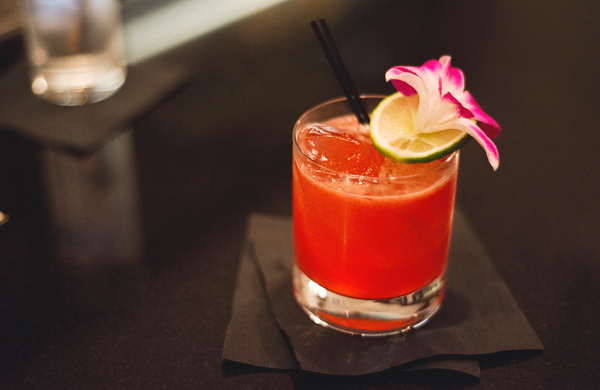 Trusting another person almost always involves a leap of faith. Trusting your bartender is really no exception, because if you've ever had a lousy cocktail—well, then you know. Johnny Costello, the man on the other side of the bar at
The Berkshire Room
(15 E. Ohio St.), is a complete stranger to me. I don't learn until long after my drink is gone that he's been bartending for 18 years—which is surprising, since he doesn't look a day over 30. It seems to me that a dealer's choice is something either experienced drinkers or totally clueless drinkers order; the unending trend of craft cocktailing appears to make everyone think they know a thing or two about drinking. Either way, at The Berkshire Room, they all but goad visitors into exploring the mysterious waters of the dealer's choice, going so far as to list a three-tiered
formula of variables
(base spirit, flavor profile, and glassware). Each of these choices dictate how the drink turns out (crushed ice in the julep glass, bubbles in the flute, etc.) OK, if you've read this far and are wondering
what the hell is a "dealers choice"?
I'll tell you: you tell your bartender what you're in the mood for, doing your best to describe something—however straightforward or conceptual that
something
may be (summery, easy to sip, herbaceous, brown and stirred, etc.)—and hope that what you end up with is something good. If it isn't, it's kind of your fault. Drinker and bartender assume mutual responsibility here. Of the 20 spirits to choose from, I select mescal. Flavor profile: spicy. Glassware: rocks. What arrives, to my surprise, is quite bright and pinkish-red.
And
garnished with an orchid, balancing on a circle of lime that hovers over a large, misshapen hunk of ice. Costello explains it's his take on a sour: the mescal shaken with blackberry and raspberry syrups (each made in house), ancho chili (both shaken with and sprinkled over the finished product), and some blend of citrus and dried spices he doesn't divulge. We all have our secrets. With anything mescal, mescal is the star—no disappearing acts. Despite whatever mingles inside the glass alongside the agave-based, smoky spirit, it's undeniably front and center. Mine is a summery-tasting drink, light and tart beside the mescal, which I'm glad about, since it's damp and almost warm outside—though you could never tell from the interior of The Berkshire Room, a cozy and
very
chic spot for a tipple.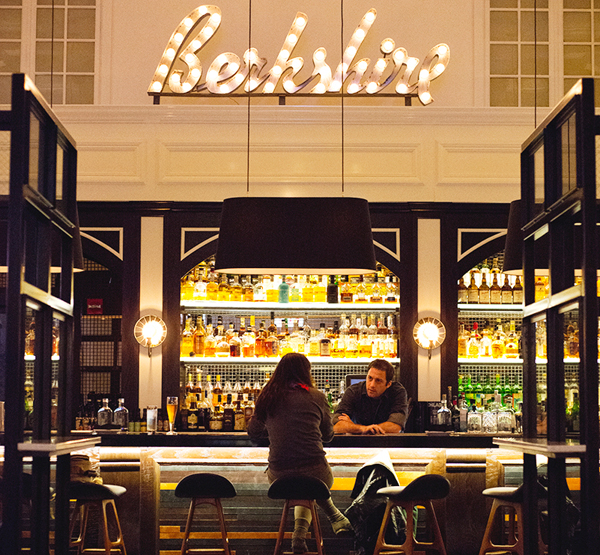 I sit at the black granite bar under an oval pendant shade and a very high-up marquee light that spells out "Berkshire." Bookending each side of the bar are long, skinny little rooms lined with moss-green velvet banquettes and old-looking wood. Low-lit caged cabinets showcase vintage glass and ancient bottles of Fernet with peeling labels. Each side is dark and lounge-y, and as I wander around the interior exploring, I note that it'd be a good place for a date, if I ever go on one of those again. Between the bar and the entrance—which is the almost-lobby of the
Acme Hotel
, though The Berkshire Room certainly doesn't have the feel of a hotel bar—there are clusters of smaller seats and glass partitions and very cool light fixtures everywhere. The interior is great, with just the right amount of attention to design without feeling like it was ripped from a page in
Dwell
magazine
.
I ask Costello whether people ever dislike the result of their choices, as there is a wide range of spirits and lots of different ways to screw them up (shochu in a julep cup? Rye in a flute?). Through his years of experience, he's developed what I'd argue is a bartender's most useful skill:
reading
people. And though this particular skill certainly isn't infallible, almost no one has ever sent a drink back. After some mind-numbing math, I came to the satisfying conclusion that the dealer's choices are many: 600, to be exact. One down, 599 to go.
Photos: © Timothy Burkhart, Groupon
BY: Lisa Ladehoff
Guide Staff Writer
A native of the city of big shoulders, Lisa is a small-shouldered books and booze enthusiast living on Chicago's Northwest side with a large cat, a tiny bar, and a medium-sized library.