STIL Salon and Spa's Favorite Nail-Polish Trends
BY: Sara Tremblay |
May 6, 2013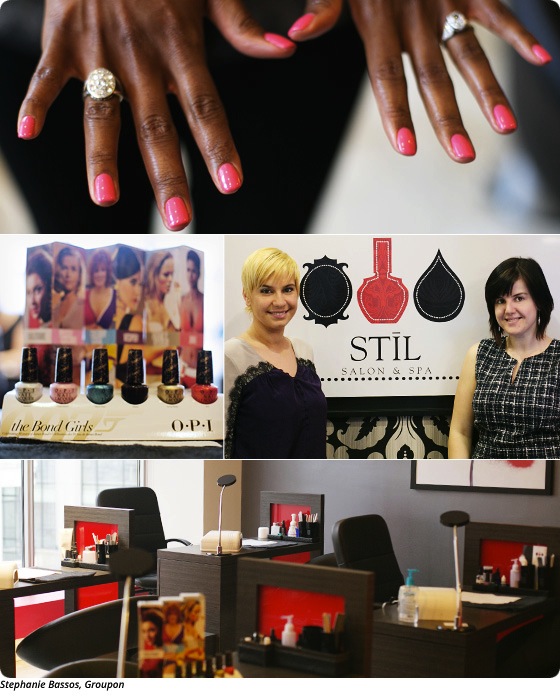 The Gold Coast's
STIL Salon and Spa
"is rooted in European tradition," says owner Stela Sotiraj. And for good reason. Stela and her sister Ilva immigrated to the United States from Albania at ages 18 and 15, respectively. We "try to stay close to home anyway we can," Stela says. This connection is evident in everything from the salon's European-trained aesthetician, who uses only European-made skincare products, to the name STIL, which means "style" in Albanian (it's also a combination of the first two letters of each sister's name).
Find mani-pedi deals in Chicago with Groupon.
Even the spa's decor reflects the sisters' devotion to their home: the fourth-floor space, which hovers above Oak Street, is done up in black, red, and white, the colors of the Albanian flag. "Black and red can be intimidating colors," Stela says. Of course, both she and her sister are fearless when it comes to color—trying on the latest shades from OPI and Essie is a part of their job, after all. With this in mind, I asked Stela, STIL's manager, and Ilva, lead nail technician, to share some of their favorite looks for nails.
1. OMBRE
The same dip-dye look that has graced jeans, dresses, and hair color in recent seasons can also be applied to nails. Ilva explains that there are at least two ways to approach the trend: layer different shades of the same color from dark to light on each nail, or paint each nail a different shade of the same color so that a gradient is created across the entire hand. The latter technique requires a little less skill and patience, so it is easier to pull off at home.
2. PARTY NAILS
"Even the most conservative clients are into party nails," Stela says. Also known as accent nails, this look involves painting a completely different design on just one nail (typically the ring finger) on each hand. It's perfect for clients who want to experiment with something a little more playful but still keep things subtle, explains Ilva, who has painted lines and flowers and even added a touch of gold or a layer of glitter to accent nails.
3. RAINBOW BRIGHT
Ilva gravitates toward bright colors. "I love pistachio green into blue, like Tiffany blue. I love yellow … and kelly green," she says. Stela prefers a more subdued color palette but acknowledges that
Essie's Resort 2013 collection
, which includes colors such as mint green and carnation pink, has been very popular this season.
4. BIO SCULPTURE
"I
love
Bio Sculpture ... if you have brittle nails, ridges, or bad cuticles ... it
helps
your nails get better," Ilva says of this gel-based nail covering. Both sisters rave about the line's recent
Hollywood Collection
, which features energizing colors in soft pastel shades. Ilva says "the purple is such a great violet and mauvey [color] that even the most conservative people out there will wear it, while even the craziest ones ... will wear it and still stand out."
5. OPI LIQUID SAND
OPI's
latest collection
pays homage to James Bond's leading ladies with six striking colors, but it's the line's so-called Liquid Sand formula that steals the show. Stela says that though clients are initially leery of the formula's chalkboard-like texture—many literally dip their toes in first, trying the polish out in a pedicure—they quickly warm up to the glittery yet matte finish.