Still Warm Enough to Dinner Cruise, Jet Ski, and Jetpack on Lake Michigan
BY: Emily Wachowiak |
Sep 16, 2013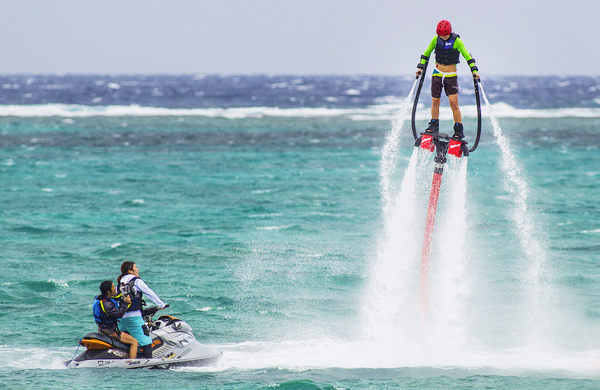 The dog days of summer may be behind us, but the sun hasn't left Chicago yet. Here's an itinerary of five ways you can still get wet (or not) on the lake.
Make Waves on a Jet Ski
Deadline: Monday, September 30
Based on North Avenue Beach,
Jet Ski Chicago
is still unleashing its collection of Yamaha jet skis and waverunners on the lake's mild surf through at least the end of September (starting at $75 for 30 minutes). Pulled by a staff driver, banana-boat rides offer a more affordable splash, taking riders on 20- to 30-minute jaunts to Navy Pier ($20 per person).
Strap on a Jetpack
Deadline: Thursday, October 31
Okay, so it's not a jetpack, but it's the next best thing. The
Flyboards
at
Chicago Jet Ski Rentals
use water propulsion and handheld stabilizers to launch riders up to 40 feet above the lake ($149 for 25 minutes). Never fear the early-autumn chills that can sweep through the 31st Street Harbor—complimentary wetsuits keep Flyboard riders toasty. You'd be wise to hurry, though, as Chicago Jet Ski Rentals is only taking its Flyboards out by reservation on weekends between 1 p.m. and 4 p.m. The season officially ends on October 31, but owner John Gibbs also rents out Mirage Outback fishing kayaks every day until then—he'll even show you the best spots to hook a catch.
Dive In for a Scuba Trip
Deadline: Thursday, October 31
Operated by Plainfield's
Dive Right in Scuba
,
DRIS Charters
has dives scheduled through the end of October, including two Lake Michigan dives set to launch Wednesday, September 18, and Thursday, September 19 (starting at $100; additional fees for
rental equipment
). The boat captains cater to beginning as well as more advanced divers, showing them the area's historic shipwrecks and assorted Cubs merchandise dumped by decades' worth of frustrated fans.
Captain Your Own Riverboat
Deadline: Friday, November 15
You'd have to hire a US Coast Guard–licensed captain to go out on the lake, but
Chicago Electric Boat Company
will hand over the keys to one of their covered vessels for a cruise down the river ($150/hour). Up to 10 people can pack onto the boat, which comes with an iPod-ready sound system and coolers full of ice. At speeds of up to 7.5 miles per hour, you won't be able to drag race any low-flying pigeons, but you will be able to take in Chicago's majestic skyscrapers from a snapshot-worthy angle.
Stay Dry on a Dinner Cruise
Deadline: Depends on the thickness of your coat
Daily dinner cruises depart from Navy Pier year-round, but let's face it, it's more fun when you can stand on the deck without covering your cocktail attire with a marshmallow-like parka.
Odyssey
, one of Chicago's more upscale cruise companies, is hosting a three-hour
full-moon dinner cruise
on Thursday, September 19, which will feature a three-course champagne dinner and moonlight dancing to Motown, jazz, and contemporary hits ($99; departs at 7 p.m.). For a more casual experience, check out
Mystic Blue Cruises
' own
full-moon cruise
on Friday, October 18 ($84.90; departs at 7:30 p.m.), or get one last taste of Navy Pier fireworks on the
Spirit of Chicago
's
fireworks dinner cruise
on Saturday, October 26 ($99.90; departs at 7 p.m.).
Photo: © Pete Leong, fotoShisa Photography