GROUPON GUIDE TO WASHINGTON-DC
Stock an Office Bar Worthy of "Mad Men" with Help from These Three Mnemonic Devices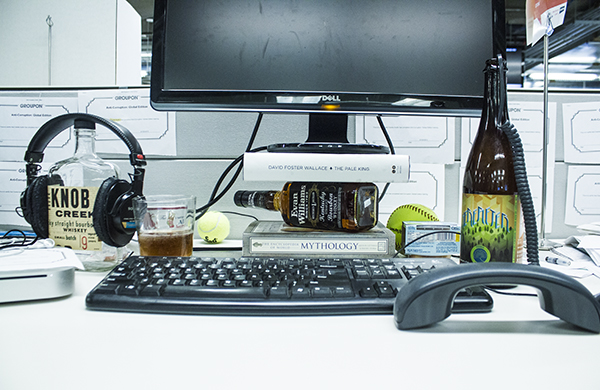 C.R. Austin is a semiprofessional mixologist whose playful, scamp-like workplace inebriation makes him the life of every office party, departmental meeting, and hallway salutation. The questionable views expressed in this article are the author's own and do not necessarily reflect Groupon's taste.
When
Mad Men
kicks off its final season this weekend, Don Draper and co. will give us one last glimpse into the idyllic workplace of yesteryear. Although a crackdown on cigars and three-hour lunches at the ballpark has turned today's office into a cheerless labyrinth of quietly despairing automatons, one hallowed workplace tradition remains intact—drinking. For the inexperienced workplace tippler, I present three simple phrases to guide you in stocking your office bar with the most essential imbibements.
Coffee Before Whiskey, Much Too Risky; Whiskey Before Joe, You're Good to Go
Before opening the day's first email, toast yourself to a productive day ahead. A quick pull of whiskey will put you in a can-do frame of mind while the rest of the office jockeys for position around the coffee pot. Now you've got a head start on those emails.
Cocktails in Meetings, Career Success Is Fleeting; Meetings with Beer, Your Message Is Clear
In meetings, show that you're a man of the people by drinking a beer. But make sure it's the right beer: * When pitching to sales, sip domestic ales * If your audience is editorial, upstage them with
Boréale
* PBR for customer service won't make the plebeians nervous * When drinking with killjoys in HR, stick to water (this is a slant rhyme, but it's important to remember)
Drinks from Abroad, Clients Know You're a Fraud; Locally Sourced, Negotiations On-Course
With American jobs disappearing as fast as my truffled jalapeño ham poppers at last year's Christmas party, foreign beer will remind your clients that they're destined to be fired soon. When meeting with business partners, I stick with arts and crafts: artisanal spirits and local craft beers.