Stooping to Their Level: A Kids' Photographer Shares Her Secrets for Better Snapshots
BY: RACHEL MATUCH | 4.18.2013 |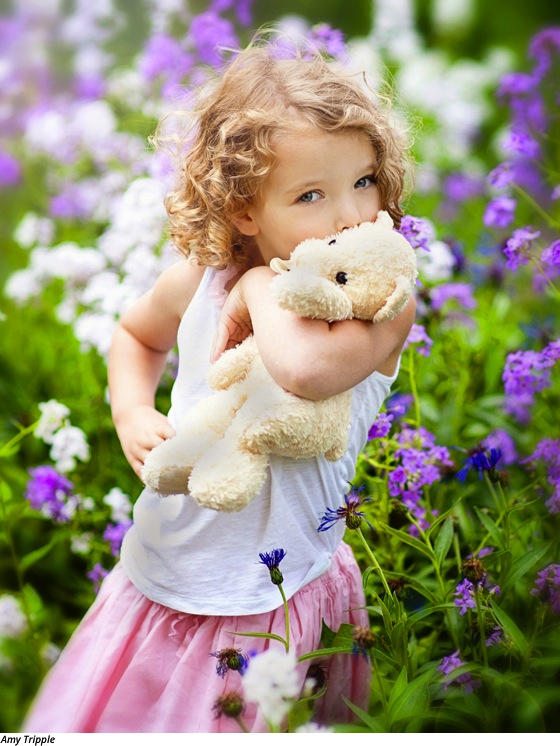 "I never would have bought it for myself," Amy Tripple said of her first DSLR camera. It was a gift from her parents—and a bigger gift than any of them could have imagined. As she started taking snapshots, friends began asking her to do the same for their kids. From there, the business snowballed, and today, Amy Tripple Photography is thriving. She has her own studio in downtown Lemont, Illinois, and her images have won awards from the National Association of Professional Child Photographers. The wrinkled lines on a newborn's tiny feet, the mischievous grin on a little girl's face—all her shots are beautiful and packed with tiny personalities.
When I asked Amy if she'd be willing to share some of her tips for parents, she invited me to stop by her studio and graciously shared her wisdom. While she regularly teaches classes that help parents make sense of their own DSLRs, she also believes anyone can take better snapshots, no matter the camera. Here are a few of her top tips.
1. TAKE A STEP BACK
"The biggest challenge lies in the fact that parents want the pictures so much," Amy said. "They're invested emotionally in the pictures so much more than, say, a photographer would be." She said parents should try and loosen up and enjoy the moment, no matter what. "If [parents] get the picture, great. If they don't, they still have the memories with their kids."
2. THEN GET IN CLOSE
"One of the biggest mistakes parents make is that they don't get in close enough. Parents always feel like they have to get the whole child, or the whole classroom, or the whole soccer field," she said. "But really, that makes for a terrible picture. So I always encourage parents to get close, close, close, as close as they can."
3. STOOP TO THEIR LEVEL
"One of the best ways to get a good picture, is to get [down to] your child's eye level," Amy said. Adults see from their own height all the time, but finding the child's perspective can make for both a better shot and a better memory when kids look back at the photos later.
4. FIND THE RIGHT TOOLS
"There is a huge jump in quality between a point-and-shoot camera and a DSLR. When you press a button on a DSLR, it takes a picture. It's instant. With a point-and-shoot, if you have kids that are anywhere between 0 and 7, they're not even in the room anymore when the picture actually snaps," she said, laughing. "A DSLR [also conveys] depth of field, which is when your subject is in focus and there is a subtle blur to the background. So it really acts more as your eye does. It's a more natural picture."
5. ALWAYS BE PREPARED
Amy's "number one, easiest rule" doesn't have anything to do with equipment or composition, but it can make all the difference in getting great shots. "I always suggest to parents that they bring their camera with them wherever they go," she said. "As crazy as that sounds ... you're not going to get good pictures if you don't have your camera. Just have it with you, or keep it out on your counter—you know, away from peanut butter and little people."
BY: Rachel Matuch
Guide Staff Writer
When she's not writing at Groupon, Rachel pillages her local library, plays board games, and cooks (but never, ever bakes).