Stop Ignoring Your Bathtub. It Wants to Hang Out.
BY: Amelia Buzzell |
Jan 14, 2014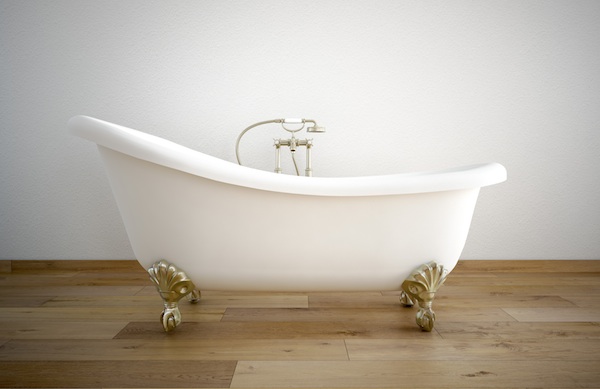 With the warm water, scented bubbles, and guaranteed alone time, baths are perhaps the most pleasurable beauty ritual around. They become even more so once you master the arts of balancing drinks on the tub sill and
not
dropping books into the water. But even with literary and liquory diversions, bathtime can still fall into a rut. Put yourself in one of these scenarios to shake up your next trip to the tub.
Scenario #1: You're cold. The polar vortex has ruined your life. You may never be warm again. 
* Bathe in:
Gloomaway bubble bath
from Origins ($23). Despite its dreary name, it actually has a very cheery grapefruit scent.
* Listen to:
Sunshine-y tunes—like those on the Beach Boys album
All Summer Long
—or
whatever it takes
to make you feel the warm and fuzzies inside. (Remember: any belated Christmas-music listening will remain strictly between you and your bathtub.)
* Light:
Every candle you can possibly find, including a springy
geranium-scented candle
from Mrs. Meyers ($9.99)
* Drink some:
Hot chocolate, preferably spiked. You might be listening to summery music, but drinking an ice-cold colada would just be crazy.
Scenario #2: You find yourself daydreaming—again—about chatting on the phone with your fantasy BFF, Emma Thompson.
(Emma: call me!)
* Bathe in:
Edwardian Bouquet bath essence
from Floris London ($90.55). The name alone is guaranteed to mentally transport you to one of those towns that end in "shire."
* Watch:
An episode of a BBC miniseries—they're just long enough that it'll be over before the water gets too cold. Set your laptop safely upon a dry patch of counter space (or drag a small chair into your bathroom, like I do), and angle the screen toward the bathtub. Pretend your dripping faucet is the sound of rain over the English countryside.
* Eat:
English toffee or any tasty-looking crinolines lying around
Scenario #3: Surprise! You're Julia Roberts in Pretty Woman, and boy, do you love Prince.
* Bathe in:
The most bubbles you can possibly froth, perhaps with the berry-scented
Falling in Love shower gel
from Philosophy ($24)
* Listen to:
Prince, Prince, and more Prince
* Eat:
Anything in a Prince-ly shade of purple (think wine), vegan (the Purple One is famously vegan), or imported from his home state of Minnesota (like wild rice). If you opt for a bowl of raspberries, the bowl can double as a beret.
* Punch:
Jason Alexander in the face
Scenario #4: Bubble baths are for little girls. You'd rather chop down a tree and carve a tub from its timber.
* Bathe in:
A black pepper and patchouli–scented
Lord of Misrule bath bomb
from Lush ($5.95)
* Watch:
An episode of
Parks and Recreation
. Ron Swanson is basically a walking, woodworking flank steak.
* Bathe with:
A
wind-up scuba-diver toy
because adventurousness knows no gender