Street Style: "Rookie Yearbook Two" Release Party at Saki
BY: Mae Rice |
Dec 9, 2013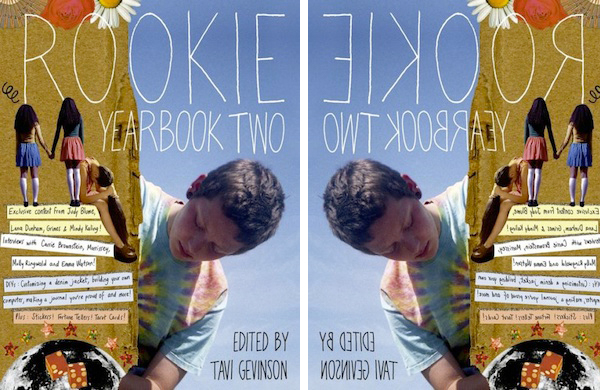 The high on Saturday in Chicago was 25. But despite the below-freezing weather, people still came out to
Saki
(3716 W. Fullerton Ave.) for
Rookie Yearbook Two
's release party. The book is a compendium of the year's best articles from
Rookie
, an online magazine for teen girls, and also features extras from Mindy Kaling, Lena Dunham, and Grimes. Plus, free stickers! At the reading-and-dance-party, Tavi Gevinson,
Rookie
's editor-in-chief, read from her most recent editor's letter, "
Forever
." Chicago-based
Rookie
writers read, too. Krista Burton taught us all the secrets of faking sick (forethought) and farting silently (hold your cheeks apart!) with her piece, "
Life Skills 201
." Gabi Gregg, a.k.a. Gabi Fresh, also read—find out more about her piece, and her outfit, below. Despite the cold, no one rolled up wearing a belted sleeping bag. In fact, everyone looked incredible. Tavi wore a white dress with a black peter-pan collar; even the bucket of free soda was decked out in (fake) gemstones. Even the bucket of free soda was decked out in (fake) gemstones. Below, I surveyed some of the stylish crowd about their ensembles and the ways in which
Rookie
has inspired them.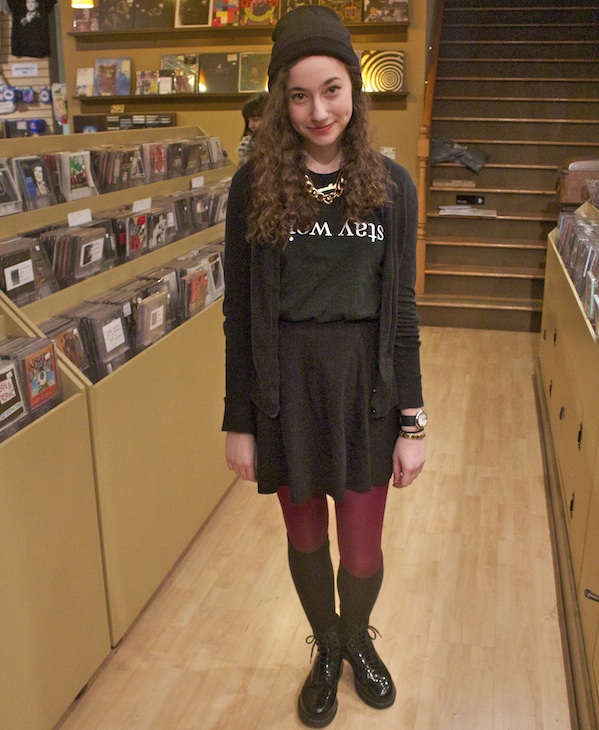 Samantha
Favorite thing she's discovered through 
Rookie
:
 Half of her double major, journalism and gender studies. When she started reading the magazine, she says, "I started getting into feminism and feminist culture."
Her style:
 "I wear my Docs every day of my life."
On Samantha:
 "I'm wearing a lot of black because it's winter," she says. Her black shirt, which reads "stay weird" upside down, is 
Brandy Melville
. She's also sporting two gold necklaces; one (a "Samantha" pendant) was a Hanukkah present, the other (a plain chain) she got "from a random mall kiosk on Black Friday."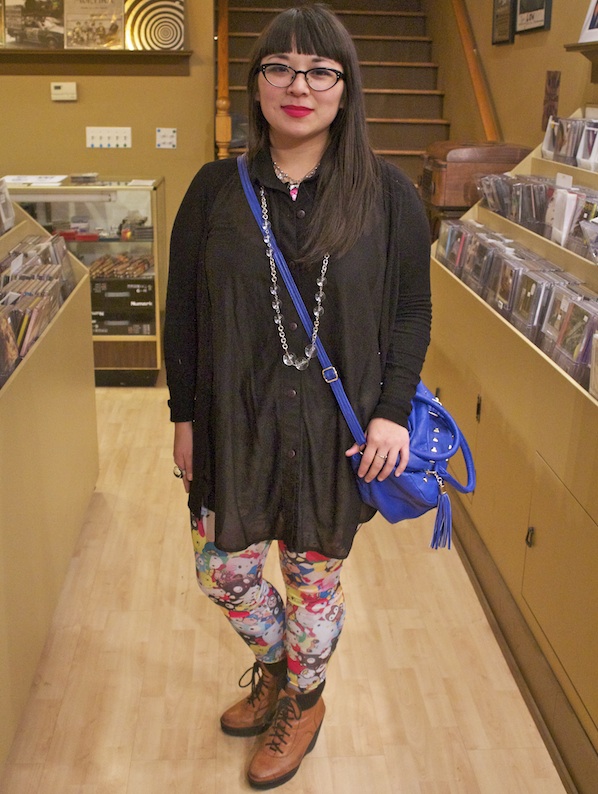 Rachael
Winter style essential:
 Boots, starting in fall. "I like the ones that are fleece-lined, like Ugg boots."
On Rachael:
 A sheer black thrifted shirt, which she wears year-round, and Urban Outfitters boots. Her leggings are from Hot Topic, and her Hello Kitty fandom also extends to her 
Tarina Tarantino
 necklace, with stars a pink Hello Kitty charm. The fringed blue bag is "probably Kmart."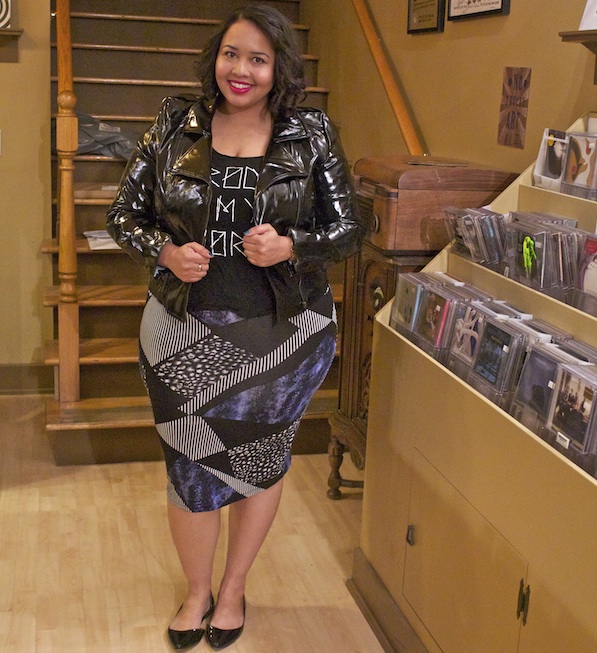 Gabi, Rookie contributor and creator of the (awesome) style blog Gabi Fresh
On the 
Rookie
piece she read at the party, "Because You Can: Make 'Em Look":
It's about how "it's okay to want attention," Gabi says. "It doesn't have to be a form of desperation; it can be a form of reclaiming your visibility."
Winter style essential:
A leather coat, or an oversize long tweed coat.
On Gabi:
An ASOS leather coat, a top (which says "Rock My World") from Forever 21, and a skirt from Topshop. Her patent leather flats are from Aldo.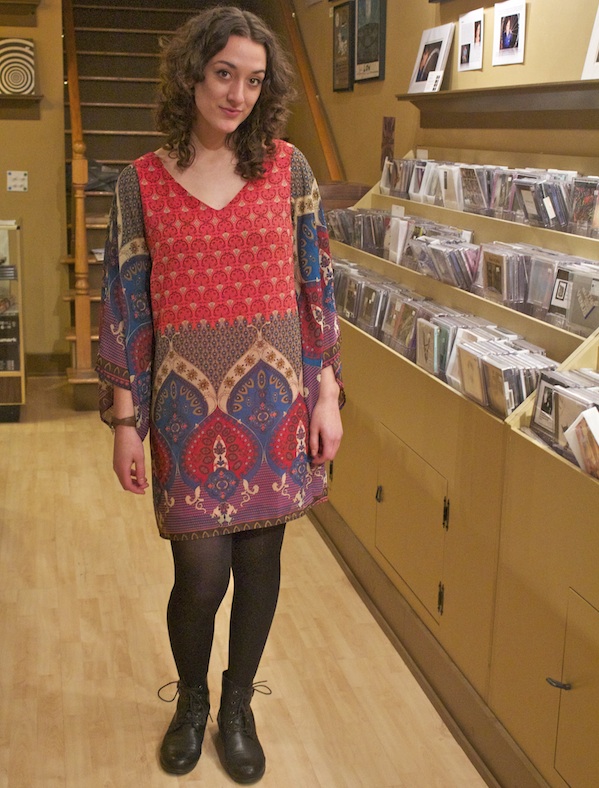 Haley
Her winter style essential:
"Definitely comfy sweaters from Goodwill."
On Haley:
A paisley dress from
Modcloth
, and boots from DSW.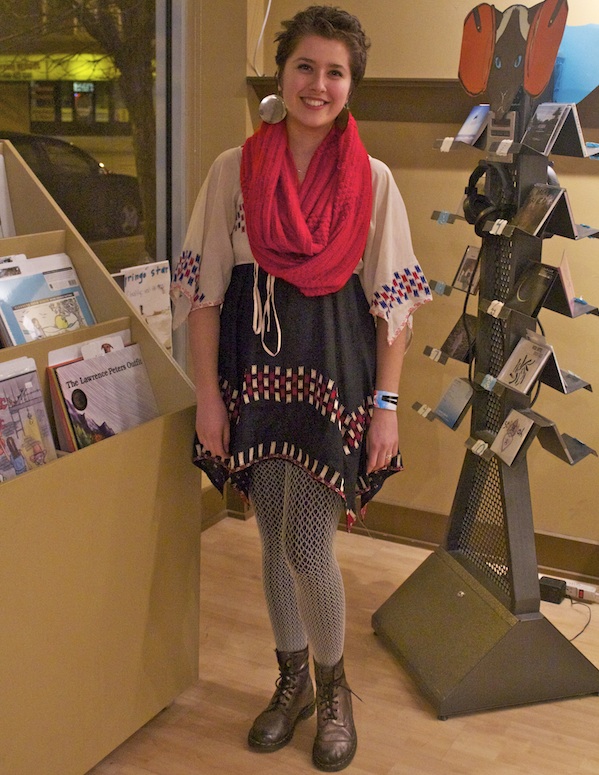 Amelia
Favorite thing she's discovered through
 Rookie
:
 "[Tavi's] last editor's letter [the "Forever" one from the intro] made me cry. It was just such perfect timing in my life, going through the same thing."
On Amelia:
 An Anna Sui dress from Goodwill, and two pairs of tights. Her shoes are Doc Martens, and her scarf is Urban Outfitters. "I bought [my earrings] from this lady at Riotfest," she adds.
Photo: Mae Rice, Groupon
BY: Mae Rice
Guide Staff Writer
Mae Rice is a staff writer who writes about eyelash extensions, French food, what "business casual" even means, and other style and food topics.