Street Style: Six Corners in Wicker Park
BY: Kelly MacDowell |
Aug 23, 2013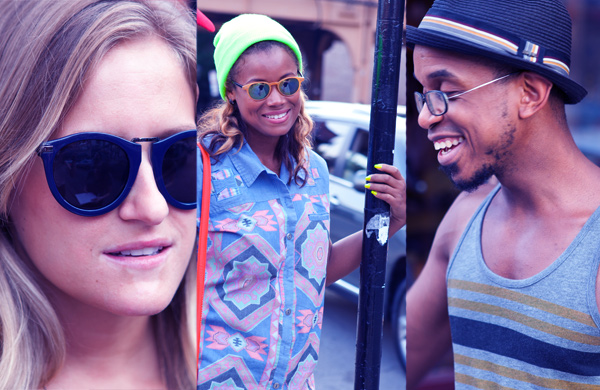 Though it's a reputed haven for hipsters (whatever that means anymore), Wicker Park's Six Corners actually teems with disparate, mingling fashions. This diversity stems in part from the broad spectrum of shops in the area: well-known brands such as
Urban Outfitters
and
Free People
, vintage stores such as
Ragstock
and
Crossroads Trading Co.
, and independent boutiques such as
Una Mae's
and
Eskell
. When you're surrounded by young people and some of the city's best shopping, it's hard to swing a
Reckless Records
bag without bumping into a stylish passerby.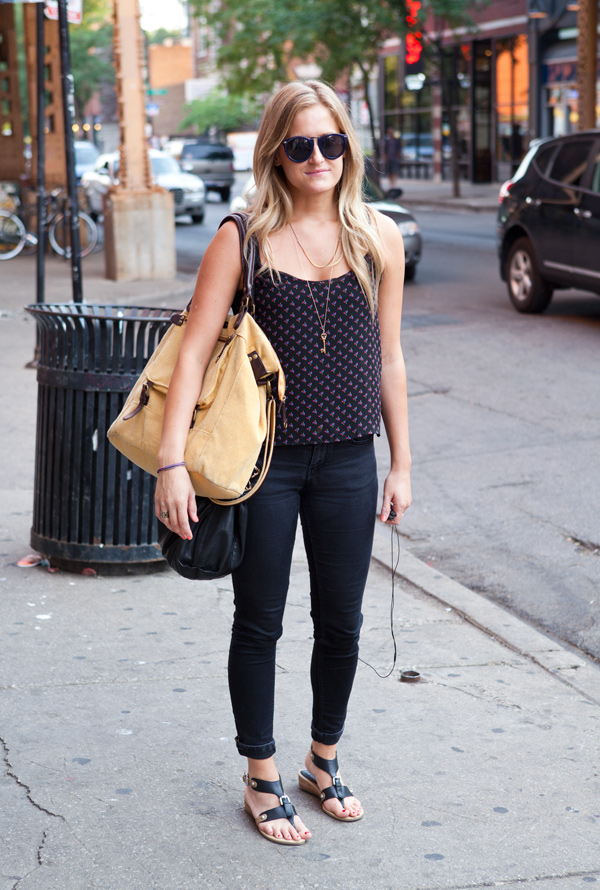 Katie, advertising
Favorite local clothing shop:
Aritzia
Your style in a nutshell:
Easy, laidback, monotone
On Katie:
AJ Morgan sunglasses from
Stitch
, American Apparel tank, Zara jeans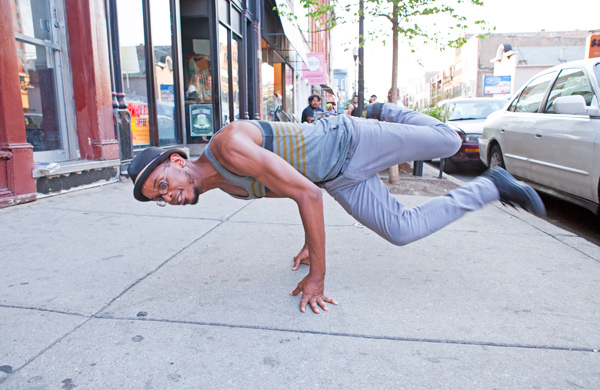 Ennis, sales associate at Brooklyn Industries, painter, dancer, b-boy
Favorite local clothing shop:
Brooklyn Industries
, of course
Your style in a nutshell:
Urban, kind of sporty, a slim look
On Ennis:
Hat, tank, and jeans from Brooklyn Industries, Converse shoes, Lenscrafters glasses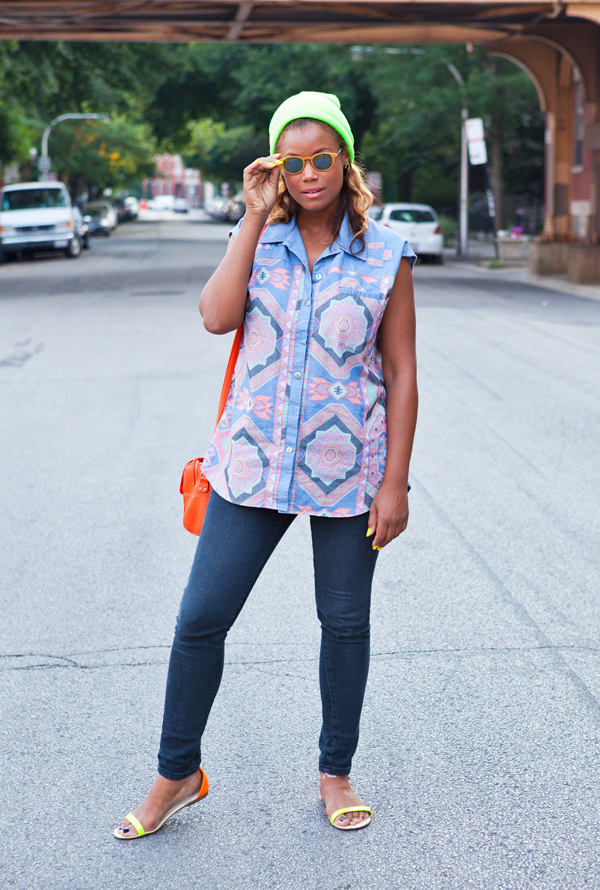 Michelle, art dealer and gallery owner in Los Angeles
Favorite clothing shop:
Creatures of Comfort
Your style in a nutshell:
Comfortable, super comfortable, über comfortable
On Michelle:
Sunglasses from a 99-cent store, NativeLA shirt, 1980s vintage hat,
Opening Ceremony
bag, $7 shoes from a store she has since forgotten the name of
Buki (left), artist, and Ezra (right), illustrator
Favorite clothing shop:
Buki loves online shopping, particularly
Nasty Gal
, and Ezra loves
Belmont Army
Your style in a nutshell:
Buki says her style is "urban, vintage," and Ezra says, "I used to say I was 'apocalyptic businessman,' but I think I'm lighter now than I was then."
On Buki:
Nasty Gal shoes,
Urban Eyecare
sunglasses, Topshop bag, dress from a frock swap with friends
On Ezra:
Shirt unknown, Paul Frank sunglasses (tucked into his shirt), Topshop pants, his dad's favorite hat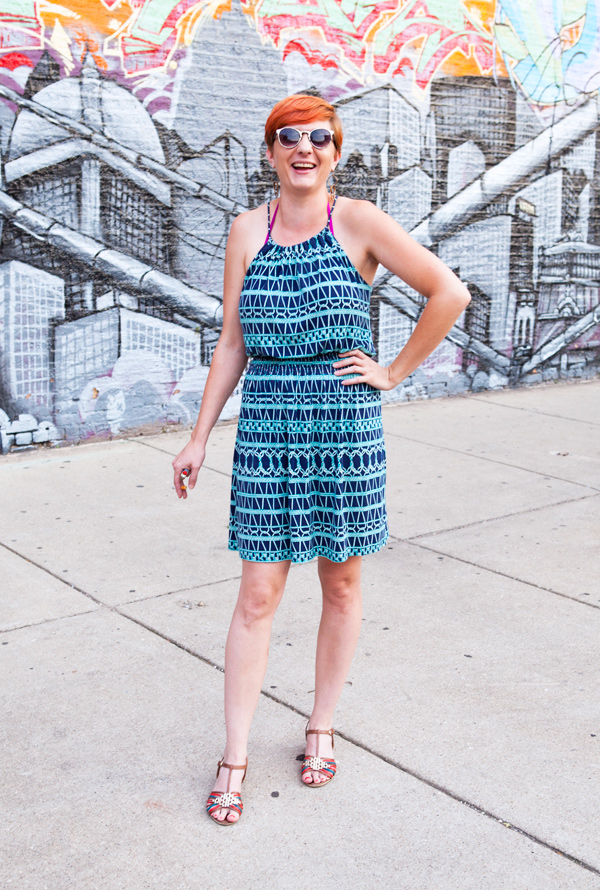 Rachel, manager at Brooklyn Industries, punk-rock musician
Favorite local clothing shop (other than Brooklyn Industries):
Pitaya
Your style in a nutshell:
Maybe not today, but I'm usually pretty punk-rock chic...I was also once described as a funky airline stewardess.
On Rachel:
Brooklyn Industries dress, Ross shoes (a boutique in New Mexico), Target sunglasses, earrings gifted from her sister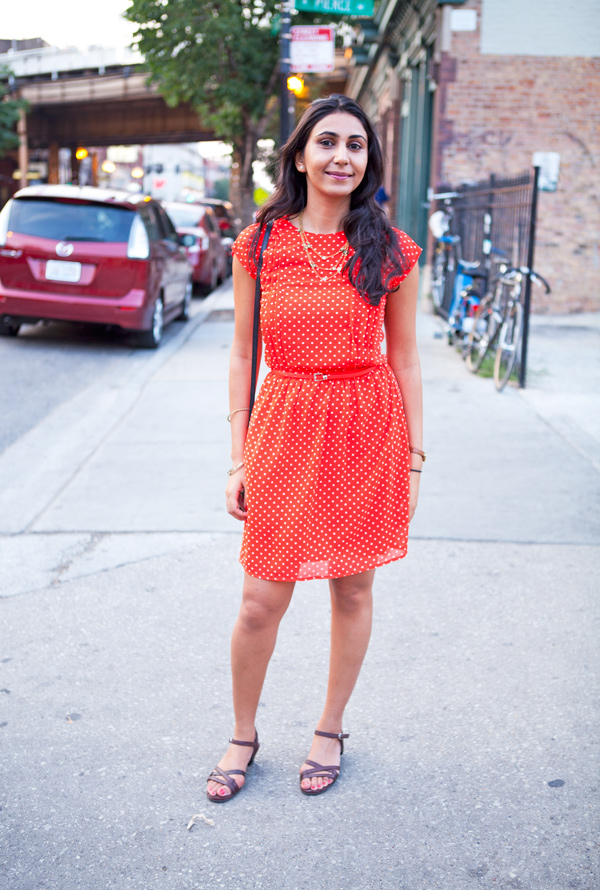 Aamna, MBA student at Indiana University
Favorite places to shop:
Zara or Sephora
Your style in a nutshell:
Sophisticated, hip, urban
On Aamna:
Zara dress, Aerosoles shoes, Michael Kors bag, gifted necklace, bracelets from Pakistan
Photo: © Michelle Klosinski, Groupon
BY: Kelly MacDowell
Kelly's first concert was Fleetwood Mac and her first career was in the beauty industry. Now a style and music writer, she loves Project Runway and her dog, Watson.