Style Blogger Meagan Fredette on Her "Game of Thrones"-Meets-Kate Bush Wardrobe
BY: Mae Rice |
Feb 3, 2014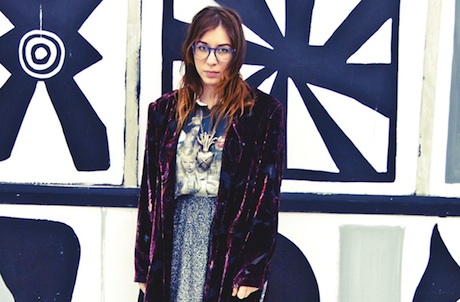 The Latter Style blogger talks about wearing vintage prom dresses to feel like a witch, the nonexistent line between fashion and costume, and where to buy three-buck holy water.
"I really felt inspired by all these weird girls on the Internet," says Meagan Fredette, explaining why she started her style blog,
Latter Style
, in 2010. "[They were] just wearing stuff from thrift stores and stuff that they made in their basements." Meagan's website celebrates quirks and basement vibes, welcoming visitors with an apt summary: "This is a feminist blog about fashion, good music, and feels." Although traffic is solid, she doesn't make money off the site and isn't gunning for viral status. Latter Style is less about fashion at large than it is about Meagan's personal style—an eclectic mishmash of fringed leather jackets, chiffon dresses, and what I
think
are
leather overalls
. Curious about what else drives her to be a weird girl on the Internet, I asked Meagan about four of her fashion inspirations.
Witchcraft
MEAGAN LOVES:
The Craft
, which was released when she was in middle school. "[My friends and I] got some spellbooks and hung out in my bedroom," she recalls. Nowadays, she's less of a staunch believer in spells, but she stands by the power of ritual. "[It's a way to put your brain in a space where, consciously and unconsciously, you create the outcome you desire." If you light a candle and wish for a job, for example, you'll remember lighting it and search Craigslist a little longer. HOW SHE WEARS THE STYLE: The definition of witchy style depends on who you ask.
The Craft
witches wore Catholic schoolgirl outfits with black lipstick, PVC combat boots, and spike necklaces. The
Charmed
witches, meanwhile, were all about the '90s: spaghetti straps, square-toed sandals, and of course, "lots of plain khaki capri pants."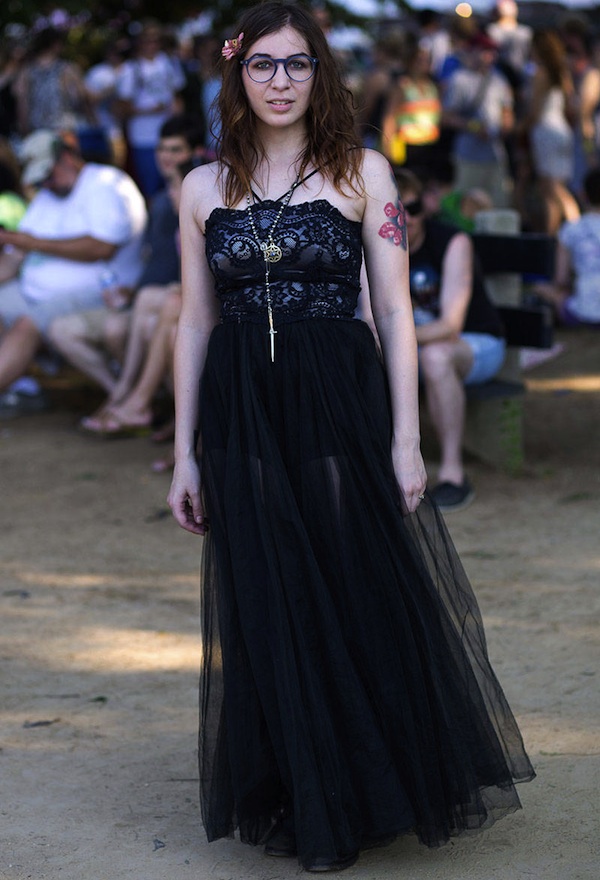 Meagan herself sticks to velvet and black clothes—like her vintage prom gown with the lining torn out, above. "[When I wear it], I feel like I should be standing over a cauldron," she says. WHERE TO BRUSH UP ON THE OCCULT IN CHICAGO:
The Occult Bookstore
(1164 N. Milwaukee Ave.). Meagan goes there for incense and notes that they have some rare books, too. The prices are another draw: "A thing of holy water is like, three bucks.
Game of Thrones
MEAGAN LOVES:
Littlefinger's costumes
. He rocks heavily embroidered versions of the flat-fronted Nehru jackets that were popular in the late '60s. They make him look like "a corporate-looking dude who hippie-parties on the weekends," Meagan says.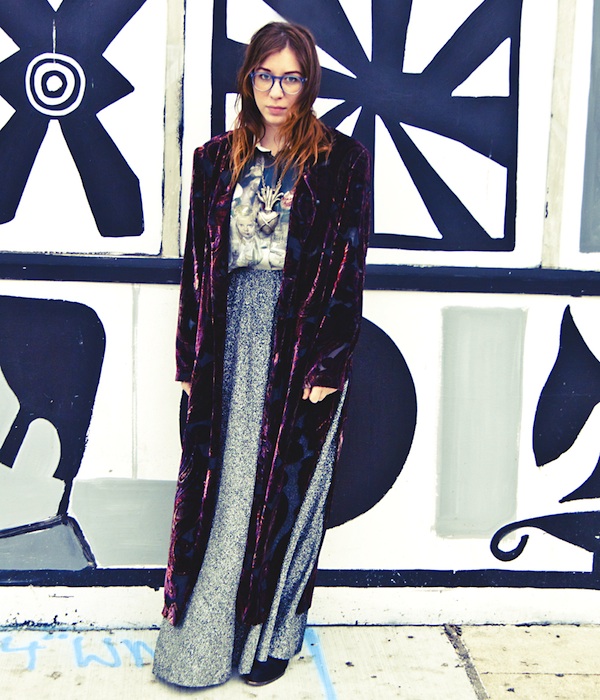 In the outfit above, though, she was more inspired by Catelyn Stark's long, somber-colored  layers. "I remember joking to my friends that the sacred-heart necklace was my house's sigil," she adds. HOW SHE WEARS THE STYLE:
Game of Thrones
characters sport a lot of bell sleeves, and so does Meagan, typically on her vintage pieces from the '70s."I try to not eat at a restaurant and wear bell sleeves," she adds. "Because it's like, 'Hey, pass the food, I'm just gonna get my sleeve all over your plate!'" WHERE TO FEEL(AND SMELL) LIKE QUEEN CERSEI:
Asrai Garden
(1935 W. North Ave.). It's a "gift store slash florist slash apothecary," Meagan says, with "beautiful perfumes that smell like haunted forests."
See our interview with
Game of Thrones'
embroiderer, Michele Carragher, here. 
Kate Bush
MEAGAN LOVES: "
Under Ice
," from
Hounds of Love
. "It puts you in a place that's not …  earth." Sort of like
Game of Thrones
. HOW SHE WEARS THE STYLE: "[Kate Bush] was really into costuming but not really outrageous costuming," which parallels Meagan's style. Meagan strives to "not look like I'm trying superhard ... even though I am."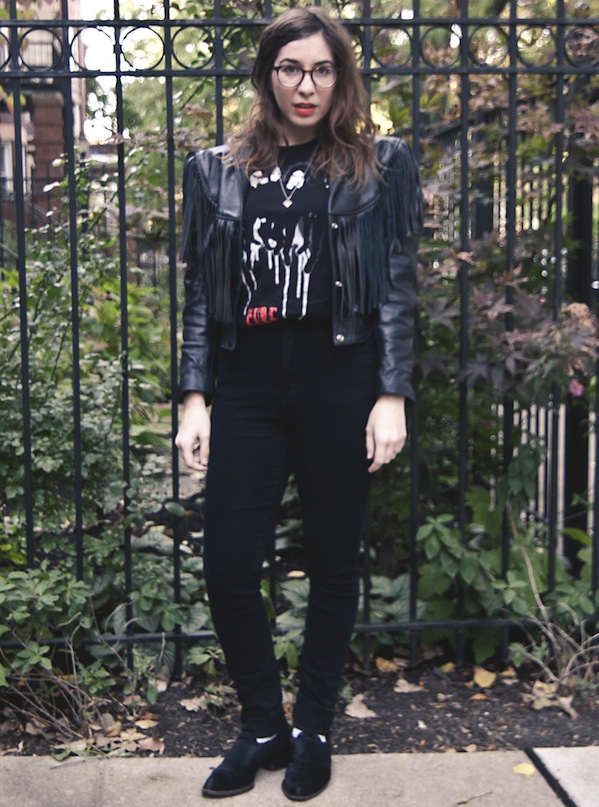 As evidenced above, Meagan is most inspired by Kate's style in the '80s, which involved a lot of leotards, tight jeans, and jackets with big shoulders and fringe. (Meagan abstains from leotards, though.) WHERE TO SEE MEAGAN DO KATE BUSH KARAOKE:
Right here
.
The Victorian and Edwardian Eras 
MEAGAN LOVES: Trying on old-timey trends. In these periods, there was lots of black and white (dye was expensive), and boots were worn year-round (sandals hadn't been invented). Lace was also big, as were accessories. She doesn't go completely authentic, though, because women's clothes back then were torturous: heavy, long-sleeved dresses in the summer and corsets they could barely breathe in year-round. "You have this idea of the fairer sex, but they're wearing this clothing that requires so much endurance."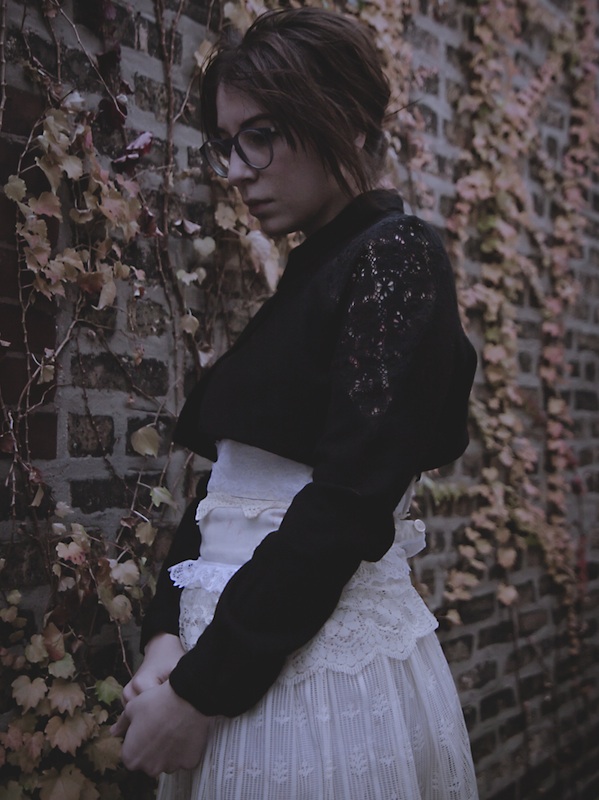 HOW SHE WEARS THE STYLE: Above, Meagan rocks a high neck, tiny puff sleeves, and lace, creating a purposefully costume-y effect. "I honestly don't believe there's a difference between fashion and costume. It's all clothing." WHERE TO GET YOUR HISTORY FIX:
Very Best Vintage
(1919 W. Chicago Ave.). Genuine period pieces are more than 100 years old and insanely pricey, but this shop is stocked with more recent, Victorian-inspired pieces, like high-necked lace tops from the '80s.
Photos courtesy of Meagan Fredette
BY: Mae Rice
Guide Staff Writer
Mae Rice is a staff writer who writes about eyelash extensions, French food, what "business casual" even means, and other style and food topics.