Style Profile: Hallie Borden's "More Is More" Philosophy
BY: Sarah Gouda |
Mar 27, 2013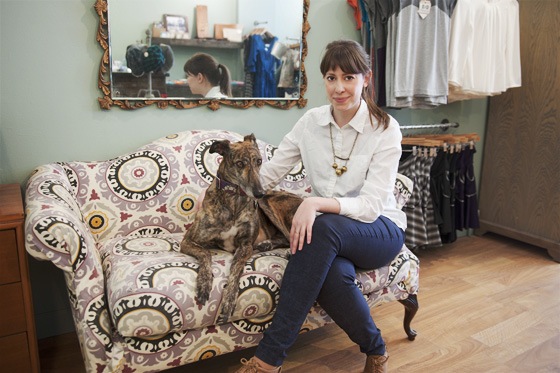 Milk Handmade
's artisanal inventory tends to skew either ultra-feminine or ultra-edgy, but it's not the result of an identity crisis. Quite the contrary—the mix of unexpected elements is a direct reflection of owner Hallie Borden's personal style. One constant in both her wardrobe and her year-old Andersonville boutique? Quality. As its name implies, everything in Milk Handmade, from the soft tees and printed silk skirts to the sharp, geometric jewelry, is handcrafted, and many items are sourced from local designers. Below, Hallie provides some insight into her personal style and shares a few of the fashion trends she's crazy for—and one that just drives her crazy.
Q: What defines your personal style? 
A: I probably prioritize comfort last. I just like to wear a lot of stuff at once. The Coco Chanel saying about taking off one accessory before you leave the house—I'm the opposite of that. To me, more is more.
Q: What is your favorite piece of clothing that you own?
A: I have some crazy hats that I like to have a good time with. My favorite is a black and brown tie-dyed fedora that I found at a thrift shop in Rome. I like to pair it with a white button-down and leather jacket. I look like Indiana Jones on acid.
Q: Which trends do you love? Which ones do you wish never happened?
A: A trend that I love is cutouts—whether it's an open elbow, a slit just under the bust, or a dramatic deep V in the back, I hope that trend is here to stay. I hate the harem-pant look that seems to be making a comeback.
Q: What draws you to clothing?
A: The right outfit can multiply your confidence by 10. And confidence is power, sexiness, self-respect … everything. When a woman puts on something she loves, it visibly changes her. She stands up straighter, her face looks brighter, and she walks like she deserves to be seen. Anyone who thinks that clothes can't alter their life isn't above it all—they just haven't found the right outfit yet.
Q: Are you coveting any particular items currently in the store?
A: This ivory silk blouse by Ella Lai ($98) [is] classic, feminine, and versatile. I love that it can be worn to work or a more formal event, tucked into a skirt, or just thrown on with jeans and a blazer. And since it's so simple, it's a great piece to wear when you want to pile on the jewelry and accessories. It's funny, women shopping in the store always gravitate toward it and say "I've been
needing
something like this." It's definitely a wardrobe staple.