Style Stop: Western Brown Line
BY: KELLY MACDOWELL | 6.20.2013 |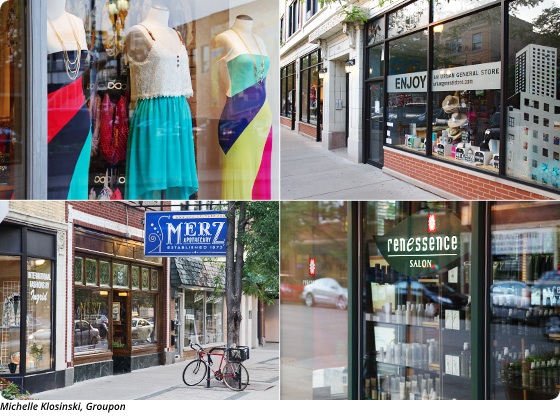 When Chicago was offered a piece of the historic Berlin wall in 2008, city officials knew exactly where it should go. The Western Brown Line station stands in the heart of Lincoln Square, a neighborhood known for its German roots. Today, riders pass the legendary piece of wall as they exit the station lobby and make their way toward a stretch of Lincoln Avenue dotted with German establishments such as Chicago Brauhaus and Huettenbar. Though the area is best known for its Bavarian beer halls and sausage shops, it has also gained attention for its array of independent clothing and beauty stores—including one that's been beloved in Chicago since 1875.
Just south of the Lincoln Square archway sits DLR Clothing and Accessories (4703 N. Lincoln), a small women's boutique bursting with jeans, outerwear, dresses, tees, blouses, and a staggering selection of accessories. And if the collection of infinity scarves, neon belts, and peplum skirts wasn't stylish enough, each purchase is bagged in a graphic tote illustrated with local landmarks.
The bright blue Merz Apothecary (4716 N. Lincoln) sign is visible just up the block from DLR. The original location of this 138-year-old health and beauty shop is especially famous for its old-fashioned men's shaving kits, but carries everything from Diptyque aromatherapy candles to homeopathic remedies from around the world.
Once you've tended to your internal health, indulge in some external pampering at Renessence (4625 N. Lincoln), an Aveda spa and salon that's been blending soothing aromatherapy into its services since 1995. Led by one of the Aveda Institute's former educators, the team of therapists performs massages with handpicked essential oils.
One block north, Urban General Store (4723 N. Lincoln) amuses shoppers with a quirky selection of gifts for all ages. If Abe Lincoln band-aids or whiskey drinking guides won't suffice, a section of the store specializes in bacon-themed items guaranteed to please even the pickiest present-recipient.
BY: Kelly MacDowell
Guide Staff Writer
Kelly's first concert was Fleetwood Mac and her first career was in the beauty industry. Now a style and music writer, she loves Project Runway and her dog, Watson.