Summer Blockbuster Beauty: "Monsters University"
BY: Sara Tremblay |
Jun 28, 2013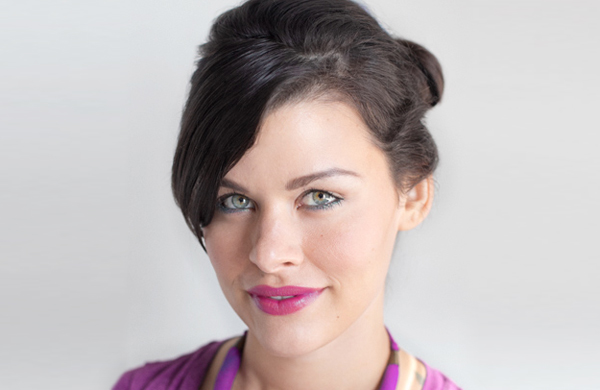 Filled with bold, vibrant hues and fuzzy characters, it's easy to see why kids
and
adults love the imaginary world of
Monsters, Inc.
and its new prequel,
Monsters University
. But while Mike and Sulley may have inspired a fair share of Halloween costumes, it's probably safe to assume their monster style hasn't shown up on the runways.
Yet
. Below, hairstylist
Lauren Sweenor
and makeup artist
Jen Brown
showed us it's possible to sport a look that screams
Monsters University
without actually scaring anyone.
For Hair: Think Whimsical, Not Wacky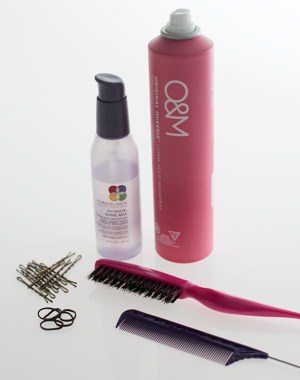 What You Need:
Bobby pins Hair bands or ties Hard-hold hairspray Shine hair serum Teasing brush Teasing comb
What You Do: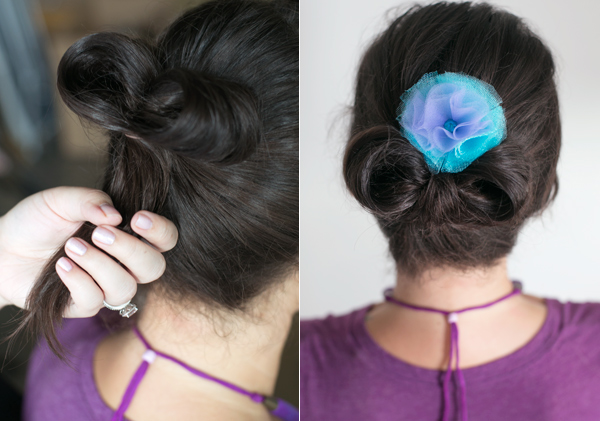 1. To create a look that was playful but still chic, Lauren fashioned a bow using our model Jasmine's own hair. First, she applied a shine serum onto strands, then created volume at the crown of the head with a teasing brush. 2. Next, she gathered Jasmine's hair into a low ponytail but stopped short of pulling the hair all the way through the hair band, leaving a half-in, half-out loop. 3. She then separated the loop into two sections, smoothing bumps and frizz with a teasing comb as she secured each new loop into a bow shape with bobby pins. 4. With the loops of the bow secure, Lauren then turned her attention to the half-out portion of the ponytail. She used this hair tail to create the bow's knot by simply pulling it upward and pinning it into place. 5. After applying a spritz of hard-hold hairspray, Lauren completed the look with a homemade hairpiece that she said "[adds] a little pop of color and matches Sulley's colors from the movie."
For Makeup: Keep It Fresh with Bright Colors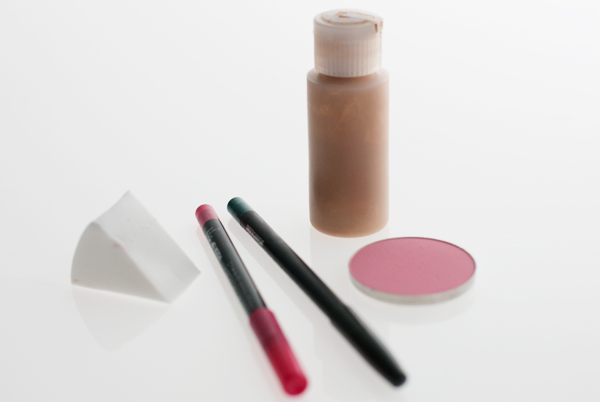 What You Need:
Cosmetic sponge Foundation Hot-pink lip pencil Mascara Pink blush Vibrant teal eyeliner
What You Do: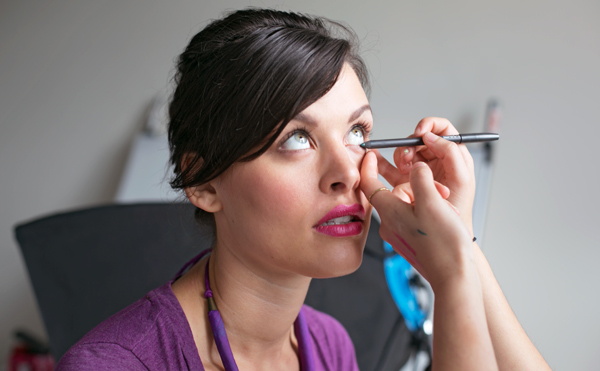 1. This look comes hot on the heels of summer's neon trend and is supereasy to do yourself. To start, Jen created a bare face by applying a layer of foundation to Jasmine's skin, including her eyelids. She then finished the eyes with a coat of mascara. 2. Next, Jen added warmth to the cheeks with a swipe of soft pink blush. 3. To keep the look feeling summery, Jen outlined and filled in Jasmine's lips with Make Up For Ever Aqua Lip Pencil in fuschia 16C. 4. Inspired by Sulley's shaggy teal-blue fur, Jen completed the look by applying teal eyeliner to Jasmine's waterline and smudging it in. For this shoot, she used MAC Jet Pearlglide Intense Eyeliner in undercurrent.
BY: Sara Tremblay
Guide Staff Writer
Sara is a filmmaker by trade, copywriter by choice, and forever in love with British television.