Summer Blockbuster Beauty: "The Great Gatsby"
BY: Sara Tremblay |
Jun 21, 2013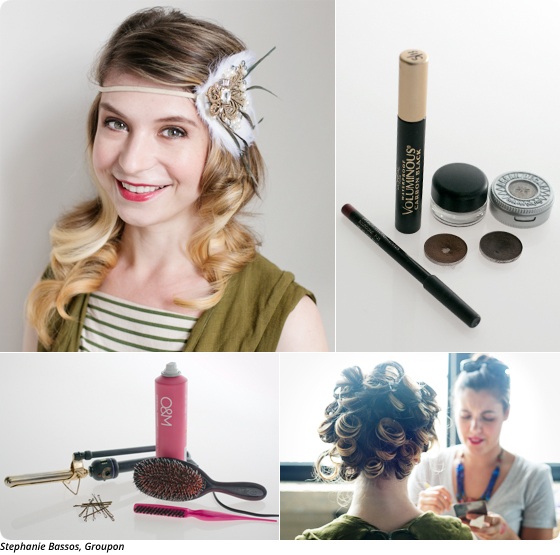 To conjure Daisy Buchanan for this summer's
Great Gatsby
reboot, director Baz Luhrmann enlisted the help of designer Miuccia Prada and actress Carey Mulligan. For those of us who don't have a multimillion-dollar budget, trying to evoke Jazz Age glamour can be tricky. Below, hairstylist
Lauren Sweenor
and makeup artist
Jen Brown
shared their tips for creating a modern,
Gatsby
-inspired look that feels classy, not costumey.
For Hair: Try No-Fuss Finger Waves
What You Need:
Bobby pins Flat, boar-bristle brush Small-barrel curling iron with clamp Soft- and hard-hold hairspray Teasing brush
What You Do:
1. Finger waves were all the rage in the 1920s, but they took wet hair, a skilled hand, and plenty of patience to create. To cut down on time, the trick is to "start with somewhat dirty hair and [using a small-barrel curling iron,] curl each strand in the same direction," Lauren said. 2. As she went, Lauren spritzed each curl with a soft-hold hairspray and secured it  with a bobby pin. She then let everything set for 30 minutes. 3. After taking out the pins, "don't run your fingers through [your hair]," she warned. "Just put your hand behind your hair and brush down." This motion is what creates the finger-wave effect, which can be held in place with a spritz of hard-hold hairspray. 4. To jazz things up, Lauren suggested adding a retro-inspired hair accessory—like this one she created—or forming tighter waves at the scalp by pinching small "waves" of hair and securing with a bobby pin.
For Face: Think Dramatic, Not Dark
What You Need:
Dark brown or black mascara Duster eyeshadow brush Berry-toned lipstick or pencil Bronze and gold eyeshadows Dark brown kohl eyeliner pencil
What You Do:
1. To keep the look young and modern, Jen reached for bronze and gold eyeshadows as opposed to the traditional dark purples and grays popular during the '20s. Here, she put a shimmery spin on a classic smokey eye by blending gold and bronze shadow over the entire lid, then lightly dusting them up past the crease with a duster brush. 2. Jen highlighted Amelia's cheekbones by adding "a pop of peachy pink" for a freshy, rosy flush. 3. The cupid's-bow lip was de rigueur for
Gatsby
-era women—they exaggerated their pout's natural shape, drawing a thinner upper lip and filling out the bottom. Jen created a more wearable interpretation of the look by lining Amelia's lips with a lip pencil and then filling them in with a berry-tone lipstick. 4. To complete the look, Jen evoked the sultry glances of flapper-era starlets such as Louise Brooks and Clara Bow by smudging a dark brown kohl eyeliner around the eyes and finishing with a coat of dark mascara.
BY: Sara Tremblay
Guide Staff Writer
Sara is a filmmaker by trade, copywriter by choice, and forever in love with British television.